On Friday, August 3, after the markets closed, Berkshire Hathaway (NYSE:BRK.B) reported that it earned $3.1 billion net income, or $1.25 per Class B share. Berkshire's revenue grew slightly, from $38.3 billion to $38.5 billion. Berkshire Hathaway is a diversified holdings company and S&P 500 constituent that is run by Warren Buffett, the well known billionaire investor. Berkshire Hathaway has major positions in some of the nation's largest companies.
See a recent performance chart for Berkshire Hathaway's B shares below:
Click to enlarge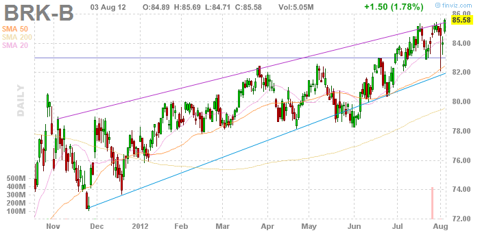 While Berkshire's net income was down 9 percent from last year's Q2 net income of $3.4 billion, or $1.38 per share, 2011's Q2 numbers were helped by a one-time $1.25 billion gain. Further, Berkshire's $1.25 per B share beat Wall Street consensus estimates by six cents, or roughly 5 percent.
Berkshire's strong Q2 results were also slightly allayed by losses on derivatives. Berkshire recorded a $693 million loss on its derivative contracts in Q2, up from a $120 million loss last year. Warren Buffett has indicated that Berkshire's investment and derivative gains or losses can be misleading. The company's derivatives are long term and market valuations on such securities can be confusing or even downright wrong.
Some of Berkshire's derivatives could be looked at as universal life insurance policies on the S&P 500, with some value being built out of what is being reported as a loss, but also some premium being lost as long as the market continues to live. Berkshire's ownership of multiple insurers further confuses the matter.
Not counting Berkshire's derivative losses, the company reported a 37.6 percent increase in operating profit, reporting $3.7 billion in operating earnings, or $1.50 per Class B share. In Q2 of 2011, Berkshire's operating profit was $2.7 billion, or $1.09 per Class B share. Berkshire Hathaway is a holdings company that wholly owns numerous businesses, including GEICO, Borsheim's, BNSF Railroad and Benjamin Moore Paints, among several dozen others.
Berkshire also holds significant positions in many other large and well-known companies, including owning about $16 billion, or 8.86%, of Coca-Cola (NYSE:KO), $13.5 billion, or 7.42%, of Wells Fargo (NYSE:WFC) and $8.7 billion, or 13.17%, of American Express (NYSE:AXP). Berkshire has held positions in these companies for many years, and benefits when they appreciate and/or increase their dividends. Berkshire has somewhat consistently acquired more of WFC since the financial crisis hit in late 2008 and early 2009.
Berkshire has not made any recent additions to KO, its largest single equity holding. Coca-Cola has increased its dividend for fifty consecutive years, on the third Tuesday of each February. Regardless of whether KO shares increase or decrease between now and then, the beverage maker's highly probable 2013 increase will mean more cash flowing into Berkshire. Shareholders in KO currently get $0.51 per share, per quarter. Berkshire acquired 200 million shares of KO shortly after the New Coke fiasco. This works out to an anticipated 2012 total of $408 million in KO dividends to Berkshire, with the company standing to make an additional $8 million per year for each penny that the dividend increases.
Berkshire Hathaway also owns $12.7 billion, or 5.58 percent, of International Business Machines (NYSE:IBM), most of which it acquired during the second half of 2012. Warren Buffett clearly sees IBM as a continued grower of value, with strong projected dividend growth. Additionally, in his latest annual letter to shareholders, Mr. Buffett commented that IBM would likely spend about $50 billion in stock buybacks over the next five years, further concentrating shareholder ownership of the business and its growing earnings.
While an earnings report is clearly an important piece of information in analyzing a publicly traded company, many investors also find Berkshire's 13F-HR an essential supplement. United States Securities and Exchange regulations mandate that large holders of publicly traded companies file disclosures detailing their positions in publicly traded equities. This regulation primarily applies to hedge funds similar private investment funds, but also applies to companies like Berkshire Hathaway, whose equity holdings are substantial. Companies are required to file such Form 13F filings within 45 days of the end of each quarter, meaning that these filings will occur in about two weeks.
Berkshire's equity investments are important because they represent about one-third of the market value of Berkshire. Berkshire's last 13F reporting, for Q1 of 2012, listed twelve equity holdings with a value of at least $1 billion, and a total U.S. equity portfolio that would be worth about $76 billion if unchanged from the end of Q1.
Berkshire Hathaway has a history of investing in a manner that dramatically outperforms the broader market over the long term, but which has not dramatically outperformed it in the near term. Berkshire also has a history of acquiring businesses in which it has already accumulated sizable positions, though many of its most substantial investments are in mega-cap businesses too large to be acquired by Berkshire. Nonetheless, Warren Buffett has noted that he is on the hunt for a large-cap acquisition.
Berkshire's four largest equity investments (in KO, WFC IBM and AXP), are presently worth over $50 billion. The most recent billion-dollar Berkshire investment is in DirecTV (DTV), which is largely believed to be made by Todd Combs and/or Ted Weschler. Both men were reasonably well known investors that Buffett hand-picked and Berkshire hired as investment managers in 2011. Ted Weschler held a position in DTV in his former hedge fund, though that whole fund is smaller than Berkshire's current stake in DTV.
Since the start of 2012, Berkshire shares have appreciated by 11.96 percent, outperforming the S&P 500 by about one percent, though Berkshire's lack of a dividend makes the performance roughly equal. Over the last three months, Berkshire appreciated by 5.48 percent, while the S&P 500 has been flat.
Disclosure: I have no positions in any stocks mentioned, and no plans to initiate any positions within the next 72 hours.