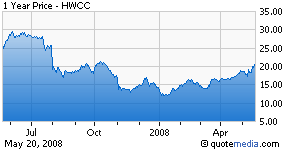 Houston Wire & Cable Company (NASDAQ:HWCC), through its subsidiaries, distributes specialty wire and cable products in the United States. It offers continuous and interlocked armor cables, control and power cables, electronic wire and cables, flexible and portable cords, instrumentation and thermocouple cables, lead and high temperature cables, medium voltage cables, and premise and category wire and cables.
The company posted a 5.7% surprise in its latest quarter as it made 37 cents per share, two cents better than the consensus. Sales rose 9.4% to $89.4 million. Houston Wire also estimated that sales from its five major growth initiatives, including Emission Controls, Engineering and Construction, Selected Industrials, LifeGuard and other private branded products, and Utility Power Generation, increased about 20 to 25% over the first quarter of 2007.
We think the stock is inexpensive and has strong upside. It is trading at less than 11x next year's estimates of $1.87 per share. This is well below its long-term growth rate of 16%. That works out to a PEG ratio of 0.69. The stock should be trading at higher multiples, especially with the fundamentals improving.
Over the past week, this year's earnings estimates have increased a nickel to $1.68 per share. It also has an outstanding ROE of 36%, more than twice its industry average. Given these factors, we see the stock hitting $25 in a year.
Disclosure: none