Annaly Capital Management, Inc. (NLY) remains the largest publicly traded market capitalization mortgage real estate investment trust (mREIT). Annaly provides an annual 12.80% yield. Annaly's recent 2nd conference call provided enlightening details on management's industry outlook. High income dividend investors are impacted due to changes within the bond market. Currently the 12.80% annual yield provides a significant dividend yield compared to the 1.6% 10 Year Treasury Bond yield.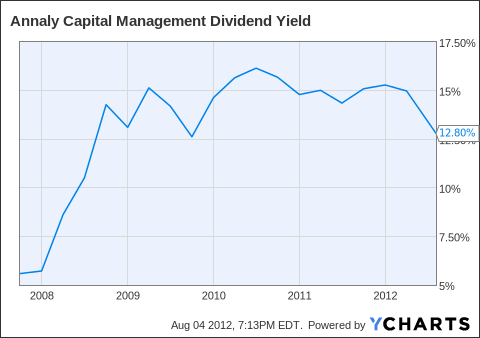 NLY Dividend Yield data by YCharts
Annaly's 5 Year Dividend Yield
The stock's 2nd quarter dividend was 55 cents. Based upon a $17.25 stock price, this equates to an annualized 12.80% yield.
If an Annaly shareholder reinvested the quarterly dividends, for 5 years, $1,000 has increased in value to $2,263.78.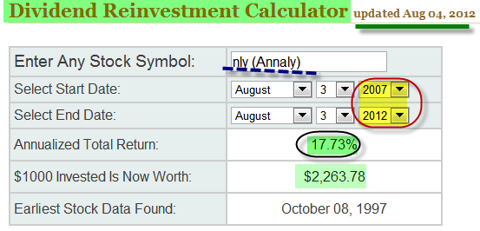 Click to enlarge
The high yield dividend rapidly compounds the capital appreciation. This equates to an annual 17.73% yield.
Constant Prepayment Rate (CPR)
The CPR is the actual percent of a mREIT's Government Sponsored Entity (GSE) Mortgage Backed Security (MBS) portfolio balance is prepaid each month. The CPR is crucial to the mREIT yield and return on equity.
Annaly experienced a 2nd quarter CPR of 19%. American Capital Agency (AGNC) disclosed a 10% actual CPR for the company's 2nd quarter. American Capital Agency provided info on their 3rd quarter. For the month of July, the CPR has decreased to 8%. The business model assumes a 12% CPR.
American Capital Agency provided insight to the mREIT's 3rd quarter. This CPR has decreased from the actual 2nd quarter CPR. The actual CPR 2nd quarter was 10%. July displayed an 8% CPR. This gives investors a notice of one month's CPR prior to the 3rd quarter 10Q filing. The company assumes a 12% CPR, so an 8% CPR is advantageous to the potential 3rd quarter results.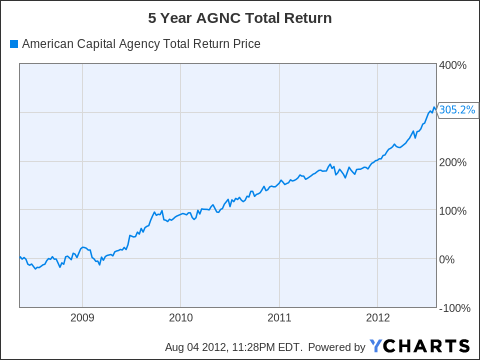 AGNC Total Return Price data by YCharts
Simple CPR Example
A CPR example assumes a $100 GSE MBS face value with a 6% coupon yield. Assume this GSE MBS has 10 years left in duration. On secondary markets, assume the security trades at $110. This is due, for example, to the current 2% GSE MBS 10 Year yield. Bond valuations have an inverse relationship to the current yield.
Assume Annaly believes the $110 bond purchase will expire in 10 years. If the $110 GSE MBS bond is repaid tomorrow, then the $10 premium is reported on the liability section of the balance sheet. Asset selection, with the lowest CPR, improves mREIT return on equity. The lowest CPR has significant and meaningful shareholder results.
Book Value Per Share
Annaly currently trades at a 6.28% premium to book value per share. Investors are best served to enter positions close to the mREIT's book value.

Click to enlarge
Annaly did increase, for the 2nd quarter, the leverage to 6.0x. This increase has the aim of increasing potential cash flow available for dividends.
Preferred Shares in lieu of Common Share Secondary's
The mREIT market has experienced a plethora of new issue preferred securities. The annual yield ranges between 7.0% - 8.5%. CYS Investments (CYS), for example, issued a preferred security. The security is a 7.75% Series A Cumulative Redeemable Preferred Stock. CYS Investments issues preferred stock to acquire new agency GSE MBS. The mREIT will benefit if the net return on equity, yield and value creation exceeds the preferred share cost and yield.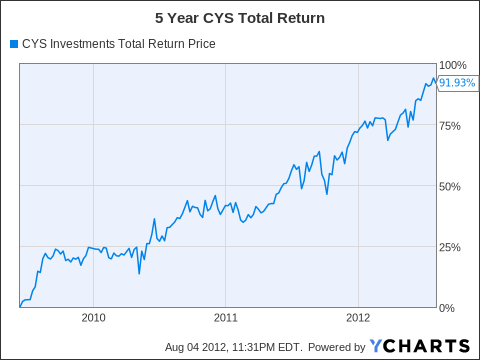 CYS Total Return Price data by YCharts
Total Return
Annaly has rewarded shareholders over the years. They offer the highest market capitalization mREIT to investors. The common investor flocks to the biggest name in the sector.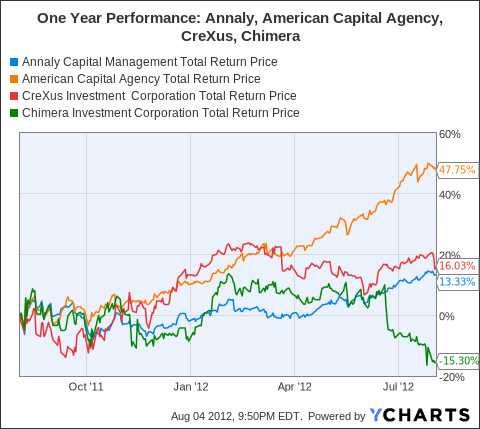 NLY Total Return Price data by YCharts
Policy Risk
Michael Farrell, Annaly's Chairman and Chief Executive Officer, highlighted the potential policy risks. If the economy does not recover, the government may take action with negative mREIT implications. Mr. Farrell stated, "…if the federal government mandates aggressive refinance and modification programs and as individual states consider reforms that actually will negate mortgage securitizations."
A few California cities have cited "eminent domain" as cause to negatively impact the GSE MBS market. If the GSE MBS valuations are negatively impacted, then Annaly could potentially lose book value per share.
American Capital Agency Conference Call
Gary Kain, American Capital Agency's President and Chief Investment Officer, also addressed policy risk. Mr. Kain, on the 2nd quarter conference call, stated he thought policy risk was currently at a low likelihood. This is due to the current success of the Home Affordable Refinance Program (HARP) 2 program. Many individuals are utilizing the program.
Mr. Kain did leave the door open for further policy risk if the U.S. economy did not rebound.
Fixed Income Discount Advisory Company (FIDAC) Operations
Annaly Capital Management owns subsidiary FIDAC. FIDAC externally manages CreXus Investment Corporation (CXS) and Chimera Investment Corporation (CIM).
CreXus Investment is a REIT that acquires, manages, and finances commercial mortgage debt.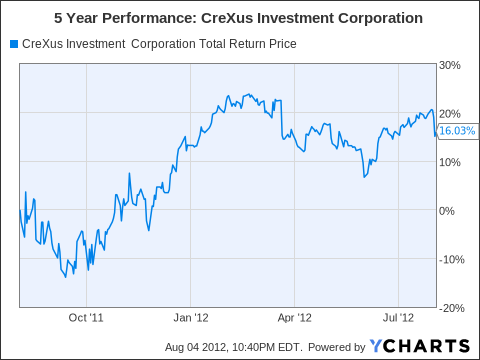 CXS Total Return Price data by YCharts
Chimera Investment is a REIT that invests in residential mortgage loans, and real estate related securities, and various other asset classes. Chimera has fired its auditor and not filed its SEC 10K as of August 3rd.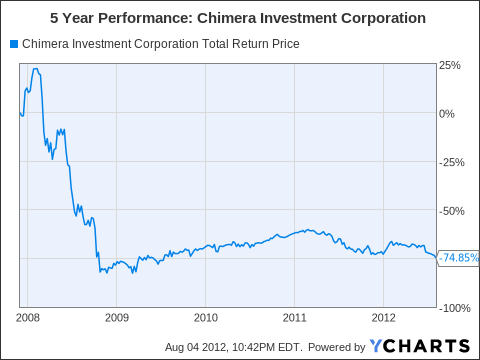 CIM Total Return Price data by YCharts
Summary
I believe Annaly is a blue chip mREIT for placement in high yield income portfolios. Management has proven itself over the years. Income investors should understand the business model of a mREIT. mREIT's have many risks, however, which are not going away.
Disclosure: LongRunData.com owners have permitted use of their reinvestment calculator. Todd