By Matt Doiron
Boston Scientific Corporation (NYSE:BSX) is a $7.5 billion market cap medical device company, with a particular focus on cardiac devices and treatment products. The stock is flat for the year against a rising S&P 500 and NASDAQ, but two insiders think that is about to change: CEO William Kucheman and President Michael Mahoney. Kucheman filed with the SEC to report that he had bought 10,000 shares at an average price of $5.21 and Mahoney's filing discloses that he bought 22,000 shares at an average price of $5.19. Both purchases were done directly on July 31st, days after the company announced its quarterly results; it missed substantially on revenue, earning it a downgrade.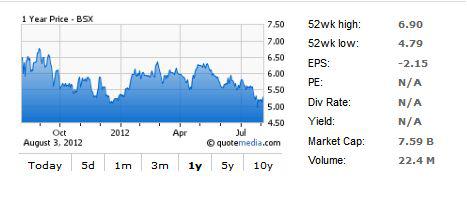 The buy-in of insiders is normally a bullish sign for a stock, as they are tying a larger portion of their wealth to the same company that they derive their income from instead of diversifying their income streams. The effect is particularly bullish when multiple insiders buy. Earlier this year, we also saw insider buying by Boston Scientific Corporation Board member Ernest Mario at prices between $5.91 and $6.12 per share.
Hedge fund activity in Boston Scientific Corporation was fairly strong in the first quarter of 2012. Paul Singer's Elliott Management initiated a position of 9.9 million shares. Omega Advisors, a multi-billion hedge fund managed by Leon Cooperman, owned 17.2 million shares of the company after having nearly doubled its position last summer. Ron Gutfleish's Elm Ridge Capital slightly reduced its stake but the fund still reported owning 11.9 million shares.
In the second quarter report, Boston Scientific revealed that its revenue fell 7% compared to the same quarter in 2011. The decline in business was led by double-digit percentage declines in its Interventional Cardiology and Cardiac Rhythm Management units, which are by far Boston Scientific's largest sources of revenue. The rest of the company actually experienced revenue growth. Boston Scientific also reported that it was taking a $3.4 billion goodwill impairment charge against its EMEA operations due to, among other factors, macroeconomic conditions in Europe. Excluding this charge, earnings per share were even with a year ago.
Sell-side analysts, like the CEO and President, expect that the company will recover from its problems. Given its earnings projections, Boston Scientific trades at a forward P/E of 11. The company's closest peer is St. Jude Medical (NYSE:STJ). St. Jude's stock is down 17% over the last year as it faces many of the same industry-related issues as Boston Scientific, though it has made earnings expectations for four quarters in a row, currently trades at 10 times its forward earnings expectations, and offers a 2.4% dividend yield. Medtronic (NYSE:MDT) and Edwards Lifesciences (NYSE:EW) are two other companies which produce medical devices to treat cardiac and cardiovascular problems, with Medtronic being quite a bit larger than Boston Scientific at a $40 billion market cap. Edwards is a growth-priced stock, trading at a forward P/E of 30 based on its most recent quarterly report of a 17% increase in income compared to the same quarter in 2011. Medtronic also grew its earnings strongly last quarter and trades at a forward P/E of 10, paying a 2.6% dividend yield to boot. Between these four companies, we are attracted to Boston Scientific because of the insider activity and- if the reason they are buying is because they believe that industry conditions are about to improve- St. Jude's and Medtronic could be buys as well.
Disclosure: I have no positions in any stocks mentioned, and no plans to initiate any positions within the next 72 hours.