A client passed along this article wherein Bill Gross says, among other things, that stocks are dying asset class. There was talk of zero real return for equities for some unspecified period of time. The context seemed to be U.S. equities. The article was very short so there could have been some nuance missing but very little of this is new.
First, Gross has drawn criticism over the years for talking his book at the expense of giving an unbiased opinion and the article had people to refute him but it only makes sense for a portfolio manager to talk his book, to do otherwise would be deceitful. If you manage a portfolio of equities and you think banks and France are going to be the best performers then you are going to say that to anyone who asks and you are going to own banks and France in your portfolio. Credibility is lost IMO when someone is a permabull or permabear. As mentioned recently, a study shows that vehemence seems to correlate with incorrect predictions.
As far as zero real return from equities, well, depending on the time frame he means, that might be an improvement in performance. The SPX spent plenty of time above Thursday's close 12 years ago, hello! Ditto five years ago, so zero could really be an improvement. Of course I would add that over that time there were many foreign markets that had normal returns for that decade+ time frame.
The forward looking opinion behind Gross' comments that were not really discussed in this article, but that he has talked about elsewhere; what he has dubbed the 'new normal'. This is not dramatically different than what I have been saying here for many years. The U.S. faces headwinds that make it less attractive than it used to be, will likely weigh down GDP growth and U.S. equity performance, when looked over longer periods of time. I believe U,S, markets will generally go up but at a much slower rate than before.
There are plenty of foreign markets that will not have to confront these secular headwinds but instead will simply have to endure normal cyclical events. This is what has in fact occurred in quite a few countries explored on this site and included in the portfolio (book talking).
The short answer is that this is not the least bit alarming to me, as I've been trying to prepare clients for this for many years and embed the idea into the portfolio too. With a nod to Thursday's post, I believe the fundamentals will matter over the longer term as has been the case looking back at the longer term. But we know that in the shorter term, fundamentals do not have to matter.
To repeat from many past posts, while growth here may not be great, the U.S. is still the world's largest customer and the dollar still plays an important role, even if a lessened role, in world commerce. And so the rest of the planet has a vested stake in the U.S. having some minimal level of health such that we at least muddle along.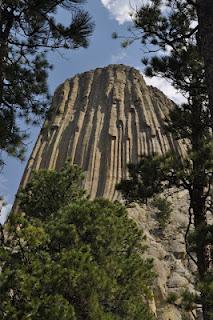 We had a full day yesterday in the Black Hills and Devil's Tower in Wyoming but we also had a full day dealing with the situation with RRGR's lead market maker. The assets are at Bank of New York (NYSE:BK) and safe. We are told that market making activity is operating as normal but that other market makers are stepping up to provide liquidity. That kind of seems like two different messages but that remains to be seen. There were multiple phone calls and countless emails including two phone calls at Devil's Tower.
The scope of Knight's market making operation is such that I believe there is no question it will survive. That does not rule out a name change- as I have no idea about that- but a name change is essentially what happened when Lehman (OTC:LEHMQ) went down and Barclays (NYSE:BCS) stepped in. As far as many analysts and traders were concerned, after a period of uncertainty most of them simply got new business cards.
A reader poked fun at me for being on vacation so soon after the launch but I would say that I am never on vacation in that when we are away from home I still spend many hours per day doing my job; the market doesn't care that you want to go on a trip. Our client base is entitled to have any needs addressed at anytime including fund holders. If I can be on two phone calls in rural Wyoming then I can probably work from just about anywhere.