"Hope in reality is the worst of all evils, because it prolongs the torments of man."

-Friedrich Nietzsche
The hope among those that are still invested in the U.S. stock market is seemingly boundless. No matter what obstacles are thrown the market's way, it seems to almost always find new ways to justify a rally. This past week was certainly no exception. But reality cannot be completely ignored. And the forces of reality promise to pay yet another visit to a dreamy stock market in the coming week.
The delusional hopes of the stock market were in full display over the last few trading days. It was just over a week ago that the stock market exploded higher following the bold declaration by Chairman Mario Draghi that the ECB is "ready to do whatever it takes to save the euro". In just two days, the S&P 500 tacked on +48 points, or nearly +4%, purely on the hopes that more aggressive monetary stimulus measures were soon on their way.
But with repeated signals that the U.S. and global economy is slowing and Europe remains on the brink of crisis, why was the stock market reaction so euphoric on Draghi's bold words? As shown in the chart below, if the Fed or the ECB is engaged in balance sheet expanding monetary stimulus, the stock market floats higher, regardless of how dismal economic or market fundamentals might be. Without such stimulus, stocks struggle.
click to enlarge images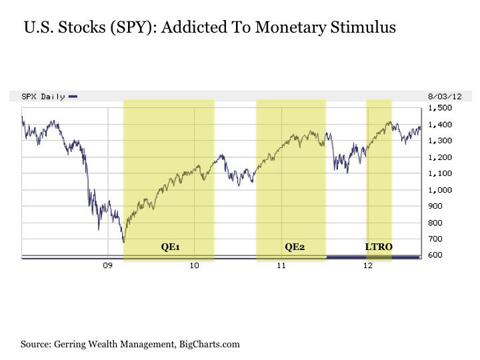 So we had a rally sparked just over a week ago that was completely driven by the idea that a fresh round of monetary stimulus would be announced either on Wednesday by the U.S. Federal Reserve or more likely on Thursday by the European Central Bank. For this reason, it was the events of the last few trading days that defied logic.
On Wednesday, the U.S. Federal Reserve was the first to pass on delivering any new QE3 program. They didn't even extend the 0% interest rate pledge to mid-2015. The most they provided was changing the word "may" to "will" in their statement. Of course, the Fed was not the main event this past week, as all eyes were understandably on the ECB.
The truly big news came on Thursday when Mr. Draghi delivered a colossal monetary dud. After his extraordinarily bold proclamations only a few days earlier, the ECB Chairman took to the podium and delivered nothing but more soft promises of potential action in the future. In what has been an alarmingly predictable trend by European policy makers, it was once again mostly talk and little action. And this time, the credibility of the ECB Chairman and anything he says going forward was completely obliterated in the process.
So after rallying so strongly in anticipation of receiving a bold monetary stimulus program this past week, how did the U.S. stock market react? Did it correct sharply lower as one might reasonably expect? Oh, of course not. Not in today's perpetually hopeful markets. Instead, it rallied even further, adding on another +36 S&P points from its intraday lows on Thursday following the ECB's monetary misfire through Friday's close.
The stock market rallied on expectations for immediate monetary stimulus, specifically from the ECB. This was the only reason. It certainly was not the economy, which has been steadily weakening. It certainly was not the latest earnings season, which has been subpar to say the least. Thus, hopes for more monetary stimulus was propelling a stock market rally in the face of forces that would otherwise be pushing it lower. So when the market did not receive the stimulus for which it was expecting, the reasonable response would have been for the market to give back much of the gains it had generated leading up to the ECB meeting. In other words, if the S&P 500 rallied by 48 points driven by expectations for more stimuli, logic would suggest that the S&P 500 would give these 48 points back at least once this stimulus was not delivered, not tack on even more gains to the upside. But such is the stock market we are operating in today.
So what then was the likely cause of the post ECB rally?
It certainly was not retail investors piling back into stocks, as they have been running from the stock market in droves for years. Since the beginning of the financial crisis, retail investors have withdrawn a net of over -$500 billion from the domestic equity market.
And it certainly was not the latest employment report on Friday for the month of July. Not only is the addition of +163,000 still woefully insufficient to support a sustained economic recovery, but the quality of the jobs added is definitely subject to question as well. The report was a modestly positive step in the right direction after three straight months of deceleration in job growth, but that's about it.
Instead, it was most likely a fresh wave of short covering. And once the markets stabilized on Thursday and the tide started to turn, the high frequency trading programs that so heavily influence today's stock market likely kicked into overdrive to squeeze every last drop out of the shorts. But regardless of the cause, the one thing we do know was that the reasons for the rally certainly were not fundamental.
So where do we stand as we head into the coming trading week? In short, the rally will be hard pressed to continue much further from here without another sharp pullback.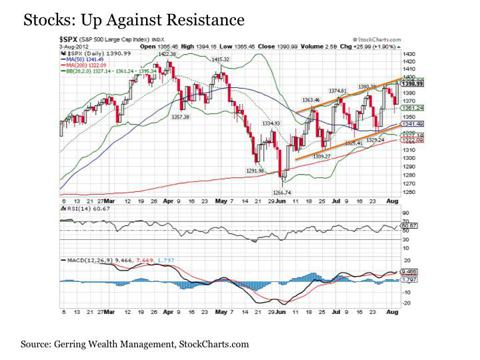 From a technical perspective, stocks as measured by the S&P 500 remain locked in an upward sloping trading channel with support at 1340 and resistance at 1400. Stocks also have support from its 20-day, 50-day and 200-day moving averages. And both Relative Strength Index and momentum readings are in bullish territory but far from extremes. Thus, stocks are bolstered on a variety of technical fronts.
But at present, stocks are now trading at the very top of the current range. Not only are stocks close to the top end of their recent trading channel near 1400 on the S&P 500, but they are also pressed up against the top of their Bollinger Bands, both of which suggesting that stocks are running very hot right now and are overdue for a pullback.
One does not need to look far for the reasons for stocks to retreat. We continue to operate in an environment where the market tide can turn quickly and dramatically. So for as positive as the market seemed to feel on Friday, recent history has shown that it takes only a few trading days to send markets retesting key support levels on the downside. With fundamentals as weak as they are in the current environment and the persistent threat of headline risk on a number of fronts, the potential catalyst for a downside reversal could emerge at any moment in time.
Perhaps most importantly, the decision of how much capital to allocate to the stock market must return to the matter of trust. Given how violently and irrationally the stock market seems to react on a daily basis to its various challenges, it is reasonable to question how much we can truly rely on the stock market at present to generate a predictable rate of return over any reasonable period of time. Certainly, any attempt to short the stock market is perilous. But how truly dependable is being long the stock market if its moves defy fundamental logic.
For these reasons, allocations to the U.S. stock market should be held with great care and a short-term time horizon in mind. We will arrive at a point in the future where a buy-and-hold strategy will once again make sense for stocks - I once owned ExxonMobil (NYSE:XOM), PepsiCo (NYSE:PEP) and Procter & Gamble (NYSE:PG) for nearly a decade until the outbreak of the financial crisis in 2008 - but we remain far from such a time at present. Instead, any positions held today should be economically defensive in nature and of the highest quality in terms of financial health. Examples include McDonald's (NYSE:MCD), Nike (NYSE:NKE) and Hormel Foods (NYSE:HRL).
Instead, the best investment opportunities continue to reside outside of the stock market. If investors are hopeful for more balance sheet expanding monetary stimulus, gold (NYSEARCA:GLD) and silver (NYSEARCA:SLV) are superior alternatives to stocks. In establishing this exposure, investors are best served to own the physical or to opt for holdings such as the Central Gold Trust (NYSEMKT:GTU) and the Central Fund of Canada (NYSEMKT:CEF) that provide the most secure and clearly stated allocations to these physical metals. Those anticipating more QE stimulus from the Fed are well served by owning Agency MBS (NYSEARCA:MBB), which would be the likely focus of any new program. And if you're inclined to short the stock market, Long-Term U.S. Treasuries (NYSEARCA:TLT) provide a far more productive way to accomplish this strategy, as they continue to generate strong gains when stocks are falling but generally hold their ground when stocks rally.
Stocks are high on hope coming out of what was otherwise a turbulent stretch last week. But far too many stark realities lurk on the horizon that could easily bring stocks back down to earth with 1360 and 1340, or down -2% to -4%, the potential next stops on the downside. It promises to be another interesting week ahead.
Disclosure: I am long TLT, MCD, NKE, HRL, CEF, GTU, MBB.
This post is for information purposes only. There are risks involved with investing including loss of principal. Gerring Wealth Management (GWM) makes no explicit or implicit guarantee with respect to performance or the outcome of any investment or projections made by GWM. There is no guarantee that the goals of the strategies discussed by GWM will be met.