As I write in a recent update to my 2012 outlook, I expect the global economy to experience one of two scenarios this year: A continuation of the current slow growth environment, which I believe is the most likely scenario, or a slide back toward recession.
While I believe the odds favor slow growth, i.e. what I call "The Great Idle," investors may be wondering what they should watch for in the second half of this year to confirm which scenario will play out.
Both my mid-year outlook piece and a similar new paper from the BlackRock Investment Institute offer a number of signposts, most of which have to do with policymakers successfully addressing fiscal problems and spurring growth.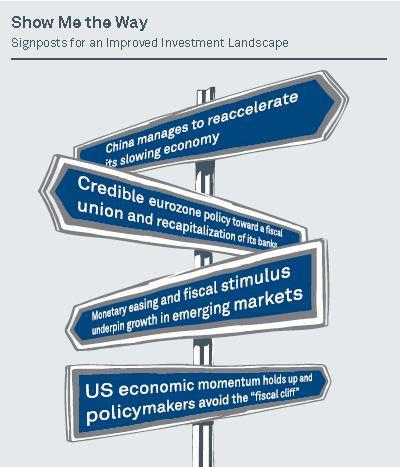 Signposts for Slow Global Growth
The United States: Politicians in the United States resolve, or appear willing to resolve, the fiscal cliff situation ahead of when it's set to hit in January. In addition to policy, watch leading indicators, specifically the Chicago Fed National Activity Index, my preferred measure to forecast economic activity. A reading around zero suggests a continuation of the slow growth environment.
Europe: Eurozone policymakers fix their region's shaky banking system, outline a credible plan for a closer fiscal union, resolve to bring down Italy's debt refinancing costs and implement structural reforms to spur growth.
China: China's efforts to ease monetary conditions payoff. A soft landing would equate with 7.5% to 8.0% growth.
Signposts for a Global Recession
The United States: Policymakers in the United States fail to resolve, or appear unwilling to resolve, the fiscal cliff situation ahead of when it's set to hit in January. U.S. economic growth continues to weaken. Rising tax rates pose the largest danger.
Europe: Deposit withdrawals in Southern Europe turn into a full-fledged bank run (watch deposit outflows from southern-tier countries), a closer fiscal eurozone union appears unlikely, Italy's debt refinancing costs remain high and structural reforms aren't implemented.
China: Growth falls below the 7% threshold and or lending falls.
Emerging economies in general: Indian and Brazilian growth continues to decelerate.
Ultimately, I expect we'll see more signs of slow growth than of a global recession. But as markets are likely to remain volatile as long as the outlook for the global economy stays uncertain, I continue to advocate that investors consider a relatively conservative portfolio that includes:
High-dividend paying stocks accessible through the iShares High Dividend Equity Fund (NYSEARCA:HDV) and the iShares Emerging Markets Dividend Index Fund (NYSEARCA:DVYE).
Source: Investment Strategy Group Research, BlackRock Investment Institute
Disclosure: The author is long HDV, MUB and LQD
Disclaimer: In addition to the normal risks associated with investing, international investments may involve risk of capital loss from unfavorable fluctuation in currency values, from differences in generally accepted accounting principles or from economic or political instability in other nations. Emerging markets involve heightened risks related to the same factors as well as increased volatility and lower trading volume. Narrowly focused investments typically exhibit higher volatility.
Bonds and bond funds will decrease in value as interest rates rise. A portion of a municipal bond fund's income may be subject to federal or state income taxes or the alternative minimum tax. Capital gains, if any, are subject to capital gains tax.