When insiders buy shares on the open market, their companies are usually undervalued. Corporate insiders often have the inside track on their companies' prospects. Insiders probably wouldn't risk investing too much of their own money into their own companies unless they thought the stock might rise.
I screened for companies in healthcare sector where at least one insider made an insider buy filed on August 3rd. Here are three healthcare stocks that I found:
1. Palomar Medical Technologies (PMTI) designs, produces and sells the most advanced cosmetic lasers and intense pulsed light (IPL) systems to dramatically improve the appearance of women's and men's skin. For over 15 years, Palomar has pioneered the science of using lasers and light to improve appearances. As the industry's technology leader, Palomar has invested in creating cosmetic laser and IPL systems that put real value in the hands of physicians and other professionals to benefit consumers. Thousands of physicians worldwide trust and depend on Palomar technology to not only introduce new aesthetic treatments such as advanced laser hair removal, laser liposuction, skin resurfacing, acne, laser treatments for scars, wrinkle treatment, stretch marks (striae), and photofacials for pigmented and vascular lesions, but to also make them robust, faster, more powerful, and more comfortable for those being treated. In June 2009, Palomar became the first company to receive a 510(k) over-the-counter (OTC) clearance from the FDA for a new, patented, home-use, laser device for the treatment of fine lines and wrinkles around the eyes (periorbital wrinkles). This OTC clearance allows the PaloVia Skin Renewing Laser to be marketed and sold directly to consumers without a prescription.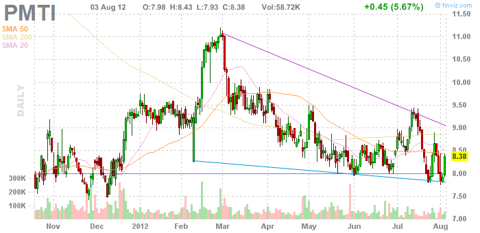 Click to enlarge
Insider buys
Broadwood Partners LP purchased 26,455 shares during August 1-2nd and currently holds 2,885,178 shares of Palomar. Palomar has 18.8 million shares outstanding which makes Broadwood Partners a 15.4% owner of Palomar.
Financials
The company reported the second quarter financial results on July 26th with the following highlights:
| | |
| --- | --- |
| Revenue | $19.7 million |
| Net loss | $0.08 per share |
| Cash | $99 million |
| Cash per share | $5.27 |
Outlook
Chief Executive Officer Joseph P. Caruso commented during the second quarter financial release:
"We are very pleased with the continued growth of our professional business as we expand our product portfolio and make key investments in our distribution network. This quarter was the eleventh consecutive quarter of product revenue growth year-over-year. Our professional aesthetic business is close to reaching profitability."
My analysis
The company is close to turning profitable and has a large cash position. The stock has a $18.5 price target from the Point&Figure chart. I could take a long position in the stock at current levels.
2. China Cord Blood Corporation (CO) is the first and largest cord blood banking operator in China in terms of geographical coverage and the only cord blood banking operator with multiple licenses. Under current PRC government regulations, only one licensed cord blood banking operator is permitted to operate in each licensed region and only seven licenses have been authorized as of today. China Cord Blood Corporation provides cord blood collection, laboratory testing, hematopoietic stem cell processing and stem cell storage services.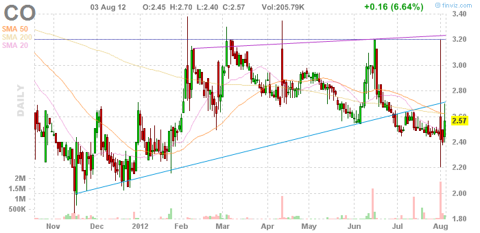 Click to enlarge
Insider buys
Kent McCarthy purchased 50,000 shares on August 1-3rd and currently controls 7,909,821 shares of the company. The company has 73,140,147 shares outstanding which makes Kent McCarthy a 10.8% owner of the company.
Financials
The company reported the FY2012 fourth quarter (ending March 31st) financial results on June 11th with the following highlights:
| | |
| --- | --- |
| Revenue | $60.4 million |
| Net income | $21.0 million |
| Cash | $126.1 million |
| Net cash | $1.63 per share |
My analysis
The company has a 62.6% insider ownership and net cash of $1.63 per share. I believe the current price is a good entry point for the stock.
3. Human Genome Sciences (HGSI) is a commercially focused biopharmaceutical company with one potentially major product approved by FDA in March 2011 and a broad pipeline of novel drugs in late- and mid-stage development.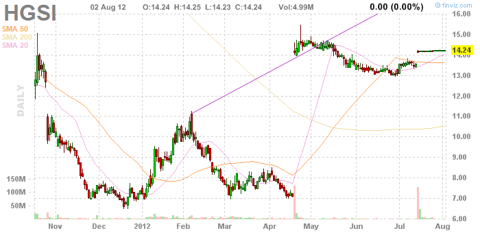 Click to enlarge
Insider buys
Glaxosmithkline (GSK) purchased 68,332,901 shares on August 1 -2nd currently holds all the shares of the company.
My analysis
The deal is now done and Glaxosmithkline owns Human Genome Sciences. The trading with Human Genomo Sciences' shares have ceased on NASDAQ.
Disclosure: I have no positions in any stocks mentioned, but may initiate a long position in PMTI over the next 72 hours.