Statoil ASA (NYSE:STO) is an integrated energy company based in Norway. Statoil explores for and develops oil and gas on the Norwegian Continental Shelf as well as internationally.
According to Yahoo.finance:
STO: $24.35 +$0.69 (2.92%)
Market Cap: $77.48B
P/E: 6.06
EPS: 4.02
Div: $0.91 (3.80%)
Click to enlarge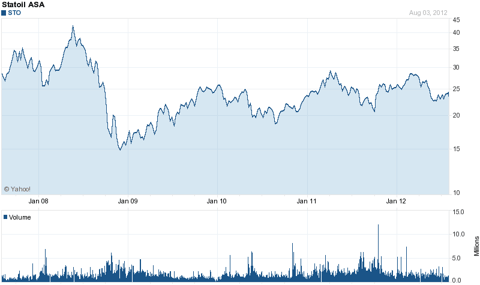 Click to enlarge
StatOil announced Q2 2012 earnings on July 26. Highlights from the quarter are summarized on Statoil's website here. Here are some of the more noteworthy items:
Oil and gas production was up +17% compared to the prior year (1,980 mboe/day).
Adjusted earnings were up +5% compared to the prior year, as a result of higher oil and gas prices and higher volumes sold.
Gas production was up +33% and NGL production was up +8%.
International production was up +32%.
North American production more than doubled.
Two more high-impact discoveries were announced in Tanznia and Norway.
Reaffirmed production growth target of 2.5 mmboe/day by 2020.
Average liquids price $99.40/barrel.
The production increase of +17% certainly sets STO apart from its peers, many of whom are struggling just to maintain current production rates. The company's focus on increasing international production is paying off, while the NCS keeps proving it is not "dead" yet. Production in NA more than doubled.
Meantime, the company continues appears to be on track to repeat its awesome 2011 exploration results (arguably the best in the business) with two more high-impact discoveries so far in 2012. More details on Statoil's recent big discoveries and the BEXP coup are covered in this previous Seeking Alpha article: StatOil Is A Trifecta of Value, Income and Growth Potential.
Key notes from the conference call:
The King Lear discovery in the North Sea is between 70 million and 200 million barrels (STO is the operator).
The Lavani gas discoveries in off-shore Tanzania has given STO access to 9 Tcf of gas (STO is the operator).
Total discoveries so far in 2012 have amounted to more than 1 billion barrels of resources.
The Troll gas field in the North Sea increased production by 100,000 barrels per day in the quarter.
Pazflor in Angola reached 44,000 barrels/day for STO (Total is the operator).
The Bakken produced 35,000 barrels/day. Rig count has increased from 10 to 16 since the BEXP acquisition.
Upcoming turnarounds are projected to impact production by 110,000/day in Q3.
With a PE of 6 and earnings per share of $4, the stock seems significantly undervalued considering the outlook for production and earnings growth rates. Statoil keeps reiterating its 2.5 mmboe/day by 2020 production target and all indications point to it achieving its goal. Compared to its peers, this 25% increase over current production levels in just 8 years is quite fantastic. The company is also well leveraged to higher European oil and gas prices - note the $99.40/barrel average liquids price received.
Those who steer away from STO often cite ownership and relationship issues with the Norwegian government. But there are some positives to that relationship that are often overlooked. Take the recent oil workers strike. The government encouraged the company and workers' organization to work things out. However, when it was clear there was a deadlock and production could be severely curtailed, the government put the hammer down and bingo, back to work. You see the government needs its revenues too.
Also, government oversight prevents StatOil's executives from being over-compensated. At one time, the top-10 executives at STO made less than the CEO of Exxon Mobil. I am not sure if this is still true today, but I bet it is not far from the truth. Lastly, Statoil is dedicated to a robust dividend policy. With the U.S. 10-year treasury yield at 1.7%, investors can bank Statoil's nice dividend and wait for the next geopolitical event to drive oil prices, and STO's stock price higher. Statoil's safe reserve base in friendly Norway and North America, as well as its role in primary natural gas delivery to Europe are big advantages in today's risky world of oil production and transport. What value at P/E=6!
Disclosure: I am long STO.