Elbit Systems (NASDAQ:ESLT), one of our favorite Israeli stocks that trades in the U.S., blew past earnings estimates and produced another record quarter. The Israeli defense company, posted revenues of $616.1 million, up from $403.6 million in the first quarter of 2007.
Gross profit for Q1 '08 increased by 62.6% to $168.4 million (27.3% of revenues), as compared with gross profit of $103.5 million (25.7% of revenues) in Q1 '07. Margins continued to be strong and the company now can boast that more than 80% of revenues come from outside of Israel, meaning that it has done a terrific job in diversifying its revenue stream.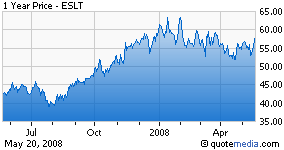 What really makes the report interesting is the backlog of orders in the pipeline. Elbit reports $4.9 billion in backlog, with about 69% of the company's backlog as of March 31, 2008, scheduled to be performed during the upcoming three quarters of 2008 and during 2009. Obviously this bodes very well for the upcoming year, and has the potential to help fuel the stock higher.
Commenting on the earnings, CEO Joseph Ackerman said:
"I am pleased to report another quarter of strong growth with record financial results. We also had a record quarter of over $914 million in bookings, enabling our backlog to reach just shy of the $5 billion milestone.

Our margins reflect a number of factors including efficiency processes in the Company, as part of the synergy with recently acquired companies. Our acquisition policy has proved it successful and has contributed to a larger scale and broader product offering to customers, enabling us to win more strategic and larger contracts, and helping us to further expand our network of customers and business partners. We continue to globalize our business with 80% of our revenues from outside Israel, and we now have presence in many important and diversified geographic regions, with a broad product portfolio for the evolving needs of the defense electronics, homeland security and commercial aviation industries.
The company has rewarded investors for years, and again on Tuesday it announced an increase in dividend to $0.20 a share. As long as the world remains an unsafe place, and it's been that way for more than 5000 years, Elbit should continue to grow revenues and gain market share.
Disclosure: The author's fund has a position in ESLT. He has no position in any stock mentioned as of May 20, 2008.