" If you were successful, somebody along the line gave you some help. There was a great teacher somewhere in your life. Somebody helped to create this unbelievable American system that we have that allowed you to thrive. Somebody invested in roads and bridges. If you've got a business -- you didn't build that. Somebody else made that happen." -President Barack Obama
On the contrary I believe companies like Microsoft (MSFT), Intel (INTC) and Apple (AAPL) lend to the infrastructure around them the same way Ford (F) did 100 years ago. In 2011 Microsoft, Intel and Apple paid over $18B in corporate income taxes combined. Though the president said successful Americans did not build roads and bridges, their tax dollars in fact did.
The president made this statement to justify raising taxes; while the General Services Administration spent $20,000 on drumsticks; novelties for a party in honor of themselves. They could have bought hundreds of stethoscopes for medical doctors, instead somebody invested tax dollars in party favors.
The 435 Congresspeople, 100 Senators and the president did not build the buildings they work in. They certainly did not build the roads or bridges; their predecessors allocated Americans' tax dollars towards projects that Americans wished for.
In the early 1900s American farmers complained about their vehicles getting stuck in the mud. So Missouri's Congressman wrote the Federal Aid Road Act. ($75 M that would be matched dollar for dollar by the recipient municipalities.)

"The happiness, comfort and prosperity of rural life, and the development of the city, are alike conserved by the construction of public highways. We, therefore, favor national aid in the construction of post roads and roads for military purposes." -President Woodrow Wilson

President Woodrow Wilson signed the Federal Aid Road Act July 11, 1916.
Build America Bonds
In Apple & Google: Investment For A Century, I included Apple and Google (GOOG) stock alongside university bonds to create a basic income position. This strategy will consider using university income to buy Microsoft, Intel and Apple during the next 18 years; with Aaa rated taxable muni bonds:
| | | | | |
| --- | --- | --- | --- | --- |
| | Maturity | Coupon | Price | Yield |
| University of Michigan Build America Bond (CUSIP: 914455JZ4) *mandatory sinking fund redemption [$675k 2025, $700k 2026, $29.5M 2027, $30.7M 2028, $10.2M 2029, $6.3M 2030] | 4/2030 | 5.51% | 126.25 | 3.53% |
| Beachwood Ohio City Qualified School Construction Bond (CUSIP: 073545LY9)[prospectus linked to cusip] | 12/2026 | 5.12% | 119.41 | 3.4% |
*BABs have mandatory sinking fund redemption. The issuers will begin to redeem parts of your position starting a few years before the date of maturity.
| | |
| --- | --- |
| Just a couple days after being introduced Congress passed The American Recovery and Reinvestment Act. Amongst the numerous provisions a new class of bonds, "build America bonds," were created. They are taxable bonds issued through December 31, 2010. | President Obama signed The American Recovery and Reinvestment Act February 17, 2009. |
"INTEREST ON BUILD AMERICA BONDS INCLUDIBLE IN

GROSS INCOME FOR FEDERAL INCOME TAX PURPOSES.-For purposes of this title, interest on any build America bond shall be includible in gross income. (pg 358 PUBLIC LAW 111-5-FEB. 17, 2009)

SEC. 6431. CREDIT FOR QUALIFIED BONDS ALLOWED TO ISSUER.

B. PAYMENT OF CREDIT.-The Secretary shall pay (contemporaneously with each interest payment date under such bond) to the issuer of such bond (or to any person who makes such interest payments on behalf of the issuer) 35 percent of the interest payable under such bond on such date."
Treasury Analysis of Build America Bonds
The US Treasury analyzed the bonds in May 2011:
"Over $180 billion of Build America Bonds were issued over the lifetime of the program

State and local governments reaped approximately $20 billion in present value savings from issuing Build America Bonds"
President Obama realizes that the top 10% of taxpayers pay over 50% of the taxes, while the bottom 50% pay less than 10%. Obama wants more tax dollars; so he's campaigning on the premise that financially successful Americans do not 'pay their fair share.' My conclusion is tax dollars should be used precisely; and the one way for the country to be successful is to learn from proven successful American companies.
"...the top 5% with gross income of $137,056 or more pay 57.1% (earning 33.4%), and the bottom 50% with gross income of $30,122 or less pay 3.3% (earning 13.4%)."
It must make sense from the Obama administration's perspective, however some businesses want to pay as little as possible. Apple itself employs a technique to avoid taxes called the 'double Irish and Dutch sandwich'
"Apple was a pioneer of an accounting technique known as the "Double Irish With a Dutch Sandwich," which reduces taxes by routing profits through Irish subsidiaries and the Netherlands and then to the Caribbean. - NY Times April 2012"
Build America Bonds vs. Qualified School Construction Bonds
Some exposure to taxable muni bonds makes sense, in addition to Microsoft and Apple stock. Because they yield well above the highest yield treasuries and you can benefit from federal tax dollar allocations.
Here are two ETFs that hold build American bonds:
| | | |
| --- | --- | --- |
| | % in Aaa / Aa2 rated bonds | Top 5 Holdings |
| Guggenheim Build America Bonds (GBAB) | .07% / 45.2% | New Jersey State Turnpike, West Virginia Higher Ed., West Chester NY Healthcare, Los Angeles Dept. of Power, Dallas Texas Convention Center Hotel |
| Nuveen Build America Bonds (NBB) | 8.9% / 47% | Texas State: North Texas, Municipal Electric: Nuclear Power Plant, Los Angeles Community General Obligations, Cook County General Obligations, Los Angeles County Leases |
Since corp. bonds and stocks have gained recently, I decided to profit take and build positions in greater credit quality BABs and QSCBs. Though I consider Guggenheim Build America Bonds ETF to be a good fund, I profit took on it, utility mutual funds and stocks to diversify into the taxable muni bonds.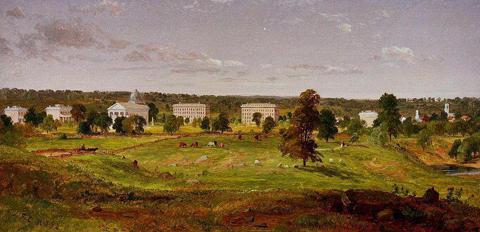 Click to enlargeUniversity of Michigan campus 1855 by Jasper Francis Cropsey
Henry Philip Tappan was the first president of the university from 1852-1863, his friend Jasper Cropsey portrayed the campus in 1855.
University of Michigan is the oldest university in Michigan.
The university has over 500,000 living alumni.

University of Michigan Campus in 1940 aerial photo
I spoke to University of Michigan's treasury and asked if the school endowment would or could be used to pay the $78.2M in BAB bonds. The University of Michigan treasury representative said that part of the repayment of the bonds could be derived from "general revenue." I thought this was an important question because University of Michigan has a $7 billion dollar endowment.
"The University's endowment funds consist of both permanent endowments and funds functioning as endowment. Permanent endowments are those funds received from donors with the stipulation that the principal remain inviolate and be invested in perpetuity to produce income that is to be expended for the purposes specified by the donors."
My broker mentioned the bonds have an 'extraordinary redemption' provision, though the University of Michigan treasury said an extraordinary redemption is not currently taking place. The prospectus explains that if the bonds lose their eligibility to receive build America bond funding they will be redeemed by the issuer.
"The Bonds are subject to extraordinary redemption at the option of the Issuer prior to their stated maturities, on any date, in whole or in part upon the occurrence of an Extraordinary Event...

An "Extraordinary Event" will have occurred if [i.] there shall be enacted an amendment to the Code that [A.] results in the reduction or elimination of the 35% cash payments payable by the United States Treasury to issuers of qualified build America bonds"
The prospectus also explains that the BAB bonds have a mandatory sinking fund redemption provision as part of the "authorizing legislation." These are important considerations and good reasons to consider non build America bonds, in addition to or in lieu of build America bonds. I searched Aaa rated muni bonds and found the taxable Beachwood City Ohio School District bonds.
Beachwood City School District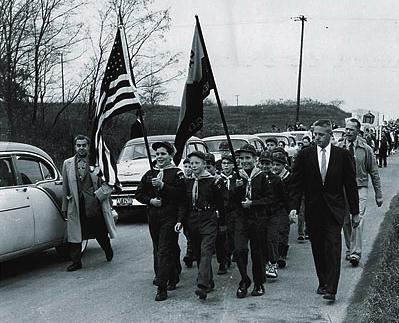 Beachwood Highschool Groundbreaking Parade 1957
Beachwood City approved a measure in 2010 to issue $30 million in bonds:
$7.59M General Improvement School Improvement (Tax Exempt)
$2.5M build America bonds (2028), $2.6M build America bonds (2030), $5.9M build America bonds (2034)
$11.26 General Obligation School Improvement Bonds (Federally Taxable) Qualified School Construction Bonds
"To the extent that the School District fails to expend all of the proceeds of the QSCBs within the three-year period beginning on the date of delivery of the QSCBs (or, if an extension of that expenditure period has been received by the School District from the Secretary of the Treasury, at the close of the extended period), the QSCBs are subject to extraordinary mandatory redemption prior to maturity in whole or in part on any date on or prior to the 90th day following the close of the three-year period (or extended period) at a redemption price equal to 100% of the principal amount redeemed, plus accrued interest to the redemption date, payable from such unexpended proceeds...

The QSCBs are also subject to extraordinary optional redemption prior to maturity by and at the sole option of the School District, in whole or in part on any date, at a redemption price equal to 100% of the principal amount redeemed plus accrued interest to the redemption date, in the event that the QSCB Direct Payments cease or are reduced."
These added provisions are one reason why I added more Tufts University century bonds to my layered position (instead of more BABs.) The fact that University of Michigan and Beachwood City schools are rated Aaa instills confidence that they can succeed; however the risk can be reduced by getting three different bonds instead of just one. The issuers' benefits, that if withdrawn will result in an extraordinary redemption are beyond their control.
The other very important consideration is the size of the allocation. With rates low and yields low now is not the best time to invest in bonds. However by profit taking on other positions I can compensate for the premiums. The minimum purchase amount for the BAB and QSCBs is five bonds; the Tufts offer I bought had a minimum quantity of one.
I believe a conservative IRA allocation in these bonds is between 2 and 4 percent of a portfolio. The allocation is over 10% in the example below, since the portfolio size is smaller. The Tufts bonds are century bonds and should not exceed 1%.
Investing in America
A conservative long term strategy is perhaps best in today's market. My opinion is the income generated from these bonds should be directed towards equity and more income funds.
Here is an example of allocations for these muni bonds.
| | | | | |
| --- | --- | --- | --- | --- |
| Portfolio Size | University of Michigan BAB 5.5% 2030 (price 126.25) | Beachwood City Ohio 5.1% QSCB (price 119.41) | Tufts Century 5% (price 121.00) | Total/ Percentage |
| $50,000 | 0 or 5 ($0) | 0 or 5 ($5,970) | 0 ($0) | $5,970 / 12% |
| $100,000 | 5 ($6,312) | 5 ($5,970) | 0 ($0) | $12,282 / 12% |
| $500,000 | 5 ($6,312) | 5 ($5,970) | 1 ($1,210) | $13,492 / 2.7% |
| $1,000,000 | 5 ($6,312) | 5 ($5,970) | 2 ($2,420) | $14,702 / 1.4% |
*Note: The Tufts bonds are trading between $121.00 and $126.00
Ideally you could draw profit from other investments to compensate for some of the premiums. A rule of thumb I use is to profit take from positions I like if the profit seems too good to be true.
In addition to selling some Guggenheim Build America Bond ETF I profit took some on Microsoft and EMC (EMC) stock, in addition to Raytheon (RTN) stock and two utility funds. I also sold more Mattel corp. bonds (as I had done to buy Tufts bonds last week,) I then took some of the profit and went into energy companies that are top holdings of one of the mutual funds I sold and another fund that I like. (Public Service Enterprise Group (PEG) and Dover (DOV).)
I then used that profit and the principal from BAB ETF, Microsoft, EMC, Raytheon and Mattel bonds to buy the University of Michigan BABs and Beachwood QSCBs and more Tufts bonds.
If you buy five of each muni bond and one of the Tufts bonds, they will cost $13,492 and pay $580 a year in income. It may seem like it will take a while for the income to eclipse the premium of $2,492. However the investor must consider that some Aaa and Aa2 holdings could be worth the expense.
Use of Income
After ten years and 20 semi annual coupons per position the bonds should make $5,800. (*Note the University of Michigan bonds will begin to redeem in 2025 through 2030 as part of the mandatory BAB sinking fund redemption.) Here is a schedule to consider for the next 18 years, where you accumulate shares of Microsoft, Intel and Apple and an income fund with the coupon payments.
Schedule

2012-2015

Use 15% of every two coupon payments to buy an income fund.
Every 3 coupon payments use 70% of income to buy Microsoft and Intel.
Every 9th coupon payment use the 15% savings and that coupon payment to buy Apple.

2016-2020

Use 15% of every two coupon payments to buy an income fund.
Every 3 coupon payments use 70% of income to buy Microsoft and Intel.
Every 9th coupon payment use the 15% savings and that coupon payment to buy Apple.

2021-2025

Use 15% of every two coupon payments to buy an income fund.
Every 3 coupon payments use 70% of income to buy Microsoft and Intel.
Every 9th coupon payment use the 15% savings and that coupon payment to buy Apple.

2026-2030

* Beachwood Bonds scheduled to mature.

* U of Michigan bonds scheduled to begin sinking fund redemption and ultimately mature.

Use 15% of every two coupon payments to buy an income fund.
Every 3 coupon payments use 70% of income to buy Microsoft and Intel.
Every 9th coupon payment use the 15% savings and that coupon payment to buy Apple.
As the prices of the securities fluctuate you can customize the schedule. Currently this schedule would consider buying Apple every 5 years. However if the cumulative savings total enough to buy a share or shares of Apple you could invest sooner.
Americans Build
Americans have funded the parties on Capitol Hill since our tax payer dollars were used to build it. Many Americans today don't have hundreds of dollars to spend on party favors; instead hard earned money is put into savings, and given in taxes. Hopefully not to be used to pay for $20,000 in drumsticks for a GSA party. Only for the government to come back saying 'we need more because we spent what you gave us.'
The magnitude of large and small companies' addition to the investment in and construction of America is immeasurable. No, you will not see Apple's CEO or Microsoft's CEO on the side of the road pouring asphalt anytime soon. However their combined 150,000 employees' income taxes (and ultimately estate taxes when applicable,) corp. income taxes, sales taxes from products and property taxes will be going to make sure that America's infrastructure is strong, for a very long time.
If you have any comments or would like to suggest a security that might work for this strategy please comment below.
Disclosure: I am long AAPL, MSFT, INTC, PEG, DOV, F, RTN.
Additional disclosure: I am long UNIVERSITY OF MICH BAB 4/2030, BEACHWOOD OHIO CITY SCH QSCB 12/2026 & TUFTS UNIVERSITY 2112