Pinnacle Entertainment (PNK) has been in my portfolio since the end of last year. This gaming concern stock has not done much since I have owned it. However, in the last few weeks several exciting catalysts have occurred that should drive this cheap equity much higher.
Key catalysts for Pinnacle:
"Pinnacle Entertainment owns, develops, and operates casinos, and related hospitality and entertainment facilities in the United States." (Business description from Yahoo Finance)
Five additional reasons PNK has significant upside from under $11 a share:
The median price target by the 17 analysts that cover the stock is $14 a share.
The company is selling near the bottom of its five year valuation range based on P/E, P/S and P/CF.
Pinnacle has crushed estimates for the last six straight quarters. The average beat over consensus over the last four quarters has averaged over 40%.
Analysts believe that the company will produce between 7% to 9% revenue growth in both FY2012 and FY2013. The stock has a five year projected PEG of under 1 (.61) as well.
The stock looks like it has bottomed and just crossed its 200 day moving average (See Chart)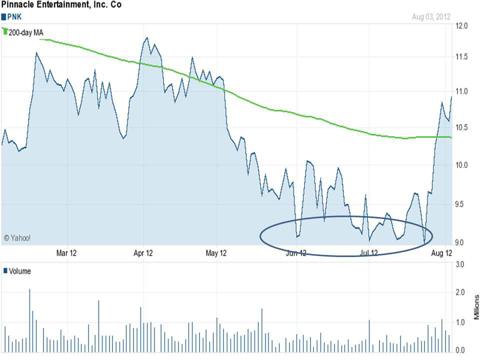 Disclosure: I am long PNK.