Nordic American Tanker Shipping Limited (NYSE:NAT) was incorporated in 1995. Over the years, they have been very ambitious with respect to acquiring ships of the double hull variety. By March 2006 they had acquired their 9th vessel. In November of 2007, they engaged in the building of two new tankers, which will be received in the fourth quarter of 2009 and April of 2010, respectively. This company does have some exposure to the spot market as one of their 12 ships has fixed charges and the other eleven are market based income.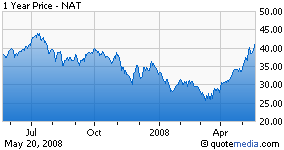 When looking over this company's first quarter results for 2008, it seems that there is more pricing strength on-going in the oil shipping market. From the fourth quarter of 2007 to the first quarter of 2008, the spot market paid an increase from $27,000 per day versus $46,600. During that time the dividend increased 136%. They have also stated that the 2nd quarter of this year has seen rates increase from the 1st.
My bullishness in this sector has to do with the phasing out of single hull tankers. In the 1st quarter of 2008, tanker numbers decreased by 2 to 360 vessels. Of that number, 46 are single hulls and they are going to be phased out by 2010. Since NAT has no single hull tankers, they are positioned well. When they are phased out, many will be looking to replace them as fast as they can, but time frames will make it difficult to get all of those ships on line in time. Even if they do, demand for oil across the world is going to increase the need and day rates for the shippers.
NAT's chart is very bullish. They had a double top breakout pattern as of April 16th. This trend has continued and still looks to be headed upward. When looking at the chart for this time of year over the past five years, we see that this is when the stocks in this sector continue to move. Looking at the bullish pricing of oil, it looks like the same will happen again this year. If you look at the chart and their recent volume, it has been very high with respect to their five year chart.
When looking at their PE ratio, many would shy away from this company, but they are so levered to the spot market that they will do better in a strong pricing environment. This makes this particular investment very speculative, as opposed to a company like Frontline (NYSE:FRO). I think this company can be bought on bullishness of pricing for the quarter. I think most companies levered to the oil market will continue to trend higher through the year as the economy does not look that great, but inflation will remain high.
Disclosure: none