Home Depot (HD) has made great strides in improving its operations. In the Q1 2012 earnings call held on May 15, 2012 Carol Tome, the company's CFO and Executive Vice President, noted the company improved its gross margins by 8 basis points in the quarter as compared to the prior year, with 7 basis points attributed to supply chain transformations initiated for its U.S. segment.
The company has also introduced the productivity enhancing "First Phone" which combines the functionality of a smartphone and a walkie-talkie in order to provide real-time information related to sales, gross margin and inventory. The "First Phone" device can also be used for processing credit and debit card transactions.
However, in Home Depot's Investor & Analyst Conference held on June 6, 2012, Carol Tome noted the company is not planning on major remodeling of stores (pdf) or introducing new store formats, but plans on maintaining the status quo. Home Depot appears to be missing the boat on this one, as the company's store formats are as varied as there are number of stores. It would seem to make a lot of sense to have a standardized store format, so when customer's learn where an item is located in one Home Depot, the item is located in the same place in all of the other stores, thereby reducing the time required for a customer's product search.
Additionally, Home Depot does not appear to have any plans for expansion into Europe, even though the company's prospects for growth in the U.S. have pretty much been taken advantage of. At some point, opening a new Home Depot store in the U.S. will only cannibalize sales from other Home Depot stores located nearby.
The company has expanded nicely in Mexico, with the Mexican business segment having reported 34 consecutive quarters of positive comparables. The company has also expanded some in Canada, with Canada reporting its first positive comparable since 2004. Home Depot has a smattering of presence in China, but has left Europe off of the table. Home Depot could easily double its revenue and market capitalization by expanding into Europe.
Home Depot's online business is doing well and outperforming the rest of the company, but only represents 2% of total sales. The company recently upgraded its dot-com platform in order to improve the aesthetics and responsiveness of the site.
For Home Depot, 38 of its top 40 markets had positive results in Q1 with the two negative markets being Phoenix and New Orleans. The negative results for these two markets were attributed to tough year-over-year comparisons.
Home Depot noted it is seeing signs of an improving housing market, although one still under pressure. Pricing has stabilized, but it not yet solid. Home inventory is down, but there are still concerns about shadow inventory. Credit availability for housing also remains constrained.
The company is seeing a gradual recovery on the pro side of the business, but mostly in the larger pro customers, not in the smaller pro customers. This was speculated to be a result of more credit availability for the larger pro customers than for the smaller pro customers. Home Depot is cautiously optimistic with regard to its pro business segment.
Home Depot raised its guidance for the year in Q1 and expects to realize continued gross margin expansion for the remainder of the year. In Q1, the company reported revenue of $17.8 billion which represents a 5.9% increase year-over-year. The company attributed a portion of the increase in growth to unseasonably warm weather in Q1.
Home Depot is implementing payment via eBay's (EBAY) PayPal and claims the PayPal system is fast, secure, convenient and has a lower transaction cost as compare to other payment methods. So far, payment via PayPal represents a very small percentage of total transactions.
The company's stock price has gone ballistic over the last year as shown below: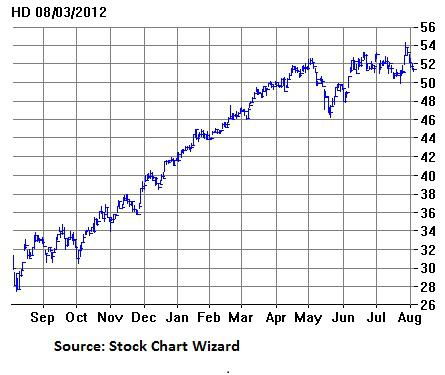 Home Depot has attributed its growth more recently to increases in Gross Domestic Product than to the housing market, and with the GDP growth having slowed in the most recent quarter, it would not be surprising to see Home Depot's growth having slowed as well. The new housing market appears to be rebounding, which could temper mediocre growth attributed to GDP, but might not totally compensate for slowed GDP.
With Home Depot's next earnings release scheduled for August 14, 2012, a ballistic stock price, slowing GDP, potential saturation of the U.S. market segment, reluctance to improve and standardize store formats and reticence to expand into Europe, Home Depot's future prospects are mediocre at this point. An investor in the company might consider entering a protected covered call or collar in order to position for generating a potential return, even if the stock price is stagnant, and in order to provide for protection against a drop in stock price. A protected covered call may be entered by selling a call option against the stock and using some of the proceeds to purchase a put option for protection or "insurance".
Using PowerOptions tools, a variety of protected covered call positions are available as shown below: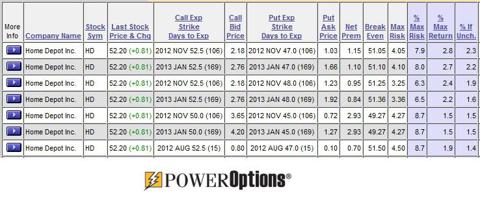 Click to enlarge
(Click to enlarge)
The top two positions appear to be disjointed, as the closer-in-time November position has a potential return of 2.3% whereas the farther-out-in-time position has a smaller potential return of 2.2%. This disconnect is due to dividend payments during the holding time for the positions. When taking into consideration the dividend payments, the top position with November expiration has a potential return of 2.9% (7.9% annualized) and the second position with January expiration has a potential return of 3.4% (7.3% annualized). Additionally, when taking dividend payments into consideration, the top November position has a maximum potential loss of 7.4% versus the second January position which has a maximum potential loss of 7%.
Either position is attractive, but we'll go with the 2013 January position, as it has the higher potential return of 3.4% and the lower maximum potential loss of 7%. The specific call option to sell is the 2013 Jan 52.5 at $2.76 and the put option to purchase is the 2013 Jan 47 at $1.66.
Protected Covered Call Trade
HD stock (existing or purchased)
Sell HD 2013 Jan 52.5 Call at $2.76
Buy HD 2013 Jan 47 Put at $1.66
A profit/loss graph for one contract of the position is shown below: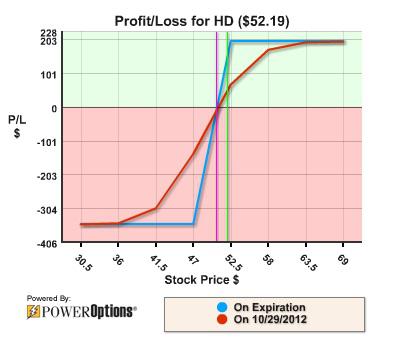 For a stock price below the $47 strike price of the put option, the value of the protected covered call remains unchanged. If the price of the stock increases to around $57.50, then the position can most likely be rolled in order to realize additional potential return.
Disclosure: I have no positions in any stocks mentioned, and no plans to initiate any positions within the next 72 hours.