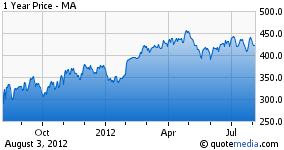 Shares of global payment company MasterCard (MA) lost almost 3% over the past week. On Wednesday, the company published its second quarter results.
Second Quarter Results
MasterCard reported a 15% increase in net income to $700 million, or $5.55 per diluted share. The results include a $13 million after-tax charge related to the U.S. merchant litigation. Excluding the impact of the charge, earnings came in at $5.65 per share, beating analysts consensus of $5.58 per share. Recently, payment companies settled with U.S. merchants for $6.6 billion. MasterCard's share in the settlement was $790 million, however the company already took a $770 million charge in the fourth quarter.
Net revenues increased 9% to $1.82 billion, or 13% on a constant currency basis. A stronger U.S. dollar was impacting nominal U.S. dollar revenue growth for MasterCard, as the company has significant international operations. On average, analysts have been looking for the company to report revenues of $1.88 billion.
CEO Ajay Banga commented on the results, "though economic uncertainties continued to persist, we experienced solid volume and processed transaction growth in all regions as we are focused on driving our global business to expand the reach of electronic payments."
Segmental Information
MasterCard reported a 15% increase in processed gross dollar volume to $890 billion, on a local currency basis. The number of processed transactions increased 29% to $8.5 billion. Cross-border volumes, which are very lucrative, increased 17%. At the end of the quarter, the company had 1.8 billion MasterCard and Maestro-branded cards outstanding.
The United States remains the most important continent, reporting 8.7% growth to $291 billion in transaction volume. Europe reported 16.4% growth in transaction volumes in local currencies. In dollar terms, growth was a mere 5.1% to $263 billion. Asia-Pacific, Middle-East and Africa, reported 22.8% growth in transaction volume in local currencies. In dollar terms, transaction volumes rose 19.2% to $233 billion.
Outlook
For the remainder of 2012, MasterCard expects revenue growth to come in lower than the 13% growth rate in the second quarter. The company expects to make fewer deals, it has tougher comparables, and global economic uncertainty could temper both consumer and business spending trends.
Furthermore, lower levels of the euro and the Brazilian real continued to generate currency headwinds in mostly the third quarter, and to a lesser extent in the final quarter of the year. The company did not specify a full year earnings per share target, but reiterated its target of achieving 20% compounded annual growth rate in earnings per share for 2012 and 2013. In 2011, the company reported full year normalized earnings per share of $19.07
Valuation
MasterCard ended its second quarter with almost $5.0 billion in cash, equivalents and investment securities available for sale. It operates without the assumption of debt for a net cash position of $5 billion. For the first six months of 2012, the company reported revenues of $3.6 billion on which it reported a net profit of $1.38 billion, or $10.91 per diluted share. At this rate, the company is on track to report annual revenues of $7.5 billion and earnings in the $22-$24 per share range.
Based on MasterCard's closing price of $424.13 on Friday, the market values the firm at $53 billion, or $48 billion for its operating assets, if we exclude the net cash position. This values the payment firm at 6.5 times annual expected revenues and roughly 18 times annual expected earnings. This valuation compares to an annual revenue multiple of 11 times for competitor Visa (V), which trades on 36 times annual 2011s earnings.
Currently, MasterCard pays a quarterly dividend of $0.30 for a mere annual dividend yield of 0.3%.
Investment Thesis
Year do date, shares returned 14% to levels around $424 at the moment. Shares peaked around the $460 mark by the end of April this year, but have corrected in line with the wider markets. Shares have roughly ten-folded since 2006 when shares traded around the $45 mark.
Investors are enthusiastic about the continued adoption of the company's cards and the strong exposure to emerging markets. MasterCard proportionally derives much more of its revenues from outside the US, compared to Visa.
Furthermore, MasterCard has rapidly been setting up joint ventures and partnership with telecommunication companies, to provide mobile payment solutions. In February it started Wanda, a joint venture with Telefonica SA (NYSE:TEF), to provide mobile payments solutions to over 87 million Movistar customers. In July, it signed a partnership with Deutsche Telekom AG (OTCQX:DTEGF), to do the same for 93 million mobile customers in Europe.
While shares trade at roughly 18 times annual earnings, MasterCard does look attractive, especially in comparison with Visa which has a much higher valuation. MasterCard has more emerging market exposure which creates a short term headache with the recent dollar strength. However long term growth prospects remain rosy, especially as the company is aggressively working towards mobile payment solutions. With many potential customers in emerging markets not having bank accounts, but do having cell phones, it could be a real winner in the long term. Furthermore the overhang with of the U.S. merchant litigation has been resolved with the settlement last month.
Investors might add MasterCard to their long term portfolio, or set up a pair trade by shorting Visa.
Disclosure: I have no positions in any stocks mentioned, and no plans to initiate any positions within the next 72 hours.