Using simple valuation methods and summing up the fundamentals with "they will get better in time" is an awfully lazy and unprofitable approach to investments.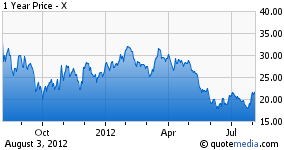 Without naming anyone, I recently came across an article discussing the value that U.S. Steel (X) offers to long-term investments; the conclusion tossed out a fair value of $56, only 280% higher than today's price of about $20, without any meaningful or unique information to back it up. This kind of analysis bothers me immensely; recommending long-term investments without a deep look at the bear case is unfair to readers. That's something I've begun to do more of recently.
The reality is that when we take a more in-depth look at U.S. Steel, there are several factors at play that make U.S. Steel a dangerous stock to hold in a long-term investors portfolio.
I'll take a bottom-up approach, since we're talking "long-term" here, focusing almost solely on the issues specific to U.S. Steel.
Disastrous Pension Liabilities
Many have begun to take note of U.S. Steel's massively unfunded liabilities. As of its most recent 10-K, the company disclosed that it short $2.7 billion on its medical and life insurance plans, and $2.4 billion short on its pension program.
The company also has $8.35 billion in total pension assets. These assets are currently allocated as follows:
$4.4 billion in global equity holdings
$1 billion in government debt holdings
$1.25 billion in

U.S. debt securities

$334 million in private equities
$274 million in real estate
$1 billion in other (short-term debt holdings, MBS, etc)
US Steel notes in it 10-K that it expects a 7.75% annual return on these assets. Considering how wide its funding gap is, it's quite dangerous to assume such an aggressive rate of return.
Seemingly aware that some investors would pick up on this, the company added a quick note:
"Actual returns since the inception of the plans have exceeded this 7.75 percent rate and while some recent annual returns have not, it is U. S. Steel's expectation that rates will return to this level in future periods."
This is very purposefully worded. My take is that prior to about 2009, when interest rates plummeted to record lows, U.S. Steel was able to achieve favorable rates of return on its debt holdings. In the "recent" environment however, the company has obviously been unable to reproduce returns above 7.75%.
When we consider that the portfolio is split at about 50% equity securities, 30% in debt holdings, and 20% in everything else, a 7.75% of return implies that U.S. Steel expects their equity investments to perform at Buffet-like level. If we consider that its debt holdings probably yield about 4-6%, the company is expecting very aggressive equity returns of at least 10%. This is terribly unrealistic, and a dangerous way to benefit short-term earnings.
If anything, the company should be very conservative with their estimates, so as to avoid subsequent hits to future earnings reports if/when returns don't meet expectations. My recent analysis of Aflac (NYSE:AFL) noted that its U.S. portfolio yields about 6.4%, and its global portfolio (which includes high-yielding debt via the euroyen market - EU bank debt etc) can be expected to earn about 4%. The reasonable conclusion here is that U.S. Steel's pension assets can simply not be expected to widely outperform the investment portfolio of Aflac, considering the fact that Aflac allocates far more resources to its investment management than does U.S. Steel.
U.S. Steel currently makes about $400 million in annual pension contributions, and its defined benefit plans pay out $1.2 billion in pensions and other benefits annually.
U.S. Steel has 39,000 total employees vs. 115,000 in the benefits program; the company goes so far to note that it may have to divert capital away from operations and investments to fund these massive liabilities.
The wrap-up: higher projected pension returns are temporarily adding false and unsustainable gains to U.S. Steel's EPS. These additions will be subsequently removed from future earnings reports.
Still Not Profitable
The company has lost an awful lot of money over the past few years, and this trend will likely remain intact for quite some time.
Though the company touted its free cash flow in its conference call, the quality of said cash flows for the first half of 2012 was very poor.
The following is sourced from its 2Q 10-Q filing:
The company actually lost money for the first half of this year, compared to a slight operating profit in H1 2011.
The FCF of over $400 million was a result of $309 million in asset disposals and a $252 million addition to inventory value. Additionally, note the $111 million loss in pension benefits category.
The company did earn $.62 in 2Q, and has lost $.82 in the first half of 2012. Although analysts expect X to earn $.27 2H 2012 (2012 loss of $.55 per share), they somehow expect the company to magically earn $1.53. Not surprisingly, their full year estimate is down from $2.52, the consensus estimate from three months ago.
Meanwhile, Nucor (NUE) forecasted far weaker earnings due in part to increasing imports of foreign steel, which are pressuring already weak domestic steel prices.
ArcelorMittal (MT) was recently cut to junk status by S&P, with the credit rating agency citing weakening industry trends. S&P also warned U.S. Steel that its BB rating could be cut, citing pricing worries, excess demand, and weakening economic prospects.
Chinese steel prices are at record lows, reflecting poor demand in the world's largest consumer of steel. Chinese steel mills are rapidly cutting production in response to a global slowdown.
Plummeting manufacturing PMIs in Europe, back to back contractions in U.S. ISM data, and far weaker demand in the BRICs, combined with oversupply and record low prices make me question the prospects for not only 2012, but the next several years. The key takeaway here is that China is at the very least going to pull off the first engineered soft-landing in history (I doubt it), while India and Brazil cool down significantly. Add in a deepening recession in Europe (where unemployment is at a record high 11.25), and a stagnant U.S. economy, and the outlook for U.S. Steel darkens significantly.
Conclusions
U.S. Steel bulls are underestimating the long-term, negative effects that the pension benefits situation is going to have on the bottom-line. Not only will U.S. Steel have to deduct earnings as a result of faulty expected rates of return, but the liabilities are going to require a large portion of operating capital. This will reduce U.S. Steel's ability to invest in long-term projects and focus on maintaining current operations.
The steel industry is facing a lot of changes over the next few years, similar to what the coal industry is dealing with now. Bankruptcy restructurings, mergers, and takeovers will characterize the future, helping to reduce competition and improve pricing power.
With such a large "competitive disadvantage" in its liabilities (the company's term, not mine), U.S. Steel is going to have a difficult time operating in this environment.
Disclosure: I have no positions in any stocks mentioned, and no plans to initiate any positions within the next 72 hours.