"Investors looking for growth would be wise to have part of their portfolio in equities," says Michael Cuggino, President and Portfolio Manager of Permanent Portfolio Family of Funds (MUTF:PRPFX). "Historically, and despite their volatility, they provide the best returns over time."
The billion-dollar question, of course, is how to approach the 4,800+ equities and 1,300+ exchange traded funds on the market. Naturally, different investors have different ideas.
Here's why we took note of Cuggino's: His Permanent Portfolio is a 5-star fund and one of the funds within the Permanent Portfolio Family of Funds, which ranks in the top 1% of its Morningstar category on a 5 and 10-year basis. It ranks in the top 5% of its Morningstar category on a 1-year basis. It boasts roughly $17 billion in assets under management. Impressive, no?
Turbo Chart: Permanent Portfolio Family of Funds (PRPFX)'s performance relative to the S&P500 index over 5 years: (click to enlarge)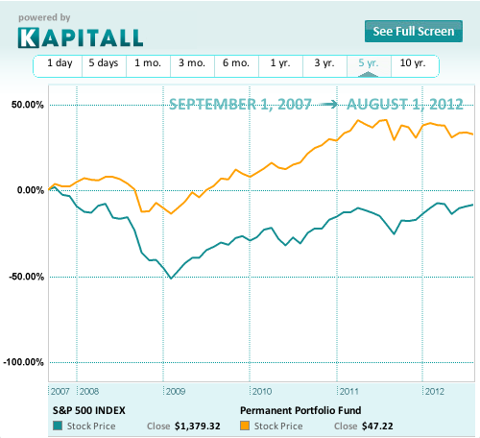 (Click to enlarge)
Strategy
"We believe in long-term holdings. We're a low turnover kind of investing company versus a trading in stocks mentality, and we always look for long-term tax efficient gains in our equities. And we believe in diversification, so we invest broadly across multiple sectors."
Unlike most funds, Cuggino doesn't approach equities with a cookie cutter set of technical requirements, nor does his firm actively buy and sell to catch the latest trends.
Instead, his team takes a macro-based top-down approach, and questions where sector growth is going to be. "Then we flip it and do research on companies that play on those areas. We use numerical and qualitative information: P/E growth rates, cash flow, earnings, CAPX, revenue growth, margins, and others. Then we combine it with subjective and qualitative information like management, ability to possess market leadership and create a product out of R&D and sell it on the marketplace… We're looking for a trigger to unlock any recognized undervaluations. We'll take information from anywhere to get there."
On Taxes: "Get in and out of trades while considering tax. For long-term investors, taxes are one of the biggest costs they incur, and it's not always something they realize. We always think about the impact of taxes in our trading and I think that somehow differentiates us from other firms."
Other considerations: "We don't invest in non-US companies, but we do look for companies with significant non-US revenue." He reasons companies with foreign exposure probably have people on the ground with more information than us, so we can participate in those markets more efficiently through firms with channels already in place.
Words of Wisdom
I asked Cuggino for some nuggets of advice for newbie investors:
An investor needs to consider what stage of life they're in, income needs, capacity to save, investment objectives, return expectations, and how much risk are they willing to accept?
Everyone needs exposure to equities, no matter who, but the degree matters depending on how you answer the previous questions.
If you don't need much cash on hand, you may want to put it in more aggressive growth stocks and overweight equities, but if you need income, focus more on dividends and fixed income.
When to get out: Just like you build a case to invest, build a case to divest. If a company is missing expectations or unsuccessful in its efforts, there's general malaise at the company or simply a lack of growth, and those would all be reasons to sell.
Top Holdings
"Our view on the economy is that while we're definitely experiencing some slowdown here and abroad, our long term prognosis is one that we should still be staying in these growth oriented stocks." To that end, his fund tends to gravitate towards more volatile growth names that react to markets. So there's an absence of consumer names, utilities and defensive type-stocks.
Although on that last note, many of the names in their current top holdings list (see below) have semblance of defensive stocks. This is sensible enough, as an equally weighted portfolio will tend to favor the firms with a leading function in the current market climate. For example, Costco (NASDAQ:COST) graduated to a top holding status because times are tough, leading people to buy in bulk and go for price.
With that in mind, take a look at the top holdings of the Permanent Portfolio Family of Funds' Aggressive Growth Portfolio (MUTF:PAGRX). Its goal is to outperform the S&P 500 index and remains fully invested in the stock market at all times. The fund currently holds about 40 names in total. Where applicable, note the commentary from Cuggino about the stock's growth potential.
List sorted by holding size.
Compar-O-Matic: Compare analyst ratings for the first nine stocks mentioned below: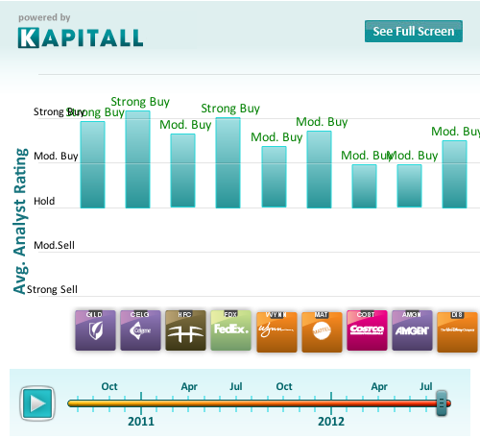 (Click to enlarge)
1. Gilead Sciences, Inc. (GILD): Engages in the discovery, development, and commercialization of therapeutics for the treatment of life threatening diseases worldwide. Represents 4.5% of holdings.
2. Celgene Corporation (CELG): Develops, and commercializes various therapies to treat cancer and immune-inflammatory related diseases. Represents 4.22% of holdings.
3. HollyFrontier Corporation (HFC): Operates as an independent petroleum refiner and marketer in the United States. Represents 4.04% of holdings. "A cyclical energy company. If activity levels are increasing than energy needs might increase. Pricing and energy could benefit."
4. FedEx Corporation (FDX): Provides transportation, e-commerce, and business services in the United States and internationally. Represents 4.02% of holdings. "This is a transportation stock that's rather cyclical, so the fact that we're in it indicates that in the longer term we're a believer in general [upward] move of the market."
5. Wynn Resorts, Ltd. (WYNN): Engages in the development, ownership, and operation of destination casino resorts. Represents 3.64% of holdings. Has significant non-U.S. revenues in the China market.
6. Mattel, Inc (MAT): Engages in the design, manufacture, and marketing of various toy products worldwide. Represents 3.56% of holdings. "Mattel reported very good earnings recently. They've got a lot of brand named toys so business a bit more recession proof than other industries. It's a company with a healthy dividend yield and reasonable P/E. It's not exactly cheap cheap cheap, but it's a reasonably priced stock."
7. Costco Wholesale Corporation (COST): Operates membership warehouses that offer a selection of branded and private label products in a range of merchandise categories in no-frills, self-service warehouse facilities. Represents 3.34% of holdings. As mentioned above, in a market where defensive firms are popular, you'll see Costco gravitate up because it's conducive to that environment.
8. Amgen, Inc. (AMGN): Develops, manufactures, and markets human therapeutics based on advances in cellular and molecular biology for grievous illnesses primarily in the United States, Europe, and Canada. Represents 3.21% of holdings.
9. Disney (DIS): Operates as an entertainment company worldwide. Represents 3.19% of holdings.
10. Kansas City Southern (KSU): Engages primarily in the freight rail transportation business. Represents 3.05% of holdings.
11. Illinois Tool Works, Inc. (ITW): Manufactures a range of industrial products and equipment worldwide. Represents 3.02% of holdings.
12. Harley Davidson, Inc (HOG): Produces and sells heavyweight motorcycles, as well as offers motorcycle parts, accessories, and related services. Represents 3.01% of holdings.
13. Freeport-McMoRan Copper & Gold, Inc. (FCX): Engages in the exploration, mining, and production of mineral resources. Represents 2.99% of holdings.
14. State Street Corporation (STT): Provides various financial services and products to the institutional investors worldwide. Represents 2.94% of holdings.
15. Qualcomm, Inc. (QCOM): Engages in the development, design, manufacture, and marketing of digital wireless telecommunications products and services. Represents 2.93% of holdings.
Turbo Chart: Permanent Portfolio Family of Funds' Aggressive Growth Portfolio (PAGRX)'s performance relative to the S&P500 index over 5 years: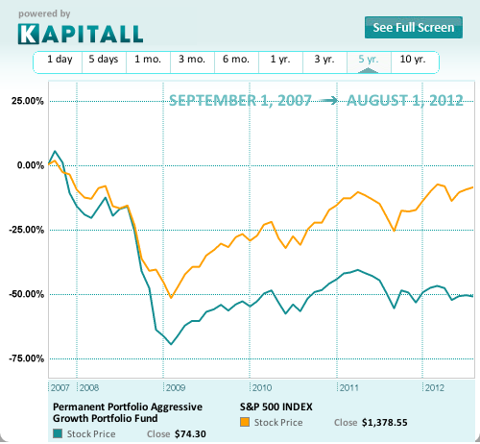 (Click to enlarge)
Written by Rebecca Lipman. Phone interview with Michale Cuggiono in late July 2012. The original version of this article can be found here.
Disclosure: I have no positions in any stocks mentioned, and no plans to initiate any positions within the next 72 hours.