Altria (NYSE:MO), Phillip Morris International (NYSE:PM) and British American Tobacco (NYSEMKT:BTI) have been solidly performing favorites of the dividend crowd, who may be more interested in income than the morals involved in the promotion of tobacco use.
I'm not going to get into that philosophical discussion today. Managements of these three companies are acutely aware that future adverse legal judgments and/or outright bans on tobacco sales are potential threats to profitability, or even their long-term existence.
Because of those considerations, each company has shifted the bulk of the risk to bondholders by carrying very high debt/equity ratios. Tangible book value is negative for MO and PM. All three dividends represent payout ratios [dividends/current year EPS] that keep profits flowing out of company coffers, where they would be subject to legal claims, to shareholders who are insulated from future legal repercussions.
Altria spun off Kraft Foods (KFT) in 2007 to protect those very substantial assets from tobacco lawsuit claims (although that was never the officially admitted reason for the action).
Phillip Morris International was spun off from Altria in March 2008, mainly to separate the non-US tobacco-related assets legally and take advantage of the relatively less threatening litigation environment overseas.
All tobacco companies understand their fates could be undermined at any time, and act accordingly by distributing income quickly and borrowing heavily.
Company

Shareholder Equity ($MM)

Total Debt

($MM)

LT Debt

% of Capital

Altria

3680

13689

79%

Phillip Morris Intl.

551

14828

97%

British Amer. Tobacco

13126

15918

55%

Source: Value Line - Data as of 12/31/11
Share buybacks are also being used to take cash out of company accounts. All three firms have fewer shares outstanding now than they did in 2008. Cash flow from tobacco companies needs to be looked at as potentially 'wasting assets' which may have no terminal value, rather than acting as eternal cash cows.
Income-starved investors have bid these stocks to near their highest valuations of the last five years. The P/E multiples are extended (close to the worst values), and the current yields are the among the lowest in the entire period.
This comes despite good fundamentals due mainly to price increases and virtually no domestic advertising expenses. The share prices have far outrun the increased profits and dividends.
Aver. Annual

P/E - Yield

2009

2010

2011

2012*

MO $35.92

9.9x - 7.6%

11.6x - 6.6%

16.0x - 6.0%

16.2x - 4.6%

PM $91.93

13.4x - 5.1%

13.2x - 4.7%

13.8x - 4.2%

17.7x - 3.4%

BTI $109.28

11.7x - 5.6%

12.3x - 4.6%

14.4x - 4.4%

16.3x - 3.8%

* 2012 data includes estimates

Data source: Value Line
Here's a nice visual look at that concept…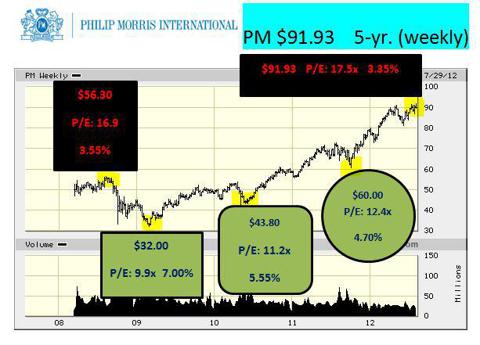 Click to enlarge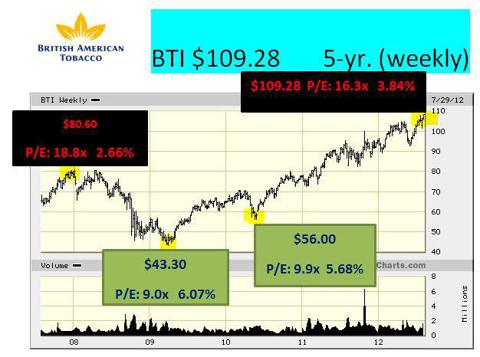 Click to enlarge
All three of these companies have provided opportunities to get in at much lower valuations than they trade for right now. Their yields look puny compared with the same stock's own historical payout levels as well. The only exception was BTI's yield of 2.66% in late 2007. BTI's share price was 46% lower 15 months hence.
Holders or new buyers at the current price points face the double whammy of potential legal headaches as well as the more standard 'paying too high a price' hurdle. It's time to lock in gains on tobacco stocks that have been smoking hot but are destined to burn out soon. Selling at the top is never easy to do. You need to let go while everybody else is still scrambling to get in.
Those willing to own these shares over the long term will almost certainly get a chance to buy them back much cheaper.
Disclosure: I have no positions in any stocks mentioned, and no plans to initiate any positions within the next 72 hours.