By now, everyone knows of the travails of Knight Capital Group (NYSE:KCG), the market maker that is now teetering on the edge of bankruptcy. By way of a quick review (from the company's press release):
Knight experienced a technology issue at the open of trading at the NYSE yesterday, August 1st. This issue was related to Knight's installation of trading software, and resulted in Knight sending numerous erroneous orders in NYSE-listed securities into the market. This software has been removed from the company's systems.
The result:
Knight has traded out of its entire erroneous trade position, which has resulted in a realized pre-tax loss of approximately $440 million. Although the company's capital base has been severely impacted, the company's broker/dealer subsidiaries are in full compliance with their net capital requirements. Knight will continue its trading and market making activities at the commencement of trading today. The company is actively pursuing its strategic and financing alternatives to strengthen its capital base.
A quick look at Knight's financials should put the issue in perspective:
From the June 30, 2012 earnings release:
Cash: $364,798,000 (loss is 120% of cash)
Equity: $1,496,966,000 (loss is 29.4% of equity)
TTM Pre-tax Earnings (loss is 265% of TTM pre-tax)
2011 Pre-tax Earnings (loss is 235% of 2011 pre-tax earnings)
Quickly, the market responded and investors fled the stock, driving the price down 75%.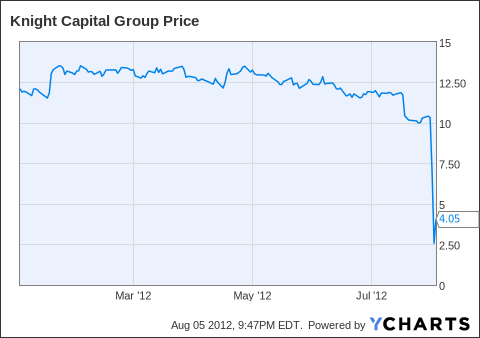 Potential Outcomes:
Strategic/Financial investors recapitalize the firm, allowing it to continue its operations. Result: Severe equity dilution.
Strategic investors recapitalize the company until it can be sold. Result: Equity holds value and then trades down when the value of the firm surfaces.
A private equity or strategic buyer steps up and buys the entire operation. Result: Equity takes it on the chin as the company has nearly no value after the loss and soon to be filed investor lawsuits (and potentially the SEC).
Bankruptcy. Result: Equity wiped out, bonds impaired, and the company's businesses are cherry picked in court.
Reuters reports:
The capital lifeline is coming from investors that include private equity firm Blackstone Group, Chicago market-maker Getco -- in which private equity firm, General Atlantic, is a shareholder -- as well as financial services firms TD Ameritrade, Stifel Nicolas, Jefferies Group Inc and Stephens Inc, according to the sources.

The investment is expected to be made through convertible preferred stock, which will have a conversion price of $1.50 per share and carry a coupon of 2 percent, the sources said. The consortium will own 70 percent to 75 percent of Knight following the conversion, one source said.
Issuer Description:
Knight Capital Group is a global financial services firm that provides access to the capital markets across multiple asset classes to a broad network of clients, including broker-dealers, institutions and corporations. Knight is headquartered in Jersey City, N.J. with a global presence across the Americas, Europe, and the Asia Pacific regions.
Bottom Line: Many might be tempted to bottom fish this equity under the assumption that it will be rescued or purchased at an above market price. I urge investors to avoid this company or risk finding out how holders of Bear Stearns or Lehman felt. This is a gamble, pure and simple. The firm is not necessary and is better purchased in bankruptcy.
Disclosure: I have no positions in any stocks mentioned, and no plans to initiate any positions within the next 72 hours.
Disclaimer: This article is for informational purposes only. It is not a recommendation to buy or sell any security, and is strictly the opinion of Rubicon Associates LLC. Every investor is strongly encouraged to do their own research prior to investing.