Mark Twain once said:
A favorite theory of mine-to wit, that no occurrence is sole and solitary, but is merely a repetition of a thing which has happened before, and perhaps often.
That same theory could easily be applied to Retail Opportunity Investment Corporation (NASDAQ:ROIC), an up and coming West Coast-focused shopping center REIT based in San Diego (formerly New York City).
Since transforming from a SPAC in late 2008, ROIC has achieved one of the best overall balance sheets in the shopping center sector. Led by industry veteran all-star Stuart Tanz (president and CEO), the company targets retail shopping centers with large, financially stable anchor stores. These locations have proven to better investments for riding out rough markets while the company's most common anchor stores (established grocery chains) draw large crowds regardless economic conditions.
With just over three years of operating history, Tanz and his team have assembled a portfolio of shopping center properties consisting of 38 shopping centers (encompassing approximately 4.1 million square feet of gross leasable area), geographically diversified and balanced across the West Coast. Eleven of the properties, or 27 percent of GLA, is located in the southern California, most notably in the Los Angeles and San Diego markets.
Ten of the shopping centers are located in the northern California region, representing 28 percent of total GLA, primarily in the San Francisco and Sacramento markets. Nine properties, represented 23 percent of total GLA are located in the Portland, Oregon market, and 22 percent of GLA is in the Seattle market (8 shopping centers).
The historical relevance for ROIC is that Tanz (and many of his associates) were with Pan Pacific Retail Properties Inc. (PNP) during Tanz's tenure, when the company grew its market cap from $447 million to around $4 billion. Through a series of consolidative acquisitions, PNP purchased around $2 billion of retail assets (over 18 million square feet) and later sold PNP to Kimco (NYSE:KIM) for around $4.1 billion (2006).
As evidenced by the early enthusiasm with ROIC's IPO (by raising around $400 million in blind pool capital), Tanz's track record (at PNP) was fundamental to the success of the earlier investment model. During the period of PNP's public ownership, the company provided a 529 percent total return, compared with 355 percent for shopping center REITs and 67 percent for the S&P 500 over the same period. Clearly Tanz (and his veteran bench) provide very good indicators of ROIC's future results based upon past performance.
ROIC: History Worth Repeating
Last week, ROIC announced its second quarter results that included an 8.0 percent increase in Same-Center Net Operating Income, and a 7.7 percent increase in the company's Common Cash Dividend - the highest performing growth in the shopping center sector. Other notable highlights include:
Net income of $4.4 million, or $0.09 per diluted share for 2Q'12
Funds From Operation [FFO] of $12.0 million, or $0.24 per diluted share for 2Q'12
$134.3 million of shopping center investments completed year to date
8.0% increase in same-center cash net operating income (2Q'12 vs. 2Q'11)
92.8% portfolio occupancy at 6/30/12
284,000 square feet of leases executed in 2Q'12 (new and renewed)
26.5% debt-to-total market capitalization ratio at 6/30/12
Quarterly cash dividend of $0.14 per share of common stock declared (7.7% increase).
Commenting on the second quarter and mid-year results was Stuart Tanz, ROIC's president and CEO:
I am pleased to report that we had another strong and productive quarter. We continue to broaden our portfolio and operating platform in our core markets on the West Coast. We also achieved exceptional property operating results which helped to drive our financial results to new heights, and we enhanced our strong balance sheet.
Also Tanz explained that the company would relocate its corporate headquarters from New York to San Diego,
As many of you are aware, when we commenced operations at a shopping center REIT back in 2009, our target markets for acquiring shopping centers was the West and East Coasts. Notwithstanding giving careful consideration to numerous opportunities on both coasts, today, our acquisition activity have focused southwest, where we continue to find exceptional opportunities. With that in mind, during the second half of the year, we will be moving our corporate operations from New York to San Diego, combining corporate functions with property management and leasing functions in one location.
The significant increase in revenues reflects the growth in ROIC's portfolio from acquisitions over the past year, as well as strong leasing activity. This significant increase in net income and FFO per share is attributable to the growth of the portfolio over the past year; and the results positively impacted by a bargain purchase gain of $3.9 million related to the conversion of two mortgage loans that were both acquired in the second quarter and then quickly converted to fee interest.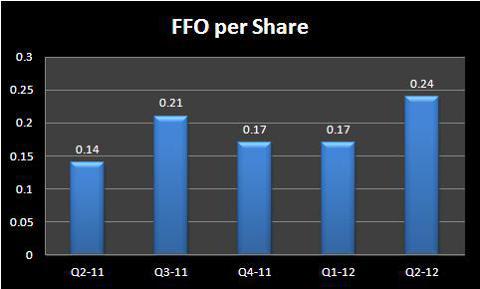 ROIC has a total market cap of around $888 million, with $235 million of total debt outstanding, equating to a conservative debt to total market cap ratio of approximately 26 percent. With respect to the $235 million of debt, 74 percent of that (or $174 million) is unsecured and only $61 million is secured. And during the second quarter, the company repaid a small $6.8 million mortgage, which was the only debt maturing through the end of 2013.
Over 90 percent of ROIC's portfolio is unencumbered and that allows the company to maintain a strong and flexible balance sheet, while also reaching closer to the goal of achieving an investment grade rating. Thus far in 2012, of the 9 properties acquired, only one of these is currently unencumbered.
ROIC's conservative low-leverage balance sheet (with no near-term debt maturities) has allowed the company to prudently fund new investments. Since Q2-11, ROIC has grown its square footage by around 41 percent, or from 2.9 million square feet to around 4.1 million square feet.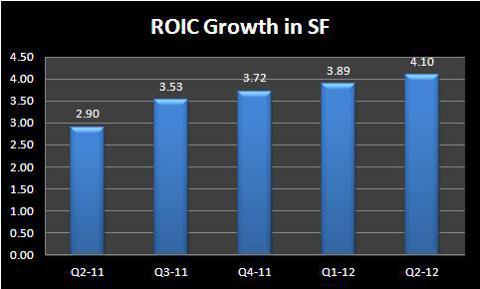 The company continues to diversify its high-quality portfolio by sourcing unique opportunities across the West Coast. Thus far in 2012, ROIC has acquired 9 properties totaling $134 million, including $49 million acquired in the second quarter. Of the 9 properties acquired year-to-date, 3 of the shopping centers are located in the Pacific Northwest with 2 in the Seattle market and one in the Portland market.
Three of the properties are located in Northern California, including in the San Francisco and Sacramento markets, and 3 are in southern California, with one in San Diego and 2 shopping centers in Los Angeles market. These latest acquisitions strengthen ROIC's diverse revenue platform while also leveraging the company's established "best in class" tenant relationships.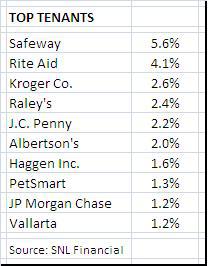 'Make my Day' by Cranking up the Dividends
ROIC recently announced that the company has again increased its cash dividend. The quarterly dividend, which will be paid on August 31, will be $0.14 per share representing a 7.7 percent increase over the previous dividend. This latest increase represents the sixth increase in our dividend over the past 8 quarters since the company commenced paying cash dividends.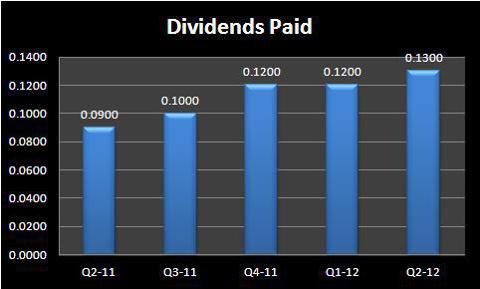 In one of my favorite films, Sudden Impact, Clint Eastwood (who played character Harry Callahan) goes into a diner for a morning cup of coffee. When Callahan discovers a robbery in the diner, he kills the robbers in a shootout. However, a surviving robber grabs the fleeing waitress Loretta, holds his gun to her head, and threatens to shoot. Instead of backing off, Harry points his .44 Magnum revolver into the man's face and dares him to shoot, saying with clenched teeth and in his characteristic rough grumble, "Go ahead, make my day".
Well the stars have lined up perfectly for ROIC, and the West Coast "sharp-shooting" REIT should "make the day" for any shareholder or potential investor. There appears to be considerable growth ahead for ROIC as Stuart Tanz (and his veteran gunslingers) has made great strides in building a West Coast shopping center portfolio differentiated by focused high-quality value-add opportunities. As Tanz explains,
We've been the most active acquirer of neighborhood and community shopping centers on the West Coast. We have carefully built an exceptional portfolio that now totals over 4 million square feet with a solid presence in key, demographically strong metropolitan markets across the West Coast. We built our portfolio not by chasing widely-marketed deals but instead by carefully seeking out off-market transactions, many of which have unique circumstances such as stressed sellers in need of a quick, discreet transaction, or properties that have been perceived near-term leasing challenges that with our team's skill set, market knowledge and relationships, we see the opportunity to create value.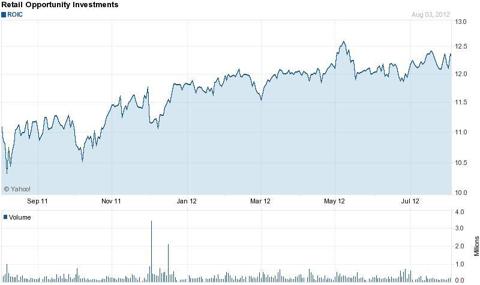 There are a total of 18 shopping centers in the FTSE NAREIT All Equity REIT Index with a combined market capitalization of $40.356 billion (as of July 31, 2012). The shopping center sector has produced annualized total sector returns of 22.01 percent, and the average dividend yield is 3.56 percent. ROIC's dividend yield is 4.53 percent and the annualized total return is 15.42 percent.
ROIC's dividend yield compared with its peer group is above average. The following snapshot illustrates the current dividend yield for the following shopping center REITs: Regency Centers (NYSE:REG), Kimco Realty , Weingarten Realty (NYSE:WRI), Equity One (NYSE:EQY), Excel Trust (NYSE:EXL), Federal Realty (NYSE:FRT), and Kite Realty Group (NYSE:KRG).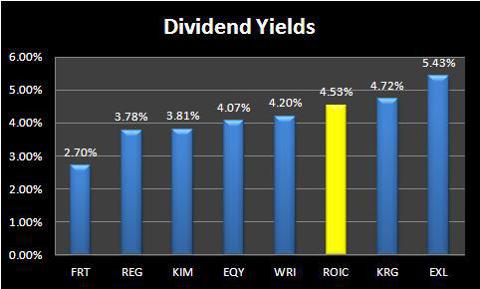 Disclosure: I have no positions in any stocks mentioned, and no plans to initiate any positions within the next 72 hours.