As many of my readers know, I have maintained that the industrial sector should outperform in the coming months due to it being a key part of economic growth and expansion. The sector has been showing signs of life and there is still an opportunity to benefit from its growth.
Recently, a reader suggested a look at Terreno Realty, and the suggestion has turned into this article based on the information I found.
Terreno Realty Corporation (NYSE:TRNO), a San Francisco-based public real estate investment trust acquires, owns and operates industrial real estate in six major U.S. coastal markets: Los Angeles, Northern New Jersey/New York City, the San Francisco Bay Area, Seattle, Miami, and Washington D.C./Baltimore. Terreno acquires functional, flexible properties in infill locations near major population centers and transportation infrastructure. Terreno completed its initial public offering in February of 2010 and has been building its portfolio since this time. As the REIT is new, its is still building out its portfolio and its relevant metrics will not show the potential of the investment.
Terreno invests in six major coastal U.S. markets. Exclusively. Each has large and growing consumer populations. Each has highly developed airport, seaport and highway infrastructure for rapid distribution of goods. All six markets have significant physical and regulatory barriers to development of competing properties. Terreno invests in:
Los Angeles, CA (4

buildings, 100% occupancy and 10.9% of annual base rent),

Northern New Jersey/NY City (23

buildings, 93.2% occupancy and 44.9 % of annual base rent),

San Fransisco Bay Area (9

buildings, 84.4% occupancy and 15.3% of annual base rent),

Seattle (3

buildings, 100% occupancy and 7.4% of annual base rent),

Miami (6

buildings, 98% occupancy and 14.6% of annual base rent), and

Washington D.C./Baltimore (3

buildings, 80.2% occupancy and 6.9% of annual base rent).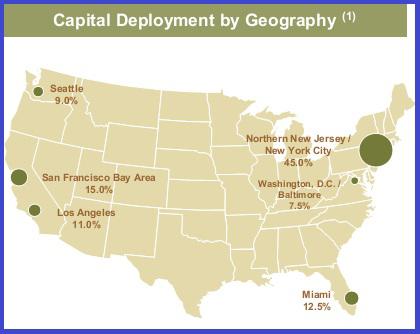 Financial Snapshot:
Terreno is a newer REIT, having IPOed in February 2010. As a result, the company's metrics and earnings have not yet been fully established. The following data (from SNL Financial) show that the dividends being paid on the shares are not fully supported by the funds from operations of the company. One of the reasons for this is that the company is paying dividends on the FFO, generating ability of the properties as they stabilize and the FFO becomes normalized.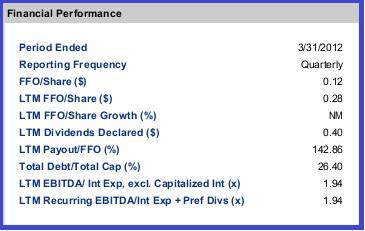 Terreno's management is made up of what was the senior management of AMB Properties (which was acquired by Prologis (NYSE:PLD)). I was always a fan of AMB management as it had a very well defined plan and a conservative bias to boot.
As most tigers don't change their stripes, I have found that Terreno's management have become even more conservative in both the structure of the REIT and its overriding financial policies. Among the examples of the conservative structure is the fact that the REIT is not structured as an UPREIT, doesn't engage in development and shuns complex joint ventures. Among the REIT's conservative financial policies are (from the 10Q):
limit the sum of the outstanding principal amount of their consolidated indebtedness and the liquidation preference of any outstanding perpetual preferred stock to less than 40% of the total enterprise value;
maintain a fixed charge coverage ratio in excess of 2.0x;
limit the principal amount of our outstanding floating rate debt to less than 20% of total consolidated indebtedness; and
have staggered debt maturities that are aligned to expected average lease terms (5-7 years), positioning Terreno to re-price parts of the capital structure as rental rates change with market conditions.
The conservative financial profile is borne out in the REIT's financial metrics:

Click to enlarge
Equity:
As many of my readers also know, I believe than many REITs' current prices are somewhat stretched and the equities are overvalued or entering overvalued territory. As stated earlier in the financial snapshot, the FFO of the newer properties still has to catch up with the dividend payout. Until this is "stabilized" I am not a buyer of the equity despite the strong business profile, conservative management, and balanced financial policies. A snapshot of the equity price is as follows: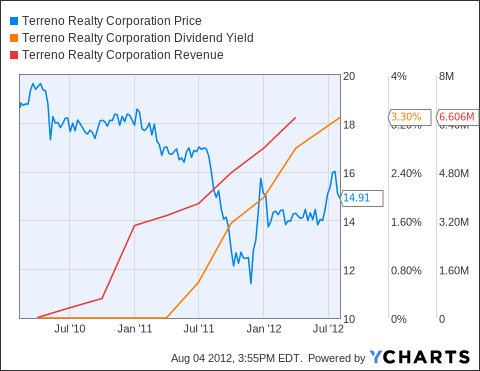 As the chart shows, revenues and dividends are increasing, and dividends are being paid based on normalized FFO levels, but I prefer to wait for stabilization. The price has been somewhat sideways as the company continues to ramp up its portfolio.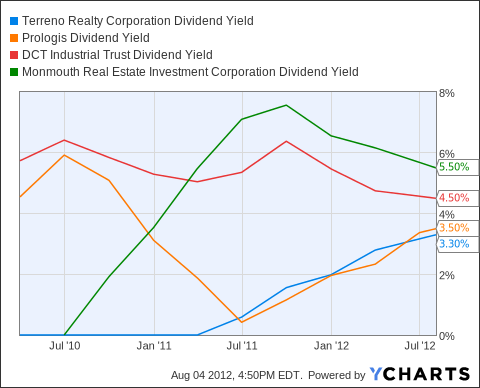 TRNO Dividend Yield data by YCharts
The dividend yield of Terreno is among the lowest in its peer group, which consists of Prologis, DCT Industrial Trust (NYSE:DCT) and Monmouth REIT (NYSE:MNR).
Investors do, however, have another choice when it comes to investment in this attractive REIT - preferred stock. On July 12th, Terreno issued $40 million of Series A preferred stock. The details of the offering are:
| | |
| --- | --- |
| Issuer | Terreno Realty Corporation |
| Issue | Series A Cumulative Redeemable Preferred Stock |
| Size | $40,000,000 (1,600,000 shares) |
| Coupon | 7.75% |
| Dividends | The last day of March, June, September and December |
| Call Date | July 19,2017 |
| Conversion Rights | Upon change of control |
The current price of the preferred is $25.75, which equates to a yield of 7.28%
Bottom Line: I like the management of this REIT, its portfolio positioning and, importantly, the management. Liking a REIT does not, however, have to translate into investing in the equity of the REIT. As I have stated, until the NOI/FFO of the properties can catch up to the payout, I am on the sidelines. The preferred stock, however, is appealing and is worthy of consideration by investors focused on income. At 7.28%, an investor can earn an incremental 1.50% versus many of the new issue preferred stocks.
Disclosure: I have no positions in any stocks mentioned, and no plans to initiate any positions within the next 72 hours.
Additional disclosure: This article is for informational purposes only, it is not a recommendation to buy or sell any security and is strictly the opinion of Rubicon Associates LLC. Every investor is strongly encouraged to do their own research prior to investing.