For the second week in a row, a strong Friday ended up turning what would have been a weekly loss into a weekly gain. Unfortunately, for the fifth time in a row the market's surge (NYSEARCA:DIA) (NYSEARCA:IWM) (NASDAQ:QQQ) unfurled too rapidly, leaving it overbought right as a familiar ceiling was bumped. Considering all four prior instances led to pullbacks, it's tough to imagine this one's going to end differently.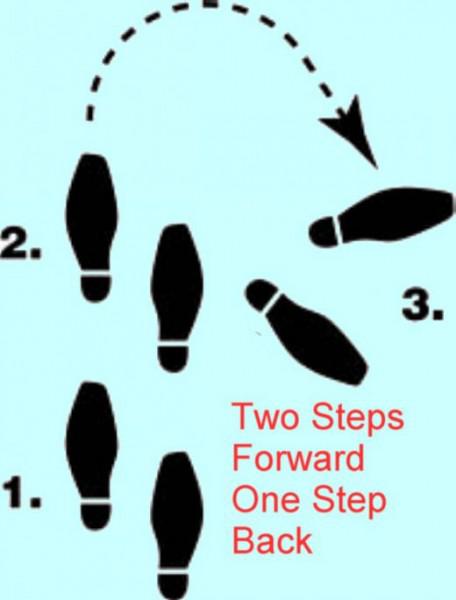 Of course, since June the market's still been net-bullish, in that it's taken two steps forward for every one step back. So, depending on your timeframe, this annoying up/down pattern hasn't been all bad.
Any chance the nearing end to earnings season could help - or hurt - the broad market's chances of a more even-keeled, better-paced rally? Maybe; we'll look at that idea below, as well as dissect which sectors were the hottest and coldest for Q2.
First though, let's start with last week's barrage of economic data.
Economic Calendar
What a loaded (and wild) week last week in terms of economic numbers. There's no way we can get through all of them, so we'll have to stick with just the highlights.
First and foremost, the average consumer may be a little confused. Though incomes were up 0.5% versus an expected 0.4% increase, spending growth was flat, shy of the expected 0.1% increase. The unemployment rate crept up from 8.2% to 8.3%, yet payroll growth reached 163K new jobs last month despite rising unemployment claims. There's at least a partial explanation: Last month's (June's) terrible payrolls-growth numbers took a month to sink in and become measurable. Either way, the overall employment picture is faltering more than improving, which makes it odd that consumer confidence rose from 62.7 in June to a score of 65.9 last month.
Though there were and are a few bright spots, overall, the economic data is more on the discouraging side of the table.
There's not much in the coming week in the way of economic numbers, and even less to worry about moving the market in a big way.
Economic Calendar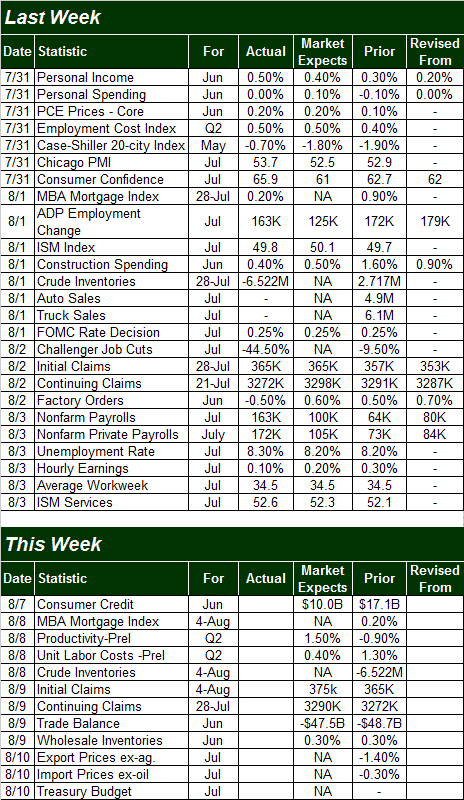 Stock Market
The good news is, the S&P 500 Index (SPX) (NYSEARCA:SPY) hit new multi-week highs last week, reaching a peak of 1394.16 before closing at 1390.99. That was 5.02 points higher (+0.36%) than the previous week's closing level, and logs the fourth winning week in a row…. all thanks to Friday's 25.99 point surge.
The bad news is, once again the SPX pressed its luck, leaving would-be profit-takers little choice but to lock in the quick gains they've earned while they can.
It's really quite incredible when you think about it. You'd think traders would learn to not be quite so bullish/optimistic after getting burned three times. That's how many times before last week the S&P 500 had rallied right up into its upper 20-day Bollinger Band (blue), only to be repelled back to the tune of 4.0% or so. Not that it's a killer setback, but usually a few dips of that size will teach investors to reign in their enthusiasm the next time the tide turns bullish. That still hasn't happened this time around, however, as the S&P 500 rammed - hard - its upper 20-day Bollinger band (and now the 50-day upper Bollinger band) at 1394 on Friday. In fact, that string of higher highs has painted a pretty clear straight-line resistance level (dashed) that will almost certainly be a factor again in the future.
SPX & VIX Daily Chart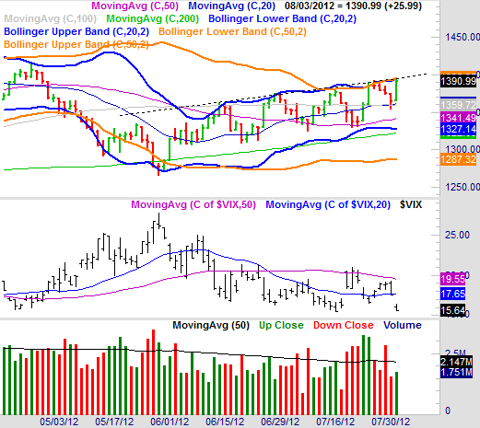 Throw in how sharply the CBOE Volatility Index (VIX) (NYSEARCA:VXX) plunged - gapped, actually - with Friday's action, and what you have are very highs odds of a near-term dip for stocks . In fact, the VIX is almost perfectly back at the low levels that coincided with the prior three top-outs.
It's kind of funny how the view can change so dramatically when you take a step back though.
We haven't looked at a weekly chart of the S&P 500 in a while, mainly because it hasn't mattered. It's starting to matter again now, though, as a trend is becoming clear - a bullish one.
Better still, there's a lot more room to roll before any long-term ceilings are hit somewhere between 1425 and 1460. That's where the upper 26-week and 52-week Bollinger bands are waiting, which leaves room for a 4% gain for the S&P 500 in the foreseeable future… at least. As you can see on the weekly chart below, those longer-term upper bands haven't necessarily pushed the market lower again when brushed. Rather, they've simply served as bullish guideposts. Take a look.
SPX & VIX - Weekly Chart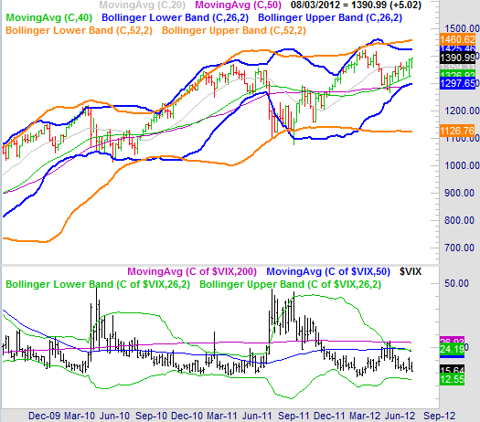 It's way too soon to be making big-time long-term bets like that, but we do want to start putting the idea on the radar.
Disclosure: I have no positions in any stocks mentioned, and no plans to initiate any positions within the next 72 hours.