We previously analyzed and evaluated our position in Altria Group, Inc. (NYSE:MO) in June. Our thesis behind purchasing it back in 1999 was that the anti-smoking health fascists were engaging in legalized shakedown activities in order to further their rent-seeking agenda. Tobacco makers were selling a legal product that people wanted and we saw whatever "public healthcare costs associated with smoking illness that were borne by Medicaid/Medicare" were more than offset by the tobacco excise taxes paid by the tobacco companies.
Furthermore, our thesis on what was going on with the $206B in legalized blackmail that the tobacco companies were coerced into paying as part of the "Master Settlement Agreement" has come to pass as states have been spending the money on everything except "tobacco prevention programs". At least this has effectively turned the American tobacco industry into a cartel and enabled it to continuing growing its revenues, net income and EPS. Because this eliminates that whole messy nonsense about competition, it enables tobacco investors to make suitable profits on their investments through steady revenue growth, operating leverage and shareholder-friendly capital actions like dividends and share repurchases.
We bought The Philip Morris Companies because at the time it was the hands-down unquestioned, undisputable King of the Mountain in the tobacco industry as well as the packaged foods industry due to its ownership of Kraft Foods (KFT). We could also count on above-average growth from the company due to its international operations spun-off into Philip Morris International. The Philip Morris Companies engaged in the following transactions to unlock shareholder value since we purchased it in 1999.
In 2000, Philip Morris Companies acquired Nabisco, merged it with Kraft Foods and took Kraft public in 2001 by selling off 16% of its stock ownership interest.
In 2002, Philip Morris Companies sold Miller Brewing to South African Breweries in exchange for 34% plurality interest in the combined SABMiller PLC.
In 2003, Philip Morris Companies changed its name to Altria Group.
In 2007, Altria spun-off its majority interest in Kraft and acquired John Middleton & Company (leading cigar maker)
In 2008, Altria spun-off Philip Morris International.
In 2009, Altria acquired UST Inc., which manufactured smokeless tobacco products and premium wines.
In our previous report, we already established that Altria has shown solid dividend growth even though it spun-off the faster growing Philip Morris International and Kraft Foods. We also examined its adjusted dividend payout ratio, and determined that it increased from 74% to 77%, since it slimmed down with Kraft and Philip Morris. While 74-77% may only translate into a dividend coverage ratio of about 1.33X net income/dividends, we are aware that different companies in different industries can have widely differing payout ratios.
We went to Altria's Investor Relations Website and saw that Altria's target dividend payout ratio is approximately 80% of adjusted earnings per share. Considering that Altria Group generated a return on beginning-period shareholders' equity well in excess of 100%, we can see that PM can certainly afford to pay 80% of its annual profits to shareholders and leave plenty of available cash for marketing, research and development, growth CapEx, acquisitions, debt reduction and share repurchases.
We also note that most of Altria's business development expenditures would be in marketing (which is restricted) and research and development (which isn't as much of a priority in a cartelized market) and these expenses are period expenses that are immediately expensed on the balance sheet. As such, these investment expenditures are already taken off the top before shareholders get their share from dividends.
Click to enlarge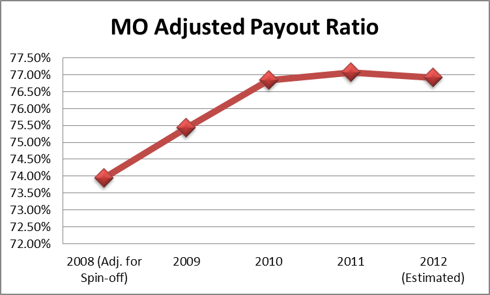 Source: Morningstar Direct and Saibus Research estimates
Now let's look at Altria's YTD performance versus its competition in order to see if it can maintain its high dividend yield, as well as grow it. We have found that tobacco companies in general are known for the ability to generate mammoth free cash flows, require minimal CapEx and spend heavily on dividends and share repurchases. This is especially true of US tobacco companies, as the anti-smoking rent-seeking health-fascists have sapped the growth potential from this market.
We can see that Altria is maintaining its edge versus Lorillard (NYSE:LO) and Reynolds American (NYSE:RAI) due to Altria's strong operating margin and dominant market share position within the US tobacco market. Altria commands 50% of the US cigarette market and 55% of the smokeless tobacco market. We can see that Altria has a stronger competitive position than Lorillard and Reynolds American and has been able to grow its revenue faster than its competition, even though it is a larger company. Then again, it has the single most dominant tobacco brand in the world (Marlboro cigarettes).
Altria has also generated better volume performance than its peers. We are amazed at how much Reynolds's market share has declined over the years. We previously mentioned that Philip Morris USA (Altria) passed R.J. Reynolds as the US leader in tobacco sales, but we are amazed as to how after 36 years, Philip Morris USA now has such a commanding lead against Reynolds American in both the cigarette and smokeless tobacco segments. We guess that is a good thing since we now believe that Lorillard is the cigarette maker that Altria should pay the most attention to.
Granted, Lorillard is strongest in one segment (menthol cigarettes) and its flagship product Newport has less market share of a specialized niche than Altria's Marlboro cigarette has for the general cigarette market. Still, with the impressive growth Lorillard had enjoyed from its 2008 separation from Loews Corporation (NYSE:L) to 2011, we believe that Lorillard is a more dangerous competitor to Altria Group than Reynolds American.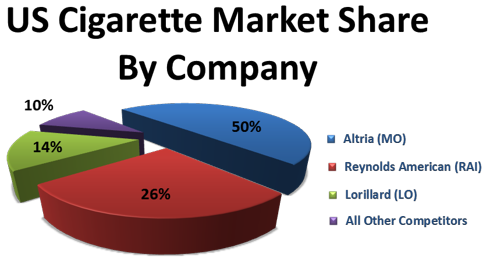 Source: Company Earnings Releases
In conclusion, we are pleased with the performance of Altria Group. Philip Morris International has shown itself to be a solid high-dividend yielding company and a dividend growth champion in terms of quantity (43 years of consecutive dividend increases) and quality (9% CAGR since 2008). We can certainly see that the Philip Morris Companies and its successors Philip Morris International, Kraft Foods and Altria Group can certainly generate superior returns in excess of the S&P 500 and use those mammoth cash flows to return cash to shareholders.
We also see that Altria Group is still head and shoulders above its immediate competition. We were especially impressed with the fact that Altria increased its cigarette market share by 80bp, while Lorillard only increased its market share by 10bp and Reynolds lost 140bp versus the prior year's period. While a 10bp increase in annual cigarette volume for Altria may not be impressive to most people, it still beats the 6.7% volume drop from Reynolds and the 1.2% decline in volume from Lorillard. This helps support our dividend thesis behind Altria because it means that the company is better able to pay growing dividends than its peers, it can take market share away from its peers, and doesn't need to merely raise prices simply to fund dividends and share repurchases.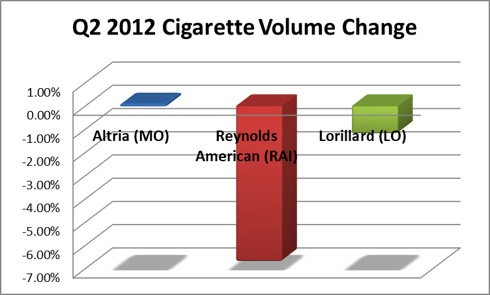 Source: Company Earnings Releases
Disclosure: I am long MO, KFT, PM.
Additional disclosure: I am long S. Saibus Research has not received compensation directly or indirectly for expressing the recommendation in this report. Under no circumstances must this report be considered an offer to buy, sell, subscribe for or trade securities or other instruments.