Groupon (NASDAQ:GRPN) reports Q2 earnings on August 13.
The Street expects:
Revenue: $576 million
EPS: $0.03
Q3 guide: $609 million
In Q1, Groupon reported revenue of $559 million (+89% y/y) and consolidated segment operating income (CSOI) of $68 million, all of which were above street consensus. In particular, North American revenue was strong (+75% y/y) due to the introduction of technology innovations such as deal personalization, which delivers more relevant deals to the consumers and enhances the group-buying experience. The management guided a conservative $570 million in revenue and $70 million in CSOI for Q2.
Heading into the earnings, we could see Groupon to continue making solid progress toward profitability. In my view, Groupon is the clear leader among group-buying sites because the company has first mover advantage, strong network effect, robust infrastructure, unrivaled scale, and superior technology, compared with the other group-buy clones. As it increases in scale, Groupon's marketing expense, a major component of group-buy sites' cost structure, has been steadily declining. I note that marketing expense declined 50% y/y in Q1, while revenue almost doubled. Strong execution will likely allow Groupon to maintain its positive operational trend, which places the company on a steady path towards profitability.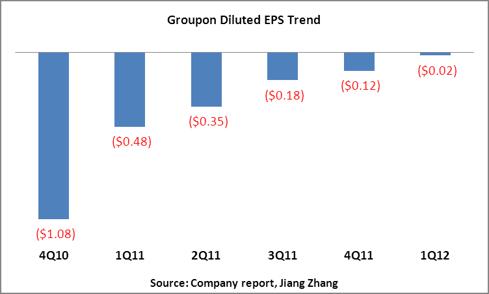 Click to enlarge
Unlike many daily deal sites that simply broadcast merchants' deals to the consumers, Groupon has been investing on technology to address deal fatigue by incorporating deal personalization to deliver relevant deals based on the user's interest. The improved feature will lead to superior user experience and user growth.
Finally, Groupon has been on a shopping spree, snapping up local startups such as Uptake (social travel search), Hyperpublic (location-based-services), Campfire Labs (social networking), and Breadcrumb (Point-of-Sale). The acquisitions seem to result in various degrees of synergy, given that Groupon could leverage the acquired talents and the customer base to further expand its daily offerings, which may allow the company to continue to enlarge the lead it has over rivals such as Amazon (NASDAQ:AMZN) and Google (NASDAQ:GOOG).
Disclosure: I have no positions in any stocks mentioned, and no plans to initiate any positions within the next 72 hours.