As Brad mentioned in part one of this article, Regency Center's (NYSE:REG) capital structure is indicative of a REIT positioned for stability, consistency and growth.
A snapshot of the REIT's capital structure evidences its ability to raise funds in an advantageous manner (unsecured).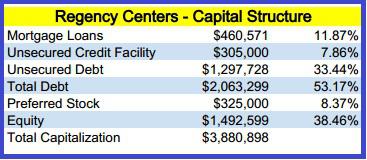 While many REITs prefer to use property level, non-recourse financing, Regency utilizes unsecured debt which is advantageous to unsecured investors as the amount of unencumbered assets available to cover stakeholders.
As Brad covered the overview and strengths of the REIT, as well as the equity, attention can be turned to the valuation of the debt and the preferred stock.
Debt:
Regency has a relatively conservative debt structure, utilizing publicly traded unsecured debt for a majority of the debt. The REIT has also staggered the maturities of its debt in a way that 2015 has the greatest amount of debt due at $557 million. Given the REIT's ratings and access to capital, as well as its credit lines ($850 million in term and revolving borrowing), refinancing maturities should not be a problem.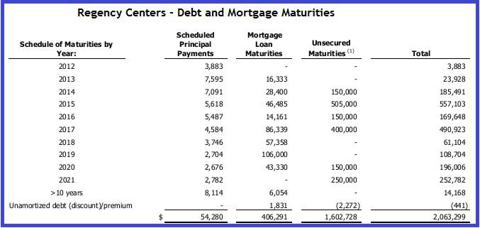 REIT debt does not actively trade across all names, so prices are subject to change and can vary broker to broker. With this caveat, the following table lists Regency Centers' debt as well as the debt of peers Kimco (NYSE:KIM) Federal realty (NYSE:FRT) and Boston Properties (NYSE:BXP).

As the table shows, Regency's ten year presents the most value among the peer group and has one of the lower premiums. It is also important to understand where Regency falls versus its debt covenants (the true beauty of REIT debt). The following table lists the covenants and Regency's compliance levels: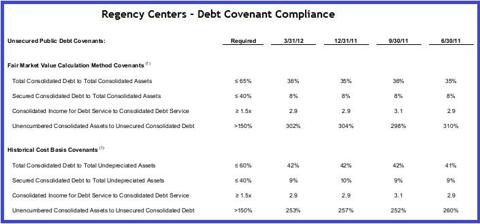 As the table shows, Regency is well within its covenant levels and could comfortably raise more debt at current levels (but unless there is an acquisition, it has no debt to refinance until 2014).
Preferred Stock:
Regency has two preferred issues outstanding, Series 5 and Series 6 cumulative redeemable preferred stock. The table below contains Regency's preferreds as well as the preferred stock of peers Weingarten (NYSE:WRI), Kimco, Inland Real Estate (NYSE:IRC) and Realty Income (NYSE:O).

Regency's Series 6 preferred is the preferred choice among the larger peer preferred as it has a higher yield and 4.5 years of call protection. Its Series 5 has a higher yield, but it is currently callable and close to a viable call. Inland Real Estate in a non-rated preferred and a smaller REIT which is why it trades cheap to the other listed peers (I wrote about it here). Compared to recent issues, Regency still affords investors a yield over 6%.
Bottom Line: Regency is a well managed, conservative retail REIT. The bonds (when they trade) are attractive to peers, especially the 2021s. The preferred stock has value relative to recent new issues and its peer group.
Disclosure: I am long O.
Additional disclosure: This article is for informational purposes only, it is not a recommendation to buy or sell any security and is strictly the opinion of Rubicon Associates LLC. Every investor is strongly encouraged to do their own research prior to investing.