The combination of slumping housing prices and rising unemployment risks putting the credit card industry into uncharted territory, according to Moody's.
Credit card performance deteriorated further in the first quarter by several measures, "but with excess spread at near-historic highs, most trusts appear to be well positioned to withstand a worsening credit environment - even if losses exceed former post-recession peaks."
That said, Moody's outlines some disturbing trends in the sector in a Special Report.
The charge-off rate rose to 5.71% in 1st quarter 2008 from 4.49% posted in the same period a year ago.
This marks the fifth quarterly year-over-year increase in the charge-off rate after twelve consecutive quarters of improvement that began in 1st quarter 2004 and marks the first time quarterly charge-off rates have risen above 5% since the October 2005 change in the personal bankruptcy law.
In March 2008, the charge-off rate rose to 6.05% from 4.64% a year ago. The charge-off rate measures those credit card balances written off as uncollectable as an annualized percent of total loans outstanding.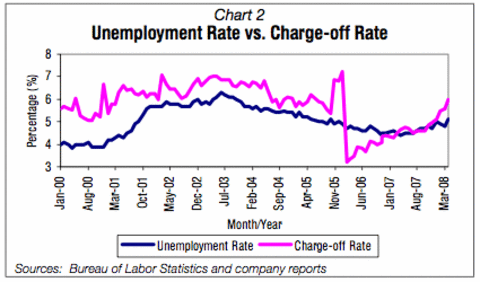 Generally, the charge-off rate has followed the unemployment rate point for point, Moody's notes. That one-for-one relationship may not hold for the current credit environment though, since technical factors (the rise in bankruptcy filings) are expected to push charge-off rates higher even if the unemployment rate were to remain relatively flat.
The combination of an unprecedented decline in housing prices and rising unemployment, in addition to the normalization of bankruptcy filings, arguably places the industry in uncharted waters. Meanwhile, growth in revolving consumer debt and rising fuel and commodity prices will put more pressure on households' debt service and financial obligations ratios, which are already at near-record highs.
The delinquency rate, which can be an early indicator of future charge-off rates, is also on the rise. In March, this rate was 4.57%, the highest it has been since March 2004. Interestingly, though, the early-stage delinquency rate (i.e. card balances one to two payments past due) has been relatively stable for the past six months; however, the late-stage delinquency rate (i.e. card balances three or more payments past due) continues to rise.
This apparent dichotomy between the trends in early- and late-stage delinquencies may be indicative of an ever more challenging collection environment. That is, once cardholders fall behind in their credit card payments, it is increasingly difficult for them to become current on their payments again.