Leucadia (NYSE:LUK) has been hitting home runs for a long time.  They are the Hank Aaron, Barry Bonds or Babe Ruth of investing, and all you need to examine is their long term track record of creating shareholder value to recognize their "home run status."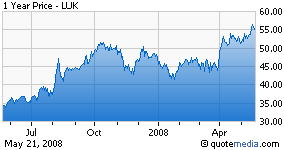 Book value has grown at an astounding 21.4% per year compounded annually from 1979 through 2007. Leucadia's stock price has appreciated 26.2% per year over the same period. These results compare favorably to the S&P 500 which has returned 9.9% with dividends for the same period. There are, of course, some lumpy years, but these are truly extraordinary numbers and are on par with Berkshire Hathaway (NYSE:BRK.A) and Warren Buffet.  In fact, Warren Buffet during the question-and-answer session in the latest shareholder meeting had kind remarks for the management of Leucadia. 
The management team that has delivered this extraordinary growth is Ian Cumming, the chairman, and Joseph Steinberg, the president, two very brilliant businessmen.   Management's focus has been to invest in companies that they believe will achieve cash on cash return to create long-term value for shareholders.  This has led them to invest in wineries in California, Idaho timberland, STi Prepaid calling cards, gaming and entertainment, plastics manufacturing, mining and metals and other businesses.
However, as investors and potential shareholders, we cannot rely on past track records and accolades to make our investments; we can only use them as clues about the future. We need to look forward and ask ourselves what the company will do tomorrow.  "What is the next home run?  How will they create shareholder value tomorrow?" 
Leucadia's latest home run is their investment in Fortescue Metals Group Ltd (OTCQX:FSUMF), an Australian mineral company. In August of 2006, Leucadia invested approximately $400 million acquiring a 9.9% interest in the company (the investment is a bit more complicated than that, but I will refer you to the annual report for more details).  Fortescue owns mining leases on iron ore properties in the Pilbara region of Australia, and has been benefiting from the demand for searbourne iron ore from China. This $400 million investment , which some of was made in the form of common stock, is now worth $1.8 billion at the end of December 31, 2007…not a bad return for an 18-month investment. This is significant for Leucadia. Book value is approximately $5.34 billion as of December 31, 2007. Inasmuch as demand from China will continue, Fortescue's profits will continue too.  
In general, Leucadia is not an easy company to understand. It is categorized as a conglomerate or a diversified financial service holding company, which offers little explanation about what they do. The company has a market capitalization of $12.3 billion with 222.6 million shares outstanding, and currently trades at $55.49 per share.  The key value metric that I am using to track performance is book value and return on equity which is $25.03 per share.  With the company's far flung operations, it would be very difficult are to model all the different aspects of their business. 
Of course, at 2.3 times book value some investors might be wondering where the value is, and in all fairness that is not a low multiple of book value, but the long term answer is in culture that Cummings and Steinberg have created.  I am investing in the management team. Most executives cannot lead or manage such a complicated collection of businesses. Warren Buffet is an exception, and Leucadia appears to be one too.  Cummings and Steinberg continue to create value for their shareholders through thoughtful investments and the careful allocation of capital, which is why I own the stock in the fund that I manage, and other investors might want to consider it too.
Disclosure: We are long the stock.