Let's face it, American Capital Agency Corp. (NASDAQ:AGNC) pays a very attractive dividend. According to Morningstar.com, American Capital Agency has a projected yield of 14.36%. Not too shabby in such a low interest rate environment, so where's the catch? Is it sustainable?
Well yes, at first glance, an investor may worry about whether this heavenly dividend payout is sustainable. The company recently reported decent results, but some of the trends may indicate some challenges ahead. Net interest spread was only $0.94/share, and while this figure can be volatile from quarter to quarter, it was the lowest in some time. The net interest spread on the portfolio actually decreased from 2.46% in Q2 2011 to 1.65% in Q2 2012. While funding costs did increase slightly from 0.89% to 1.08%, the chart below indicates that the primary reason for a lower net interest spread was the decrease in the asset yield from 3.35% to 2.73%, driven by a higher level of prepayments and a decrease in the portfolio's average coupon for remaining assets.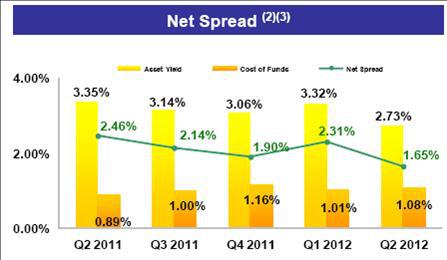 Source: AGNC website
So one might wonder whether this trend will continue, and if so, how sustainable is the dividend. Well, historically, AGNC's portfolio has had very little correlation to changes in interest rates, a testament to management and its ability to hedge out these factors. But in addition to that, the company has taken additional steps to mitigate any adverse macroeconomic factors and protect both its book value and earnings potential in the future.
While AGNC does expect an increase in prepayments from the current rate of 10% to a projected rate of 12%, it has repositioned the portfolio into securities that are less likely to be impacted by prepayment risk. As of June 30th, 2012, 69% of the portfolio consisted of low loan balance and HARP securities, while of the remaining securities in the portfolio, 73% are of low coupon MBSs. On the one hand, low loan balances are less likely to be refinanced because the cost of refinancing for such low balances makes it economically unattractive. On the other hand, HARP securities are made up of 100% refinanced securities with greater than 80% LTV, so the likelihood of refinancing a refinancing is also not high.
Finally, the remaining securities in the portfolio that have lower coupons are not likely to be refinanced at a lower rate because the rates are already low. But let's assume that these assumptions are way off. We can see from the chart below that net interest spreads don't become negative until the constant prepayment rate CPR reaches 40%. In my opinion, that is a very comfy cushion. In fact, if the CPR doubles from it's current rate to 20%, the net margin is only slightly lower at 1.55%
Click to enlarge

Click to enlarge
source: AGNC website
Lastly, it's no secret that interest rates will remain low for some time. Whether it's the end of 2014 or into 2015, no one yet knows for sure. In either case, AGNC is well positioned for an interest rate increase. In fact, if interest rates rise by 50bps, its portfolio may actually increase in value because of the negative convexity of their bond holdings. Negative convexity is attributable to the fact that when interest rates decline, even though the price of the securities should go up, the prepayment rate also goes up, wiping out any premiums that the securities may have had. So if you look at the chart below, we can see that an interest rate decrease actually has the most negative affect on the portfolio and equity NAV. An additional 100bps drop in rates is unlikely, so I wouldn't pay too much attention to that figure. But a 100bps increase may result in a decrease in the equity NAV by -3.5%.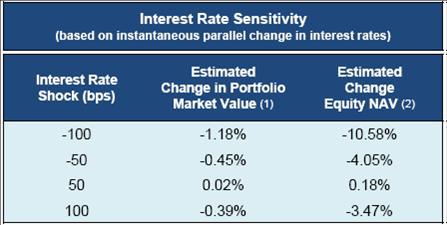 Source: AGNC website
All in all, I think the dividend for AGNC is fairly well protected for the time being. It is true that AGNC has a higher proportion of fixed rate securities than some of its competitors (See Considering REM? Invest Directly In Mortgage REITs For Higher Yields). But it is fairly priced relative to competitors, particularly Annaly Capital (NYSE:NLY) (See Why, or Why Not, To Invest In Annaly). So not only do I think the dividend is sustainable, there could be some price appreciation as well. For those of you who don't hold AGNC, it's time for a closer look. For those of you who already do, sleep well my friends.