This has been one of the craziest earnings seasons I have seen. With all of the macro uncertainty and so few stocks truly working, investors have been very quick to take profits where they exist at the slightest hint of disappointment.
Sometimes, a massive sell-off is a sign of more bad news to come, but other times, it's just profit-taking. In those cases, it can be an opportunity to enter or to add to positions. One of the things I like to see when bottom-fishing is a sign that the longer-term technical and fundamental trends remain intact. While it's no guarantee that the marked-down merchandise won't get cheaper, I think it's safer than buying a falling knife.
With this in mind, I designed a screen in Baseline designed to find some stocks that have been hammered recently but that appear to be in longer-term rallies and that have been growing sales and earnings. Here is what I required:
Market Cap > $500 million
Price vs. 52-week High: Down > 35%
QTD Price Change < -8% (S&P 500 = +2%)
2-year Price Change > 35% (S&P 500 = +24%)
One-year Sales Growth > 0%
One-year EPS Growth > 0%
So, we are looking for stocks with significant corrections in longer bull trends that aren't seeing a decline in the fundamentals. Here are the 14 stocks that made the cut:
Click to enlarge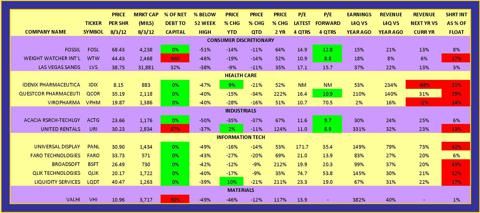 Please keep in mind we are hunting, not recommending. Screening is a good start, but you should thoroughly investigate any of these ideas before buying. The list is divided into five sections, representing different economic sectors and sorted from greatest to least price decline from the 52-week high.
I have included some extra information in order to perhaps prioritize the list further. Three of the stocks, noted in red, have relatively high net debt to capital, but most of these stocks have cash in excess of debt. While all of the stocks are handily beating the market over the past two years, I also highlighted the three stocks that are still up in 2012 despite the recent hit to their prices.
Several of the stocks, shaded in green, are trading at below-market P/E (<13). I also note in red two companies that have projected sales declines next year. Finally, many of these stocks are apparently "battleground" stocks, as the short-interest is quite high for most of the names. I marked in red all of those above 10%. High short-interest can signal a potential fundamental problem, but it can also serve as an opportunity for explosive stock gains should the shorts be forced to cover.
While I certainly don't know all of these stocks, I am familiar with a few. I'll hit each one in order and share a few brief thoughts, but spend a little more time with Liquidity Services (NASDAQ:LQDT), which kind of inspired this whole exercise.
Fossil (NASDAQ:FOSL) was defying all odds earlier this year given its huge exposure to Europe. After getting slammed last summer when it fell almost 50%, it rallied all the way back to an all-time high. After the Q1 report, though, it plunged. The analysts still think it can grow earnings 16% this year and next, and the forward P/E of 13x hasn't been this low since 2009. While the inventory growth over the past year is a bit alarming, this one looks interesting for a contrarian entry. The company reports on Tuesday (8/7).
Weight Watchers (NYSE:WTW) is under assault due to the recent FDA approvals of two diet pills. It probably doesn't help that they lost their CFO of ten years recently after she retired at age 62. They hired someone from outside of industry who has never served in that role, and he walks into a recently releveraged balance sheet (4x Debt/EBITDA) following a massive share repurchase in Q1 (paying $82 per share for 8.78 million shares in a self-tender in February and another 9.5 million from majority holder Artal in April) that was followed by a slowing of business, with sales flat year-over-year when they had been expected to increase. Last week, they took down 2012 EPS guidance from $4.60-4.80 to $4-4.20. Ouch! for those who didn't tender their shares. Shame on the retiring CFO for top-ticking on so much stock!
For those who follow me, you know I focus on smaller companies. Las Vegas Sands (NYSE:LVS) is the biggest on the list, and I don't really know it very well. Unlike a lot of the stocks on this list, its recent peak is still way below the prior high in 2007. What a run, though, from the lows of 2009, when it bottomed near 1. As a distant observer, the valuation looks quite reasonable, and the chart doesn't bother me despite the recent 52-week low.
I am going to hit the three healthcare stocks quickly. Idenix (NASDAQ:IDIX) and ViroPharma (VPHM) don't make money (or much, in the case of ViroPharma), and Questcor (QCOR) has one drug driving its results. Idenix is a Hepatitis C play. It ran up on the two big acquisitions earlier this year (Gilead buying Pharmasset and Bristol-Myers buying Inhibitex). ViroPharma is expected to see earnings plunge after a negative FDA ruling on Vancocin. Questcor is definitely a battleground stock, with several high-profile shorts all over it (StreetSweeper, Citron, Off Wall Street). Anyone who wants to get involved with these better have courage.
Acacia Research (NASDAQ:ACTG) buys patents and then looks for potential infringement. The company posted a big "beat" but sold off recently. There was apparently a rumor near the end of July regarding a Cisco licensing agreement ending (source: Briefing.com), but this one is an enigma. Fellow Seeking Alpha author Patrick Anderson shared his thoughts on the quarter if you are interested in this one.
United Rentals (NYSE:URI) was almost buried in 2009, but it rallied back nicely from $2.52 to an all-time high of $48 before the recent correction. You may recall that the company received a bid in 2007 of $34.50 from Cerberus, but the deal didn't close. URI bought a rival (RSC Holdings) late earlier this year and is showing very strong growth as it reports a smooth integration. This one looks like profit-taking.
In the tech sector, I am not too familiar with most of the names. Universal Display (NASDAQ:PANL) makes organic LEDs (OLEDs). Unlike some of the other names, this one hasn't had a high-volume sell-off. Rather, it appears to be consolidating. The sales and earnings estimates have been coming down, but the anticipated growth is extremely high. Insiders own 7%, but I saw several related-party transactions in the proxy. The company reports this week. As of Q1, it had over $7 per share in cash and no debt. FARO Technologies (NASDAQ:FARO) sells "portable, software driven, 3-D measurement and imaging systems" to a variety of industrial and construction companies. As of 6/30, it has about $8 per share of cash and immaterial debt. The company reported a pretty big sales and EPS miss last week, but the orders were up almost 14%.
BroadSoft (NASDAQ:BSFT) was a busted 2010 IPO that soared a few quarters after hanging out below the IPO price of $9. The company provides software and services to enable Unified Communications. The stock was hammered after the company reported in May, and they will be reporting their Q2 this week. The current forward P/E of 20 is about as low a valuation as the stock has traded since going public. Qlik Technologies (NASDAQ:QLIK) is another 2010 IPO. In this case, though, the business intelligence software company, which priced at $10, never looked back, quickly doubling in price. The stock peaked 13 months ago, and the decline looks less about fundamentals than just a correction of valuation and a tempering of expectations. Analysts are looking for growth in EPS of 42% next year.
Liquidity Services is one that I added to my watchlist last year when they announced what seemed to be at the time (and proved to be later) a very smart and financially attractive acquisition. I had already liked the company's business model of helping retailers get rid of returned merchandise and the government get rid of excess assets. Plus, there is huge insider ownership. I took it off the watchlist after the stock shot up past my view of valuation, but an announced selling plan by the CEO (which was cancelled recently without any stock having been sold) and a short report from Off Wall Street served to beat the stock back to what I view as at worst an attractive and possibly quite inexpensive level. I just put it back on my watchlist and am trying to decide if 20 P/E or 25 P/E is the right level. If it's the latter, the stock could work its way back to the recent highs over the next year. For the year ending in September 2013, the company is expected to grow earnings by 21%, and analysts have been raising this number. In fact, the current estimate of 2.23 is up about 40% from the estimate at year-end.
Valhi (NYSE:VHI) is one of Harold Simmons' companies. There are no analysts following it, and I have never been able to fully unravel the complex web of ownership among his holdings. My Top 20 Model Portfolio includes Titanium Metals (TIE), which owns 2.1 million shares of Valhi (almost 2%), and Valhi owns a bunch of Titanium Metals. Simmons controls 95% of the company, which is a holding company for several other entities, some of which are publicly traded.
I like the idea of buying stocks on sale, but I think it's important to try to avoid catching a falling knife. The screen I ran is designed to reduce the chances of getting run over while bottom-fishing, but surely some of these will continue their poor performance. Liquidity Services, the one I know the best, looks quite attractive to me, but some of the others seem worthy of further research.
Disclosure: I have no positions in any stocks mentioned, and no plans to initiate any positions within the next 72 hours.
Additional disclosure: TIE is held in one or more model portfolios managed by the author at InvestByModel.com