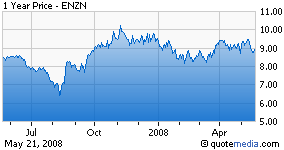 A while back, I wrote a post detailing my confused wonder at a proposed spin-off from Enzon (NASDAQ:ENZN) of a biotech with all of the discovery engine. It turns out, I wasn't the only one that was confused. In a letter, key Enzon shareholders wrote a letter demanding Enzon, "explore all strategic alternatives for commercial operations." In particular, they point to the ability of the company to reduce SG&A by at least $25M, (including, as I mentioned in the blog post, the ~5$M of CEO compensation):
"…the Company's commercial operations generated over $80 million in adjusted EBITDA in 2007. It has long been our contention, however, that Enzon's cost structure is inordinately high. Accordingly, we believe that there are at least $25 million of excess SG&A expenses that could be eliminated should the Company pursue a rationalization of its commercial operations. We note that the Company spent $31.9 million on selling and marketing expenses alone in its marketed products segment in 2007. As an additional data point, the following information detailing the Company's five most highly-compensated executives was taken from page 21 of the Company's 2008 Proxy Statement:

Name Principal Position Total 2007 Compensation

Jeffrey H. Buchalter Chairman, President, and CEO $5,181,117 Craig A. Tooman EVP, Finance and Chief Financial Officer $1,673,573 Ivan D. Horak, M.D. EVP, R&D and Chief Scientific Officer $1,820,115 Ralph del Campo EVP, Technical Operations $1,354,414 Paul S. Davit EVP, Human Resources $898,516

These compensation figures seem excessive when viewed in the context of a small-cap company that has a current market value of less than $400 million. Indeed, we believe that $25 million of potential cost reductions may be a conservative estimate."
Glad to see I'm not the only person being critical of this plan of action. I salute you, Richard Mansouri, portfolio manager of DellaCamera Capital Management, LLC.