We previously analyzed Coca-Cola (KO) vs. PepsiCo (PEP) and concluded that the non-alcoholic beverage company that currently has the most positive performance momentum is Coca-Cola. We wrote a follow-up report on Coca-Cola and concluded that as good as its performance is, it is fairly valued. We see the same thing with Pepsi, and we believe that part of the reason why investors are piling in to the beverage makers is because of the dividend/share repurchase programs run by the companies.
We also believe that Pepsi is at its 52 week high, even though it is muddled in a morass of mediocrity, because investors are eagerly betting on Pepsi's board putting Indra Nooyi out to grass. By replacing Nooyi, Pepsi would be eliminating a huge hole in the CEO's office. We ourselves would prefer to wait until Pepsi's board actually replaces her before we get on board. Even with Pepsi's 3% dividend and $657M in net share repurchases in H1 2012, we really aren't enamored with the idea of paying 18X trailing earnings for a mature company like Pepsi when the stronger-performing Coca-Cola is expected to grow its earnings by only 7% long-term according to Morningstar versus 5.2% for Pepsi.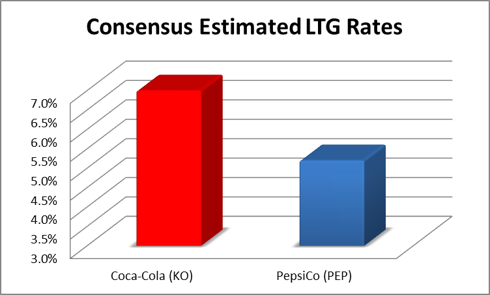 Click to enlarge
Source: Morningstar Direct
Coca-Cola maintained its lead over Pepsi in the worldwide beverage business. In North America, Coca-Cola's Q2 2012 results were almost a mirror image of Pepsi's as Coca-Cola grew its beverage volumes by 1%, its revenues by 5% and its operating income by 2%. Pepsi saw its beverage volumes decline by 1%, its revenues decline by 5% and its operating income drop by 15%.
Both companies struggled in Europe for revenue and volume growth during the quarter. Coca-Cola Europe checked in with declines of 2% for volume, 6% for revenue and 6% for operating profits. Pepsi Europe also had a 2% decline and a 5% revenue decline. Pepsi Europe bucked the trend with an 11% income in operating profit helped by a 1% volume increase in the food division as well as cost reductions and the integration of Wimm-Bill-Dann Foods, which was acquired last year. We also note that Pepsi Europe includes the former Warsaw Pact nations of Eastern Europe whereas Coca-Cola includes its operations in those countries as part of its Eurasia and Africa division.
PepsiCo Asia, Middle East and Africa saw strong snack volumes growth of 19% and solid beverage volume growth of 6% for its beverages business. Organic net revenue grew by 10% and net reported revenue declined by 8%, due to the re-franchising of its Chinese bottling operations. Pepsi's AMEA constant currency operating income grew by 7% in this division, which was comparable to the 9% enjoyed by Coca-Cola's Pacific division and 6% in its Eurasia and Africa operations. Coca-Cola Pacific and Eurasia and Africa had comparable beverage volume growth of 8% and 5% respectively.
We see that Coca-Cola's overall results continue to have more fizz than Pepsi's. Coke grew its overall revenue by 3% in the most recent quarter and 4% year to date while Pepsi's revenues declined 2% for the quarter and were flat year-to-date. This enabled Coca-Cola to achieve a small, but acceptable level of operating income growth during these periods in comparison to the operating profit declines by Pepsi. Coca-Cola's EPS grew by 1% for the quarter and 4% for the year in spite of global macroeconomic headwinds, a strong U.S. Dollar and the absence in 2012 of a $417M gain in 2011 upon the merger of its Mexican bottling partners. Pepsi faced similar headwinds but was not able to avoid a 20% decline in EPS for the quarter and 12% on a year-to-date basis.
Despite the fact that Pepsi has 11% more revenue than Coca-Cola, Coca-Cola earned 82% more profits than PepsiCo. Coca-Cola has $9.5B more assets on its balance sheet than Pepsi; however this is because Coke has over $19B more cash, securities and equity method investments than PepsiCo. This probably explains why Coca-Cola has $10B more in stockholders equity than Pepsi.
In conclusion, until PepsiCo smartens up and replaces Nooyi, we recommend that investors interested in the soft drink and nonalcoholic beverages sector have a Coke. We reiterate that while Nooyi is CEO of Pepsi, investors will be more likely to have a smile on their face and a gain in their portfolios by investing in Coca-Cola instead of PepsiCo. We expect that if investors who have a Pepsi instead of Coca-Cola will be likely to have a frown on their faces as long as Nooyi is CEO.
We have previously noted Ralph Whitworth's recent investment in Pepsi and think that much of the value in Pepsi as of right now has been realized due to the recent flight-to-safety by investors in the wake of the European debt crisis and demand for any investment offering an annual yield payout exceeding the low rates paid on T-Bills, bank deposits and even intermediate-term debt. However, until Pepsi announces a major strategic action (like splitting off the food division) or leadership succession plans, we believe that dividend-seeking investors in the beverage business should go with Coca-Cola instead of Pepsi.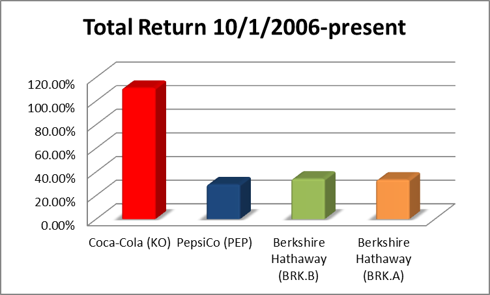 Click to enlarge
Source: Morningstar Direct
Disclosure: I have no positions in any stocks mentioned, and no plans to initiate any positions within the next 72 hours.
Additional disclosure: Saibus Research has not received compensation directly or indirectly for expressing the recommendation in this report. Under no circumstances must this report be considered an offer to buy, sell, subscribe for or trade securities or other instruments.