Major market indices recovered a portion of their first-quarter losses in April, and by May 16 were down only a few percentage points for 2008. It's too soon to tell whether a full-on market recovery is under way, but the technology sector—and software stocks in particular—are doing their part to pull the broader market in that direction.
Software stocks were among the hardest hit when the market tanked at the onset of the year and now are among the stocks reversing trend most dramatically. iShares S&P North American Software (NYSEARCA:IGV) lost almost 18% between the all-time high it set last Halloween and a 52-week low on March 17. The fund has quickly regained its footing since, climbing more than 14% through May 16.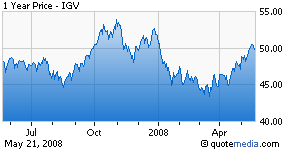 Software stocks fell at the beginning of the year largely due to fears that an economic downturn would cause consumers and businesses to slash their technology spending. But while many firms did face challenges, the first quarter of 2008 turned out better than expected for the software sector as a whole. Consider Symantec (NASDAQ:SYMC), maker of the popular Norton anti-virus software and recently IGV's number two holding: The firm last month released a quarterly earnings report that revealed a sharp rise in profits, beating analysts' expectations for the fourth straight quarter. What's more, the company projected strong results for the following quarter. Symantec stock gained more than 18% during the three months through May 16.
Adobe Systems (NASDAQ:ADBE), IGV's recent number three holding, also delivered a stronger-than-expected quarterly report this spring, thanks to sales of its Creative Suite 3 and Acrobat applications that were robust despite the lagging economy. The firm saw a 52% increase in profits during the fiscal quarter ending in February, compared to the same period a year earlier. Adobe also expects a boost from the launch of several new products in the latter half of the year. Adobe shares soared almost 22% between mid-February and mid- May.
There are several reasons why Adobe, Symantec and other stocks in the typically fickle software sector may not be suffering as much from a weak economy as one might expect. For one thing, many businesses need to shell out for the latest upgrades in order to stay competitive, regardless of economic conditions.
Furthermore, software is an increasingly international business. While IGV invests only in North American stocks, many of its holdings earn much of their profits overseas. As a result, those companies stand to benefit from stronger overseas economic growth as well as the decline of the dollar relative to foreign currencies. Oracle (NASDAQ:ORCL), recently IGV's top holding and the world's largest enterprise software firm, is a good example. The firm, which generates 60% of its sales overseas, on March 26 announced a 21% increase in revenues for its latest fiscal quarter. Turmoil in the U.S. economy dragged on growth in new software licenses, but Oracle's strong position internationally helped offset domestic troubles.
Another factor behind IGV's recent recovery has been the fund's focus on firms with dominant market positions. When markets are turbulent, big firms like Oracle, Adobe and Symantec, which offer widely used products, usually hold up better than smaller companies with less-diversified businesses and fewer resources. IGV's 41 holdings recently had an average market capitalization of $11.9 billion, reflecting an emphasis on the software sector's larger players.
One part of the software sector that may be especially resilient in the face of a slowing economy is the video game industry. Sales of video game software increased 68% in April from a year earlier and are expected to soar 160% in May.
Some analysts have speculated that the video game industry, seemingly driven almost entirely by product cycles rather than broader economic trends, is now virtually recession-proof. The release of Grand Theft Auto IV, a game produced by Take-Two Interactive Software (NASDAQ:TTWO), is likely to drive sales this year. It is expected to be one of the top-selling games ever, having already sold more than 6 million copies since its April 29 release. Number five holding Electronic Arts (ERTS) recently attempted to buy Take-Two, but the smaller firm rejected Electronic Arts' offer last week. The rejection sent Electronic Arts shares down nearly 5% for the month ending May 16—but if the deal eventually does happen, shareholders here might benefit.
If software stocks continue to bounce back, IGV should steadily build momentum. In that case, investors could benefit in the coming months from moderate exposure to this industry. But with the economy still resting on shaky foundations, and given IGV's history of volatility (its recent three-year standard deviation was 15.82, almost double the broad market's), it's anything but certain that the fund's recent rise will continue.