By Bondsquawk
According to Credit Suisse Macro Tactics, the next round of Quantitative Easing (QE) will likely benefit bonds investors more than the previous QEs.
Our analysis suggests that each new round of QE brings diminishing benefits for equity returns, and that allocating a significant part of a portfolio to bonds tends to improve the portfolio's risk-return profile.
The research pointed out that bonds tend to rally in anticipation of QE, while equities rally after QE is actually implemented.
Click to enlarge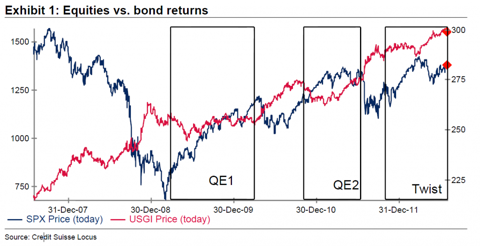 According to Credit Suisse the superior returns of equities compared to bonds have decreased with each monetary policy action by the Fed.
The outperformance of equities during the QE1 period was remarkable: producing cumulative returns of 47% vs slightly negative returns for bonds, there was little benefit to be gained by diversifying into bonds and the optimal portfolio was 100% stocks. This outstanding performance is explained to a large extent by the fact that equities were trading at exceptionally distressed levels at the inception of QE1 (S&P 500 was below 800 in March 2009, compared with 1375 currently).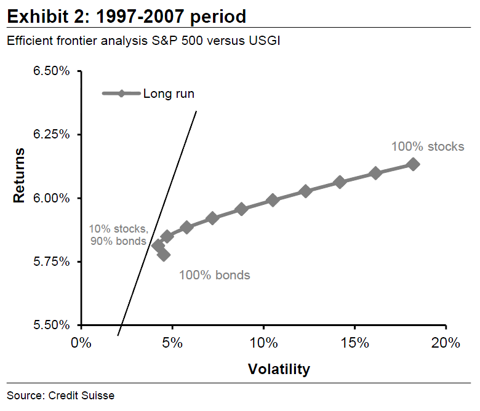 Click to enlarge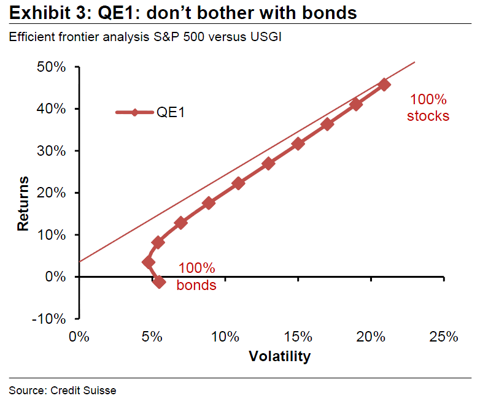 Click to enlarge
During the QE2 period, the highest Sharpe ratio would have been accomplished by an allocation of 40% in equities, 60% in bonds. During Operation Twist (which is still ongoing), the allocation to bonds ought to have been even higher, with a 20- 80 split achieving the highest Sharpe ratio.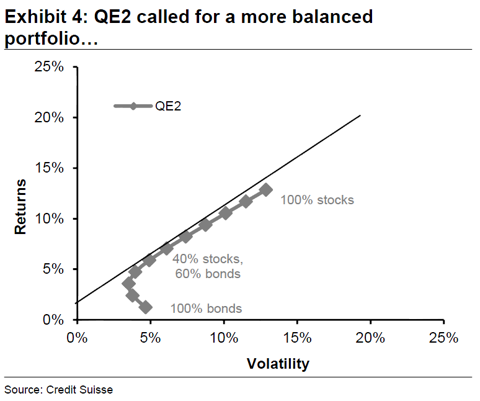 Click to enlarge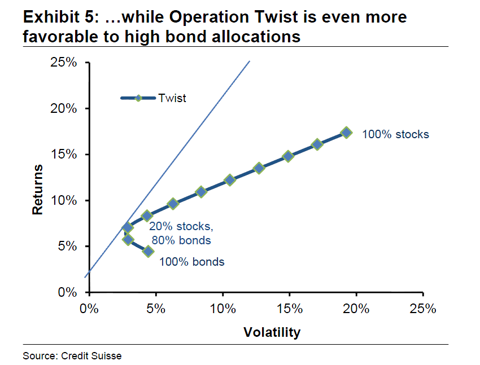 Click to enlarge
Though the report suggests that bond allocation should be higher than usual for this QE, the overall portfolio should be more heavily based on equities.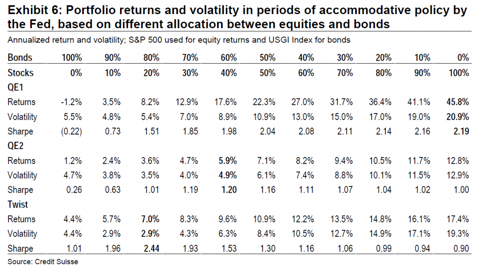 If you have any questions or feedback on anything regarding the economy, markets, and bonds, feel free to contact us. We would be delighted to respond.
Disclaimer: The above content is provided for educational and informational purposes only, does not constitute a recommendation to enter in any securities transactions or to engage in any of the investment strategies presented in such content, and does not represent the opinions of Bondsquawk or its employees.