"Our elephant gun has been reloaded, and my trigger finger is itchy." - Warren Buffett
I had some cash burning a hole in my portfolio's pocket, so I started looking around for a value. I found one, and - shocker - it's trading at its 52-week high.
Now, regular readers know that I'm the type of guy who "buys the dips." Some of my recent acquisitions this summer include:
Given that sort of trading record, why then am I about to pick up a stock trading at its 52-week high?
Simply put, I'm a long-term value investor, which means I buy stocks that I feel are currently undervalued, and hold them until I feel they're fairly valued. (In some cases, I might even hold them forever.) A quality stock at its 52-week high may still represent a "value," as another stock might still not be a value at the 52-week low.
The stock I'm about to buy at the 52-week high? Berkshire Hathaway class B (NYSE:BRK.B). While I would love to get my hands on some Berkshire Hathaway class A (NYSE:BRK.A) shares, I'm sadly not quite wealthy enough to be able to initiate a six-figure position in Berkshire, or really any stock.
Nonetheless, I'm quite happy with my upcoming purchase of BRK.B. Why? It's a nice long-term value. My investing horizon is quite long (20+ years) and I believe that given that timeframe, today's prices are an absolute steal.
Valuing Berkshire is a little different from valuing most companies. Berkshire is often described as a "mini mutual fund" because it directly owns companies ranging from underwear maker Fruit of the Loom to insurance company GEICO to the Burlington Northern Santa Fe Railroad. It also holds equity stakes in many other businesses. Thus, rather than valuing Berkshire via P/E or other traditional metrics, it's most appropriate to look at Berkshire's book value, which, as Buffett himself explains, increases in a roughly proportional fashion to Berkshire's intrinsic value. According to today's earnings report, Berkshire Class A shares have a book value of $107,377.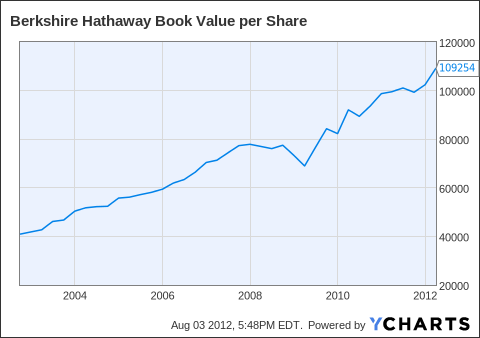 BRK.A Book Value per Share data by YCharts
Berkshire's board has approved an unlimited stock buyback, which Buffett will execute at any time when the trading price of Berkshire shares dips below a book value of 1.1. This suggests that Buffett believes Berkshire's intrinsic value is significantly greater than 1.1x book value. For the sake of the discussion, let's say that an "accurate" intrinsic value is 1.3x Berkshire's book value (although I personally believe it could be much higher).
Given this assumed intrinsic value figure of 1.3x book value, whenever you buy shares at a price/book value below that figure, you're essentially guaranteeing yourself free money, just as you are whenever you buy a quality stock like Coca-Cola (NYSE:KO) at a very depressed P/E multiple - because you know you're getting more than your money's worth. Therefore, since Berkshire's current trading price is below intrinsic value, buying Berkshire shares is somewhat of an arbitrage opportunity: even if you're not betting on future returns, you can buy just to grab the gap.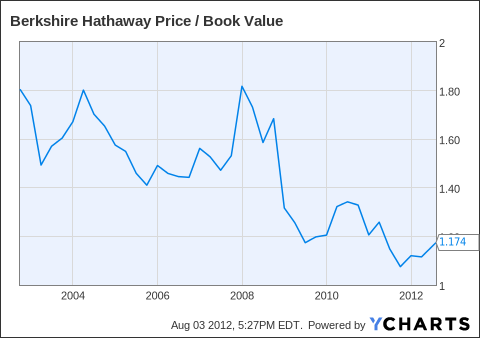 BRK.A Price / Book Value data by YCharts
But beyond this, it's important to realize what else you're getting when you pick up Berkshire shares below intrinsic value - you're getting Warren Buffett for free.
In a June Kiplinger's article titled "Fire Sale on Buffett," Elizabeth Ody made exactly the same point:
[Whitney] Tilson estimates that the Omaha company is worth $186,000 per Berkshire Class A share . One A share equals 1,500 B shares, so the estimate works out to about $124 per B share. That suggests the B shares trade at 35% below their intrinsic, or actual, worth. Tilson says his estimate doesn't include extra value for the Buffett touch. [...] the fact that Buffett is still in charge, and still thriving, is gravy. "He can make investments that nobody else can, because he is Warren Buffett," says Tilson, who believes that, given Buffett's apparently good health and commitment to the company, there's an 80% chance he'll remain in charge for at least another five years. "He still has some more rabbits to pull out of his hat."
So in my mind, the value proposition is clear. Not only do I get a conglomerate of companies trading below their intrinsic value, but I also get one of the greatest investing minds in history for absolutely free. Awesome.
Buffett's not dead yet, but the market is treating Berkshire stock like he is. Was the stock cheaper at $66 last year? Absolutely. But it's not a bad deal at all right now, and that's why I am going to take it.
Disclosure: I am long BRK.B.
Additional disclosure: As of the time of writing this article (8/3/2012), I do not own any BRK.B shares. However, I have placed an order with my broker to buy shares at the market open on 8/5/2012, and will be long BRK.B from that point onwards.