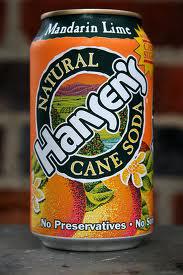 From the outset, let me be clear. I really have no idea what Cliffs Natural Resources (CLF) builds, offers, creates or otherwise sells. I know that investing my money within the context of a knowledge vacuum is probably not a good idea, but then again, each day we are met with news of large price changes in stocks that catch the analysts by surprise. At times like that one can't help but think all of that research really didn't translate into useful knowledge.
Whether dissecting a company on the basis of specific metrics or assiduously charting its share prices and trading volumes to the point of hallucinating heads, shoulders, cups and other images, the reality is that the knowledge and effort to understand are so often meaningless.
Being ignorant hasn't stopped me in the past from purchasing shares of a company and periodically riding it up and down, all the while selling call options to help cushion risk and complement return. In the case of a company like Riverbed Technolgy (RVBD), I have a clue that there's some kind of technology product or service involved, but in about 5 years of happily trading in and out of those shares, I've never been intrigued enough to really know what it does.
The process of osmosis,though, eventually drives information through my firewall. Over the years I've learned that when companies like Juniper (JNPR), Broadcom (BRCM) and Oracle (ORCL) release earnings or guidance, Riverbed seems to react. I've also learned that Riverbed Technology tends not to disappoint analysts when they report earnings, bit they are less than optimistic during their calls and when providing guidance.
In the case of Cliffs Natural Resources, my first instinct was to believe that it made sodas and energy drinks and may eventually change its name to something like Cliffs Beverage. I haven't really taken much time to dispel that notion.
This week, I included Cliffs Natural as a selection in my weekly look at the week ahead, principally on the basis of its upcoming dividend on August 13, 2012.
Like most everything else on this past Friday, on the heels of a 200 point gain, Cliffs advanced as well, bouncing off of its disappointing earnings induced lows from less than two weeks ago. The fact that it released its "Sustainability Report" this past Friday to favorable reviews may or may not have been factored into its price move that day, as the tide was strong. Strange, how I would know about that report, but nothing else.
But what I do know is that it moved up nearly 4% on Friday. I hate the idea of buying anything after it rises enough in a single day to qualify as having been a good annual gain, so I'm happy that there are a few trading days left to make a decision on picking up shares.
For Cliffs, the dividend of $0.62/share translates into an annualized 5.9%. When I see rates like that for companies that aren't exactly household names, I'm less than eager to commit funds. That's especially true if quarterly earnings are still a mystery. But with earnings out of the way and the dividend date rapidly approaching, I'm much more inclined to give some consideration.
Cliffs falls perfectly into the concept of Double Dip Dividend opportunities and offers the possibility of accumulating option premium through sale of covered calls, as well as dividend capture.
Unless a stock plummets, I look at the Double Dip Dividend play as a sure thing, knowing full well that there's no such thing.
For stocks that have appealing dividends, yet uncertain price trajectories, I especially like selling in the money options. Ideally, the price of shares minus the upcoming dividend should still be above the strike price. By so doing, it is almost akin to daring an anonymous option buyer to prematurely exercise the option in order to capture the dividend.
For the habitual call writer that can be a very appealing situation, regardless of what decision the call buyer makes.
Based on Cliffs $42.10 closing price on Friday, A $42 August 10, 2012 call sale would fetch a $1.63 premium. If exercised, the 5 day Return on Investment would be 1.3% Of course, if exercised or assigned on August 10, the dividend goes to the option buyer. However, selling the $41 August 18, 2012 contract, if assigned at expiration, would yield a 3.1% return for the two week period.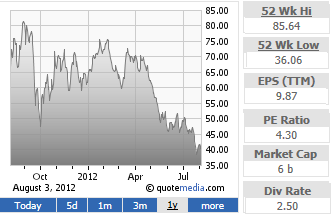 Perhaps the best of all worlds would come if selling the $41 August 18, 2012 contract the buyer exercised the option by the close of trading on Friday August 10, in order to capture the dividend. In such an instance, the ROI for the five day holding period would be 1,7%, even if shares decreased by as much as 2.6%
But the reality is that option buyers rarely exercise that option prematurely, unless the shares are very deeply in the money and there is almost no chance of shares opening the following morning below the strike price. Option buyers just hate spending their unleveraged funds and would likely rather be doing just about anything other than holding shares and assuming risk for price depreciation.
Just look at the recent examples of Philip Morris (PM), Gannett (GCI) and DE (DE). All closed well above their strike prices of $85, $12 and $75, respectively, the day prior to their ex-dividend dates. With the exception of some of my subscribers who reported they were assigned a portion of their GCI holdings, the vast majority received dividends and premiums, in a scenario that repeatedly plays itself out in the same manner.
This past week the same experience was realized with shares of Walter Energy (WLT) and Eaton (ETN), although Walter Energy did have the cloud of its earnings release hanging over it.
In a way, buying shares of a stock with the sole purpose of seeing it sold at a lower price seems fatalistic. At least it does so to those that in previous articles have commented that the reason for buying stocks is to see price appreciation.
I suppose, but I always thought that the purpose of participating in the stock market was to make money, but whatever path didn't involve illegal white powder. As it turns out there are many paths toward generating profits. Sometimes, selling shares at a loss is just one of the paths.
I certainly don't know what the next two weeks holds in store for Cliffs Natural, but I do know that I will not be expanding my knowledge base even as I'm likely to buy shares and sell those great call options.
Disclosure: I am long RVBD, ETN. I may initate a position in CLF