When a company is expected to grow earnings at about 15% each year over the next 5 years, it is hard to not look at it just as a growth stock. Qualcomm (QCOM) is the company we are talking about. The recent quarterly numbers were viewed negatively by street but even those numbers almost met the street's expectations. Earnings per share for the June 2012 quarter shot up by 13% year on year as indicated in the chart below.

Click to enlarge
(Click to enlarge)
(Source: Ycharts.com)
But the focus of this article is not on Qualcomm's earnings specifically but on its dividends. Let us get into the details:
Qualcomm currently pays a dividend of 25 cents a share, giving it a yield of about 1.7% at its current price of $60.
The company has been paying increasing dividends since 2003, the same time period from which Microsoft (MSFT) started paying dividends. But not many realize it because as mentioned earlier Qualcomm is seen only as a growth stock. Intel (INTC) and Microsoft currently enjoy the status as the dividend gurus in Technology.
What is impressive is Qualcomm has been increased its dividends at an average of 12% over the past 5 years.
Assuming Qualcomm maintains its dividend growth rate over the next 5 years, your yield on original cost will almost double in 5 years. In earlier exercises, we estimated the returns over 10 years for consumer staples stocks but since Qualcomm operates in a disruptive space, a more conservative time period has been used.

Click to enlarge
(Click to enlarge)
The current low yield of Qualcomm is due to its conservative payout ratio of less than 30%, while Microsoft and Intel almost pay 40% of their earnings as dividends.
While the dividend yield might seem small right now, we must remember that this company is probably the best bet behind Apple (AAPL) and maybe Samsung (OTC:SSNLF) in the mobile revolution. So we are talking about a nice combination of growth, income and income growth.
Trefis estimates that 75% of the stock price is attributable to mobile device chipsets and royalties. If ever there existed a company "at the right place at the right time."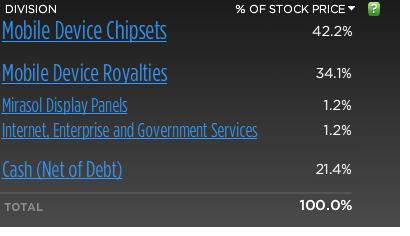 Oh and one more thing, since the focus of the article is on dividends, the last line item in the picture above says more than 20% of the stock price is result of cash on hand. Only Apple rivals that percentage.
The dividend story and expected growth is all good but investors should also be wary of potential challenges.
Potential Challenge #1: But (there must be one) Qualcomm is not expected to just sail through the years being the best. Stiff competition from the likes of Nvidia (NVDA) is a given. This is one of the most crowded sectors and when there are so many players, the margins get compressed as time goes on. The consumers end up benefiting more than the companies.
Potential Challenge #2: Like a lot of tech giants, Qualcomm's huge cash pile is not entirely in U.S. A big chunk of the money is estimated to be overseas and bringing that home will result in a big payday for Uncle Sam. The point is, future dividend maintenance/growth will depend more on earnings power than on cash reserves.
Potential Challenge #3: As Apple's results have proven in the last 4 quarters (two blowouts sandwiched between two "misses"), this space is turning cyclical in nature very fast. This loosely applies to Qualcomm and other companies in this space. Qualcomm and investors as well should expect some dry periods (read as: reduced earnings, negative reviews, downgrades etc) while holding onto this stock for the long term until the mobile revolution is complete (or at least matures in all major parts of the world.)
Disclosure: I am long AAPL.