We published our investment research analysis report on AT&T (T) last Friday night and were amazed as the level interest it generated. We were pleased as punch that it was well received and decided to expand our analysis further on AT&T's dividend. The first thing we want to do is clear up some areas that we believe people may have misinterpreted based on our research. First thing, our top choice in the telecom sector is Sprint Nextel (S). We have been covering Sprint internally since February and we have been publishing our firm's research, analysis and evaluation of Sprint since April. We are holding Sprint Nextel in our proprietary portfolio book because we are pleased with Sprint's recent successful efforts and results in turning itself around. We also believe that Sprint has great potential to pick up market share in the wake of the new "shared data" price plan implemented by Verizon (VZ) in July and in late August by AT&T. We have no illusion that Sprint has a way to go in order to gain ground on the Verizon-AT&T duopoly and we treat our investment in Sprint as a "special-situation turnaround". We added to our position in Sprint because we felt it offered the best risk/reward scenario in the telecom sector.
Even though we believe that Sprint still offers the best risk/reward scenario in the industry, we still like the other big three telecom companies [AT&T, Verizon and CenturyLink (CTL)]. We like the sector because although it is going through another maturity phase, this is the time when investors will be able to enjoy the fruits of their seed capital. We also like the telecom sector because of the de facto barriers to entry and tendency for consolidation of competitors. The telecom sector was heavily regulated and largely monopolized until 1982, when the breakup of the old American Telephone and Telegraph Company was ordered by the DOJ. The new AT&T Corporation divested its regulated Incumbent Local Exchange Communications Businesses and pursued unregulated businesses such as long-distance services and computer hardware and software. The Telecommunications Act of 1996 was passed in order to further expand competition. Every time we refer back to it, we can't help but laugh. We find it amusing because 10 days before the 10th anniversary of the act's passage, AT&T Inc capped off its decade long acquisition spree by acquiring BellSouth. We also find it amusing that SBC and Bell Atlantic announced two big blockbuster acquisitions not long after it passed.
Here's a timeline of how the old AT&T became the new AT&T:
United States versus AT&T filed in 1974 at the instigation of MCI Communications
Bell System divestiture ordered in 1982. AT&T was required to divest Regional Bell Operating Companies (local regulated telephone businesses) and allowed to keep unregulated businesses (long-distance telephone and computer related operations)
Edward Whitacre becomes Southwestern Bell's President in 1990, moves company headquarters from St. Louis to San Antonio, TX in 1993 and renames company as SBC Communications in 1995
Telecommunications Act of 1996 passed, SBC acquires Pacific Telesis
AT&T Corp and SBC try to merge in 1997, FCC rejected the merger
SBC acquires Southern New England Telecommunications (Connecticut's local exchange company and an equity method affiliate of AT&T Corp) in October 1998
SBC acquires Ameritech in October 1999 after selling Ameritech Wireless to GTE
Cingular Wireless formed in 2000 as joint venture of SBC and BellSouth
Cingular Wireless acquires AT&T Wireless in 2004
SBC acquires AT&T Corporation in 2005 and changes name to AT&T Inc
The new AT&T Inc acquires BellSouth in 2006 10 years after Telecommunications Act of 1996 was passed to open up competition. AT&T gains 100% control of Cingular and renames it AT&T Mobility
In 2007, AT&T starts selling the Apple iPhone (AAPL) under exclusive agreement. Verizon has to wait four years before selling it.
AT&T tried to acquire T-Mobile USA in 2011 and paid T-Mobile $4B when the US government rejected the deal.
Here's how the AT&T-Verizon duopoly came to pass.
AT&T broken up in 1984. New AT&T Corp and RBOCs (Ameritech, NYNEX, U.S. West, Pacific Telesis, BellSouth, Southwestern Bell and Bell Atlantic) begin operations
Telecommunications Act of 1996 was passed, Bell Atlantic acquires NYNEX
MCI Acquired by Worldcom in 1997
Vodafone and Bell Atlantic merge US wireless arms to form Verizon Wireless in 2000
Bell Atlantic merges with GTE in 2000 to form Verizon Communications
MCI Worldcom and Sprint merger bid rejected in 2000 by the government
Worldcom bankruptcy in 2002, reorganized as MCI
Verizon acquires MCI Inc and renames it Verizon Business in 2006
Verizon regains wireless leadership by acquiring Alltel Wireless in 2009 and sells off legacy GTE wireline operations to Frontier Communications in 2010.
We can see why telecom companies like AT&T and Verizon have a tendency to pay high dividends. Even with the government's attempts to deregulate the industry, it is still a heavily regulated industry. That results in one set of barriers to entry for competitors. Another barrier to entry is the huge amount of operational economies of scale required in order to begin generating profits yet once the networks are set up and reach a certain level of paying customers, the cash rolls in. There are not that many telecom companies in each respective country and while cross border mergers have occurred, these mergers haven't played as much a role as mergers of companies with a certain geographic market. Once a particular service reaches maturity, the company can cut back on capital expenditures. Because the telecom companies have such significant scale, the companies can use debt financing rather than equity financing in order to pay for capital expenditures. Sometimes the companies can even engage in rhetorical doubletalk by raising prices to deal with "capacity constraints" while cutting back capital expenditures. And finally one acquisition sometimes has the tendency to spark a wave of consolidation in the industry. This explains how Southwestern Bell became the new AT&T Inc. and how Bell Atlantic became Verizon and how both companies dominate U.S. telecom market. AT&T and Verizon are still expected to generate seven times more revenue this year than CenturyLink and more than three times more revenue than Sprint, despite the improvements to revenue achieved this year by both CenturyLink and Sprint.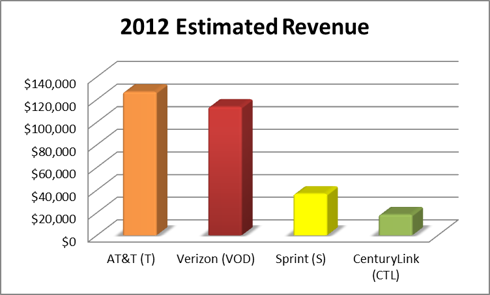 Click to enlarge
(Click to enlarge)
Source: Saibus Research Estimates
In conclusion, we can see why this sector pays the level of dividends it pays. AT&T has a nearly 1.75-1 dividend coverage ratio based on its 2012 YTD free cash flow of $9B and its $5.2B in dividend payments. Since AT&T completed its acquisition of BellSouth at the end of 2006, it has consistently generated an average of $34B in annual operating cash flows from 2007-2011 and if the second half of 2012 is the same as the first half, AT&T could potentially top out at $35B in operating cash flows for the year. We expect AT&T to see headwinds to growth because Verizon and Sprint are now selling the iPhone, because Verizon has a larger 4G-LTE presence and because of Sprint's efforts to improve its operations. At the same time, we expect AT&T to maintain its strong level of operating cash flows due to the low churn levels associated with its significant iPhone customer base. AT&T's CapEx ranged from $17B-$20B annually from 2007-2011 and we expect it to decline in the low single digits even though AT&T's management doth protest too much about its low levels of network capacity. In short, we can see how the new AT&T Inc and its predecessor SBC have been able to steadily increase its split-adjusted basic quarterly dividend per share since it was spun-off from the old American Telephone and Telegraph Company.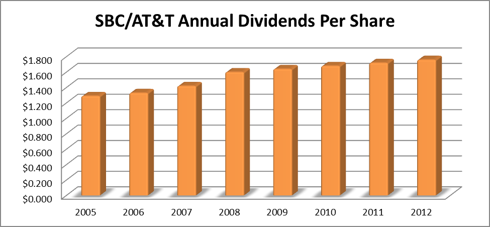 Click to enlarge
(Click to enlarge)
Source: AT&T/SBC Dividend History
Disclosure: I am long S, AAPL. Saibus Research has not received compensation directly or indirectly for expressing the recommendation in this report. Under no circumstances must this report be considered an offer to buy, sell, subscribe for or trade securities or other instruments.