We published a report last month analyzing the three California municipal bankruptcies that happened one after the other in a recent 30 day period. It made us hearken back to 2010 when Meredith Whitney went on 60 Minutes and in an interview with Steve Kroft, she predicted that "between fifty and a hundred counties, cities, and towns in the United States would have "significant" municipal bond defaults starting in 2011, totaling "hundreds of billions" of dollars in losses". We thought that she was trying to top her 2007 call on Citigroup (C), which catapulted her from an analyst with Oppenheimer and an occasional pundit on the business networks to creating her own research and advisory services firm and making her the toast of the town.
We agree with Charlie Gasparino of Fox Business when he said that Whitney was overreaching with her prediction of doom. Quoting municipal bond boutique Lebenthal & Company, Gasparino pointed out that if the top 50 US cities went into default on all of the bonded debt issued by those cities, it would add up to just $83 billion. As prudent investors we are not planning on overlooking the proclivity to engage in deficit spending by all levels of government, whether those governments are federal government bodies, state government bodies or local government bodies. However, we previously mentioned that the largest amount of muni debt defaults was $8.2B and that feat was accomplished in 2008, during the eye of the global financial storm. According to Michael Lewis, Meredith Whitney and her firm had prepared a massive, detailed report on state and local finances, yet the only people who saw it were her employees and a handful of clients. Bloomberg had to wait months before obtaining a copy of her firm's research. Allegedly Whitney wanted to compare the states versus one another to see who was the strongest and who was the weakest. We weren't able to see if she identified states with mediocre financial positions, but had the ability to improve them, such as Wisconsin. Our firm Saibus Research has provided significant and detailed research about the improvements of Wisconsin's fiscal position and business climate, thanks to the efforts of Scott Walker. We would have also liked to have seen more specifics with regards to her claims. We also saw improvements in Michigan and Ohio as well. We previously used the iShares S&P National AMT-Free Bond Fund (MUB) as a proxy for municipal bond performance and we believe that fiscal improvements by the state and local governments, coupled with the decreasing market interest rates across all bond sectors helped the MUB generate a total return of 18.17% since Whitney's gloomy prediction for municipal bonds.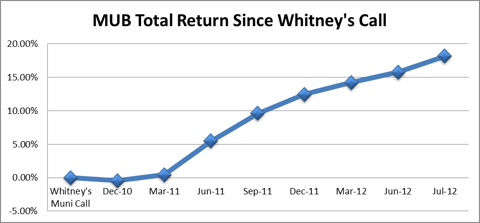 Click to enlarge
(Click to enlarge)
Source: Morningstar Direct
We agree with her that investors in California bonds should show the most concern with regards to state and local bonds. We had previously lived in California before moving to Boston and based on our experience there, we can say that California is not a state but rather a "state of mind". Based on the fiscal troubles the state has been facing on an annual basis, we think it is a state of mindlessness. This has resulted in the fiscally irresponsible tax, spend and borrow policies that resulted in the state tipping from having a cumulative net assets position to a net cumulative deficit position in Fiscal Year 2010.
After her December 2010 appearance on 60 Minutes, she went on CNBC and claimed that the wave of muni defaults would spur layoffs and social unrest. We acknowledge that Whitney stressed that she was originally referring to risks in the local municipal debt market as opposed to state bonds. She also added that she not only stood by her original call, she began expanding her call to highlight risks in the state municipal bond markets. We were surprised that she said that "there have been social contract defaults" such as changes in government services or worker contracts that have "proven the weakness in local government finance". We believe that if anything, that is considered doing more with less. Whitney claims that states are resorting to backroom political maneuvers to forestall defaults. We see Wisconsin, Ohio and Michigan holding the line on public spending and making those respective states less hostile to business, which is helping to generate tax revenue and to balance the budget. Overall, we've seen municipal defaults decline by 32% and the volume of defaults decline by 20% from $1B to $800M and all 50 FY 2013 annual budgets were passed on time. State Revenue for FY 2012 has either met or exceeded expectations for 39 out of the 50 states, which will enable the states to meet spending and to service debt.
Because of the historically low interest rates, we believe that the bigger risk to municipal bond investors is interest rate risk. We obviously believe that fixed income investors should be discerning with regards to bond investments and that goes especially for less liquid municipal bonds. For example, even if an Illinois general obligation bond had a higher yield to worst case than a Wisconsin general obligation bond, we would be more likely to invest in the Wisconsin bond because the State of Wisconsin has a cumulative $6B surplus in the general fund and $12.7B total surplus. That was more favorable than Illinois's cumulative $44B deficit in the general fund and $43B across all funds. We remember the Auction Rate Securities market seizing up in 2008 and even though the bonds paid interest in a timely manner, there was no market for the bonds. No one wanted them. We remember Interactive Data Corporation going months on end without pricing auction rate security bonds even though those bonds were steadily paying the monthly interest coupons.
While interest rates are currently projected to remain low due to intervention by the Federal Reserve and other global central banks, we feel that investing in municipal bonds or pooled products like the iShares S&P National AMT-Free Bond Fund carries more risk than merely clipping your interest coupon and collecting your principal at maturity. We also don't like the fact that governments only release financial information annually, whereas companies in the dreaded private sector release it quarterly. We modeled a yield pickup trade strategy by selling or shorting the iShares Barclays Capital U.S. Aggregate ETF (AGG) and replacing it with the iShares S&P National AMT-Free Bond Fund. There are a number of caveats with regards to the tax laws associated with this strategy that investors should evaluate before attempting it. This strategy also assumes that credit spreads on municipal bonds do not widen relative to taxable bonds. We believe this strategy would be suitable to those whose situation is most closely reflected by the following four characteristics:
Those who want or need fixed income exposure and
Those who are in the 25% and higher marginal federal tax brackets and
Those who are investing outside of a tax-advantaged investment account and (if you are going long-short MUB-Long: AGG-Short)
Those who have a significant level of pro forma taxable interest income

Click to enlarge
(Click to enlarge)
Sources: Morningstar Direct and Saibus Research Scenario Modeling
In conclusion, we believe that Meredith Whitney's prediction will most likely fail as a prediction. Because we at Saibus Research have great respect for our competition, we will say that Whitney's prediction had mixed success as a warning. We were surprised that she said that "There were fifth-derivative dimensions that we don't need to spell out to our clients". We have no idea what that means, but we take professional pride with regards to providing outstanding service to our clients and readers so that they understand the "fifth-derivative dimensions". We noticed that Whitney et al initiated coverage of the 15 largest states in September 2010. We think her prediction of doom would have greater success as a warning if she had issued it earlier in 2010, before the November elections saw Americans replace taxing, spending and borrowing minded politicians with a new crop of potential citizen-legislators dedicated to fiscally prudent macroeconomic policies. This was a bigger groundswell than the 1994 elections because there was significantly higher turnover at the state and local legislative level. Americans replaced nearly 700 fiscally irresponsible state legislative incumbents with 700 fiscally prudent newcomers to state legislative politics. Such policies are very important for municipal investors because after all, you are lending to government agencies and you want to make sure that in addition to the return on your money, you get the return of your money. Unlike the dreaded private sector, governments don't produce anything of value and in the case of places like East St. Louis, can't even seem to provide basic services that we would take for granted or a safe living environment. The only way that a government can pay back its bondholders is by borrowing from someone else (extend and pretend), printing the money (and debauching the currency) and taxation. We are seeing benefits from the shifts to fiscal policy responsibility in places like New Jersey, Ohio, Michigan and most of all Wisconsin. Some notable fiscal achievements include the following:
Michigan balanced its FY 2011 budget and ended up with a $1.56B surplus, which was a major improvement from the $1B budget deficit of the prior administration.
Ohio balanced its FY 2011 budget and ended up with a $2.6B surplus, which was a major improvement from the $264M budget deficit of the prior administration.
New Jersey wasn't able to balance its budget like Michigan but it reduced its FY 2011 deficit by $2B versus FY 2010 levels. New Jersey achieved this through a slight increase in revenue and a slight reduction in state spending.
Wisconsin may have balanced its FY 2010 budget however its budget projections for the FY 2011-2013 fiscal years were projecting a $3.6B deficit. The new administration and legislature passed a series of fiscal reforms and held the line on spending. These actions generated a significant level of controversy nationwide, but resulted in a nearly $1B budget surplus in FY 2011.
Disclosure: I am long C. Saibus Research has not received compensation directly or indirectly for expressing the recommendation in this report. Under no circumstances must this report be considered an offer to buy, sell, subscribe for or trade securities or other instruments.