As the old adage goes, the only certainties in life are death and taxes. Given the current market, let's add another certainty to that list: uncertainty.
Market sentiment is generally bearish, and stocks are at their most hated level in 27 years. Uncertainty and fear are widespread, and for good reason - there's the European sovereign debt crisis, rampant U.S. unemployment, and the looming fiscal cliff. While I believe these issues will be resolved in time, the general fear is understandable.
With that in mind, this article is going to analyze a sector that is popular in fearful times due to its defensive qualities. That sector, of course, is the utilities sector. This analysis is being conducted in collaboration with fellow Seeking Alpha contributor Joe Springer, who can always be counted on to provide solid, well-reasoned analysis on any issue he chooses to tackle.
Suffice to say that I'm bullish on the market and bearish on utilities, and Joe is the opposite - bearish on the market and bullish on utilities. Therefore, I'll be examining the downside risks to utilities, and in Joe's article, he'll be examining the potential benefits utilities positions can confer to investors in the current environment. Between the two of us, we should hopefully be able to paint a clear picture of the current state of the utilities sector and various potential outcomes.
For this analysis, I'll be examining both industry-wide trends as well as statistics specific to major utilities companies Southern Company (NYSE:SO), Duke Energy (NYSE:DUK), FirstEnergy (NYSE:FE), and Dominion Resources (NYSE:D).
The first fact to establish is that utilities have been in an uptrend.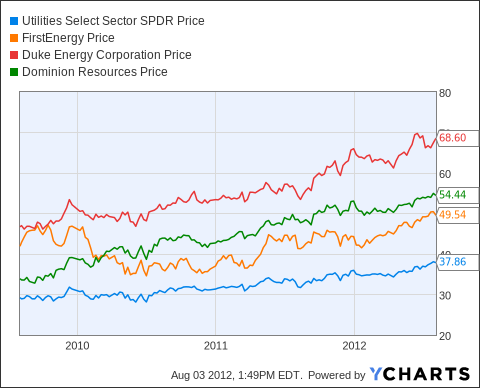 This trend is strongest in the past few months - while the S&P 500 (NYSEARCA:SPY) has essentially broken even over the past three months, the Utilities SPDR (NYSEARCA:XLU) has been on a tear.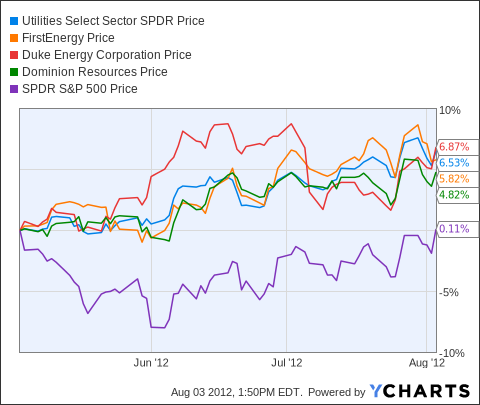 It would be nice if this rally was driven by fundamentals, but unfortunately, it's not. The rally has been driven mostly by multiple expansion, with EPS growth fairly lackluster.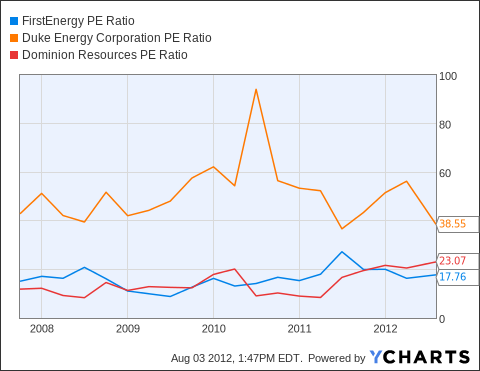 FE PE Ratio data by YCharts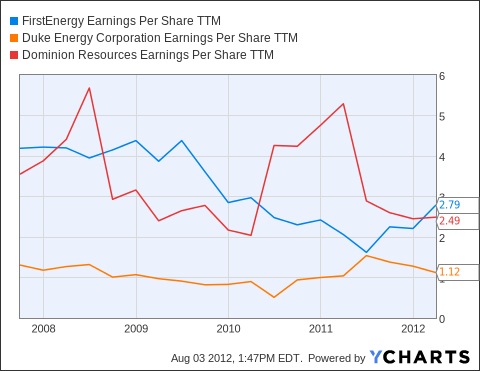 FE Earnings Per Share TTM data by YCharts
In short, here's what's happened. Headlines out of Europe have scared investors and resulted in irrational "fear trades." This is manifested by the record low Treasury yields as investors pile into "safe" assets like long-term Treasury bonds (NYSEARCA:TLT). In equities, this has resulted in underperformance of cyclical sectors like basic materials as investors rush into "defensive" sectors like utilities - enhanced by the fact that utilities stocks typically pay juicy dividends.
Unfortunately for these investors, utilities are all juiced up with nowhere to go. According to analysis by Russ Koesterich, the Chief Investment Officer at ETF provider iShares:
Since 1995, US utilities have traded at an average discount of roughly 25% to the S&P 500. Today, however, US utilities are currently trading at a more than 8% premium, the largest since late 2007. The premium can't be justified by US utilities being more profitable than in the past. In fact, the US utilities industry is currently less profitable than its long-term average. Return on earnings for US large cap utility companies is currently 10.5%, the lowest level since 2004. So why are investors paying a near 10% premium to invest in a sector whose profitability is close to an eight-year low? The answer: US utilities have benefited from investors' flight to safety and flight to yield.
For Koesterich's full analysis, click here.
It is worthwhile to note that Koesterich goes on to say that due to their defensive and low-beta nature, utilities would likely experience the least painful drop in a major market correction. However, in an environment with any growth - even slow growth, like we're experiencing right now - Koesterich believes utilities will underperform. To top that all off, utilities don't have great secular growth prospects - according to data collected by my broker (Fidelity), the long-term growth forecast is 5.38% for Southern, 5% for Dominion, 2.1% for FirstEnergy, and a very depressing 1.3% for Duke. No wonder Koesterich doesn't like utilities - I don't either.
For investors seeking yield, Koesterich recommends dividend stocks like those in the iShares High Dividend Equity Fund (NYSEARCA:HDV), the iShares Dow Jones International Select Dividend Index Fund (NYSEARCA:IDV), and the iShares Emerging Markets Dividend Index Fund (NYSEARCA:DVYE), since the stocks in these funds provide solid yield at a more reasonable price. For investors still interested in utilities, Koesterich recommends global utilities such as those in the iShares S&P Global Utilities Index Fund (NYSEARCA:JXI). In Koesterich's opinion, these are more fairly valued.
Personally, my preference in "defensive" investments is the mostly blue-chip consumer staples sector. As demonstrated by the chart below, the Consumer Staples Select SPDR (NYSEARCA:XLP) actually weathered the storm better than the utilities sector, and like utilities, is also likely to outperform the broader market in another downturn.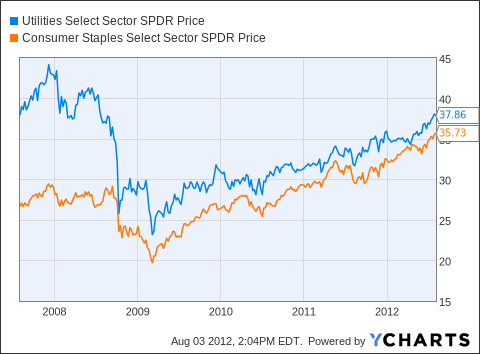 Unfortunately, the flight to safety has also made some defensive stocks like Coca-Cola (NYSE:KO) a little expensive for my tastes. However, if you look around, you can always find some value - McDonald's (NYSE:MCD), Wal-Mart (NYSE:WMT), and PepsiCo (NYSE:PEP) are all pretty safe plays trading at fairly reasonable values. Their solid dividend yields, good growth prospects, and history of dividend increases makes them an attractive alternative to utilities in the current environment.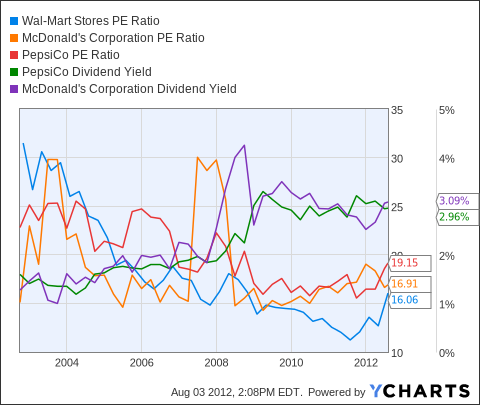 WMT PE Ratio data by YCharts
Braver investors might also do well to check out less "defensive" sectors like technology for opportunities. For example, microprocessor giant Intel (NASDAQ:INTC) currently trades at a very cheap multiple with a dividend yield over 3%. Intel has experienced reasonable growth even in light of the soft macro backdrop. Intel has forward long-term of EPS growth of 11.86%, which I like much better than the lackluster utilities sector growth. Plus, Intel is currently so cheap that it's actually trading below the multiple it was at at the market bottom.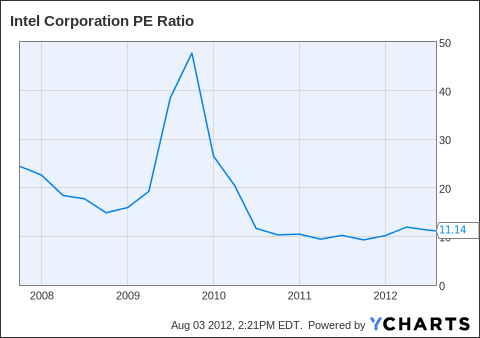 INTC PE Ratio data by YCharts
In conclusion, I'd recommend that investors underweight utilities. I believe that other sectors can offer comparable safety with better total return potential. Overpaying for safety is never a good strategy. That's why I don't like Treasury bonds or utilities in the current environment.
As always, different viewpoints are appreciated. As I stated in the intro, Joe obviously has a different point of view on utilities than I do, and I'm looking forward to reading his case for them. If you haven't read his article yet, I'd encourage you to do so. Then comment with your thoughts on one or both of our articles.
Disclosure: I am long INTC, KO, MCD, PEP, WMT.
Additional disclosure: I am short TLT.