Company overview
Idearc (IAR) is the second largest print directory publisher in the US. The company runs the Verizon Yellow Pages and superpages.com which has the second highest share of internet Yellow Pages usage. IAR was spun off by Verizon (NYSE:VZ) in November 2006. IAR has an exclusive agreement to publish the VZ directories for 30 years. IAR operates 1,200 directories in 35 states with circulation of 130 million and 850k advertisers.
Investment Thesis
IAR is compelling based on an incredibly cheap valuation, strong free cash flows, overly pessimistic market expectations, stable demand, and inherent competitive advantages. The stock has been destroyed (-88% from 52-week high) due to investors' concerns over deteriorating advertisement spending, CEO turnover, and an elimination of the dividend.
I think the opportunity arises in the stock because the market has erroneously interpreted macro economic weakness as an accelerating decline of business fundamentals. The company has adequate FCF to support the high debt load and has a diversified mix of customers.
Cheapest stock in the phone book
The intense sell-off in IAR has resulted in a compelling valuation relative to peers, the overall market, and my DCF analysis. I think investors have become overly pessimistic on IAR and are underestimating the long-term earnings power of the company, which I think has led to a disconnect between the market price and the true value of the IAR business. IAR is trading at 1.7x PE for this year and 1.5x ttm. The company has a substantial amount of debt so EV/EBITDA is a relevant metric and here we also see a large discount to the peer group average of 9.6x.
The business throws off a ton of FCF as CAPEX requirements are relatively small, FCF% for FY 2008 is 63%! My DCF estimate for IAR values the stock at $7.50. My DCF assumes revenues decline 2-3% yr/yr until 2014 and 0% terminal growth rate which essentially ignores the growth in the internet business. Keep in mind that my FY 2008 estimates are conservative and below the Street which could result in additional upside.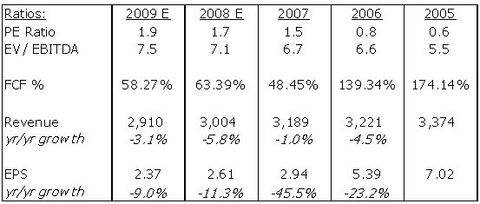 Business fundamentals better than Street's perception, sell-off overdone
IAR is down -88% from its 52-week high set last June as internal and external factors have scared away investors. The external factors are a combination of the long-term secular rise in internet ad spending which diverts money away from IAR's print Yellow Pages advertising and the current (transitory) macroeconomic weakness as we work our way through the economic cycle. The opportunity arises in IAR because I think investors are wrongly interpreting the current drop-off in business as a sign that the business fundamentals are declining at an accelerating rate. I disagree with the Street's perception and believe that the print business will likely decline ~3% yr/yr given historical trends for the past 10 quarters. To contrast this, Wall Street analyst expects the print business to trend down -9% yr/yr. Below you can see the yr/yr decline in the print business.

The print business is certainly declining but I think it is at more gradual rate than the market is implying, which will result in higher cash flows for a longer period of time than the market is currently valuing. In addition, I think there will always be some baseline usage of the Yellow Pages so I do not see this business ever disappearing.
The internet has evolved into a powerful form of media and has subsequently attracted large sums of advertising dollars. I expect this trend to continue and internet ad spending to remain strong. However the internet is not a new invention at this point and the majority of companies for which it is economically viable to advertise on the internet are already doing so.
IAR's sweet spot is with small and medium businesses. It is not economically viable for "Ben's Massage Therapy" (plan B if this hedge fund thing doesn't work out) to develop a website and buy banner ads on Google. IAR's business offers very low absolute ad dollar advertising costs versus other major media. According to the US Small Business Administration, small businesses make up 99% of total companies in the US, produce 50% of the economic output of the US economy, and employ 50% of the workforce. In other words, this is a large market. Besides sponsoring my softball team, the Yellow Pages are the de facto form of advertising for these companies.
IAR is a dominant player with a stranglehold on the Northeast market. IAR's size, incumbent status, and Verizon relationship are all competitive advantages that protect the business. It would be very difficult for a start-up company to be able to afford to replicate IAR's direct sales force or develop relationships with 850k businesses. Furthermore, IAR has a very long history with customers which embeds the Yellow Pages expense as part of the ad budget on an ongoing basis which has led to renewal rates in 80-85% range.
Internal strife further fueled stock price collapse, positive catalysts on the horizon
The stock has also been negatively impacted by internal factors such as CEO turnover, the lack of a CFO, and the suspension of the dividend. All of these events have combined with the macro industry headwinds to result in the perfect recipe for share price destruction. On February 19,, 2008 IAR named John Mueller CEO, but 8 days later Mueller resigned for unforeseen health reasons. An 8-day tenure is typically not a good sign and investors assumed the worst and sold (stock -30%). Frank Gatto (Executive VP) was then appointed interim CEO and currently serves in this role as the board continues its search for a replacement.
Investors have assumed the worst with Mueller's resignation but I think fraud is highly unlikely. The business model is pretty straightforward and the financials are easy to understand. The company reported much better than expected earnings earlier this month so I do not think an impending collapse is on the horizon. Rather I think Mueller actually had some sort of health issue and my sleuthing has confirmed this unofficially.
In addition to the CEO musical chairs, on March 27 2008 IAR suspended payment of the dividend, which upset the last remaining shareholder group of income investors. At the time, the dividend yield was +12% and with healthy FCF I think most investors were using IAR as an income play. I think the dividend freeze was a prudent move long term and will allow IAR to strengthen its balance sheet and ultimately pay down debt. The good thing about having so many problems is that there are now many potential catalysts that will be seen by the market as good news such as naming a CEO and CFO. I expect the CEO announcement first so that he can have some input on the CFO.
Debt load large but manageable
IAR was strapped with a substantial amount of debt when it was spun off from VZ but the healthy cash flows generated by the business are adequate to support it. IAR's debt covenant requires the company to keep leverage below 7.25x EBITDA. As you can see below, IAR is comfortably below this EBITDA Leverage Ratio threshold. In addition, a large portion of IAR's debt is floating which will now require less interest as rates have moved down substantially in the past 12 months.
Furthermore, the future periods are overly conservative because they do not account for the repayment of debt with FCF which IAR will be able to do now that the dividend has been eliminated. I estimate that IAR would need to see sales drop by ~30% yr/yr for the remainder of FY 2008 for there to be an issue with interest coverage. This appears to be a large cushion given the Street low is calling for a 9% decline and historical trends suggest a 3% decline.

Internet business providing growth, customer mix extremely diversified
The internet business has been the bright spot for IAR. Sales are expected to grow 20+% this year as IAR ramps up their online business. This segment of the business should participate in the continuing trend of internet advertising and will provide an offset to the secular decline of the print business. IAR has a very wide and deep advertiser base with 850,000 customers. This extremely diversified mix of customers insulates the company from being substantially impacted by a downturn in any one industry.
High short interest, bearish analyst sentiment
As icing on the cake, IAR has a high short interest which would take over 8 trading days to cover. This could add fuel to any upward move. Anyone shorting the stock at these levels is making a bet on bankruptcy and my analysis suggests insolvency is highly unlikely. Analysts are also very bearish on the name (1 Buy, 2 Hold, 2 Sell). Should fundamentals hold up as I expect, analysts may be forced to upgrade their ratings.
Risks
Prolonged and deep recession force businesses to cut back further on advertising spending leading to lower revenue.
The secular decline in the print business accelerates.
Company is unable to find a qualified CEO and CFO, given the rather straight forward nature of this business I believe IAR should have no trouble finding qualified candidates.
Company is unable to support the debt load, given my liquidity analysis I see this risk as minimal.
Raw material costs (paper) spike and erode profit margins. Paper prices have not increased commensurate with other commodities, IAR has almost all of their paper under contract for 2008 at a 1-2% increase yr/yr. Paper exposure is minimal, only 21% of COGS or $130m.
Angry short sellers bashing the stock/this article. I have heard that IAR has become so heavily shorted that it is nearly impossible to borrow shares at this point.
Timeline