The HOLDRS Retail ETF (Market Vectors Retail ETF: RTH) hit new all-time highs in late July, and the SPDR S&P Retail ETF (NYSEARCA:XRT) has remained in a trading range since failing a retest of its all-time highs in late April.
Click to enlarge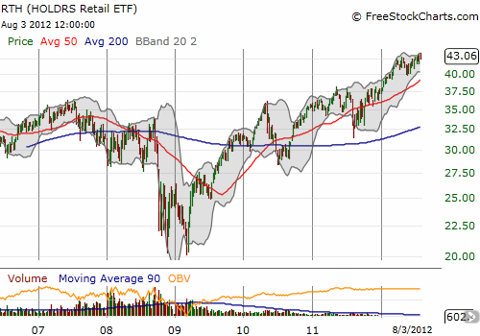 RTH trading near all-time highs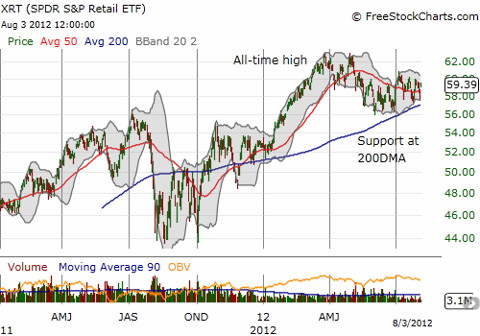 Daily chart of XRT shows stock has firm support although trading slightly down from its all-time highs
While these strong performances represent hopeful signs for the consumer, I took great interest in the number of high-profile consumer/retail-related stocks that experienced awful performances in this summer's earnings cycle. I review some of these disasters to determine some potential trading and investing opportunities.
For each stock, I show a long-term graph to provide some perspective. In each case, the stocks exceeded peak performance from the last bull market cycle at some point in the past year or so. Thus, their strong declines warrant close attention for the potential signals they provide for market direction several months from now.
I list these cases in chronological order. In each case, I focus on the set of data that I find most interesting and relevant to the trading/investing opportunity at hand.
Bed Bath & Beyond Inc. (NASDAQ:BBBY)
Bed Bath & Beyond initiated the series of high-flyer shockers with an unusual 17% post-earnings drop on June 21. Perhaps it was a sign and a warning. At the time, it seemed BBBY may have faced company-specific issues after guiding this quarter's net earnings per diluted share below consensus - approximately $0.97 to $1.03.
Other high-profile blow-ups were yet to arrive to confirm what BBBY described at the time as "the ongoing economic challenges that are affecting consumers" (all quotes from earnings calls from Seeking Alpha transcripts). Gross profit also fell very slightly from 40.6% to 40% from "…an increase in coupons, due to increases in both the redemptions and the average coupon amount, as well as a shift in the mix of merchandise sold to lower margin categories."
Interestingly, the market was not consoled by BBBY's insistence it would stick with is full-year guidance: "For all of fiscal 2012, including the benefit of the 53rd week and the incremental operating cost from the previously discussed major initiatives, we continue to model net earnings per diluted share to increase by a high single-digit to a low double-digit percentage range over fiscal 2011."
This disappointment represents the opportunity. The minute the market regains its confidence that BBBY will hit that target, the stock should begin its full recovery. In the meantime, BBBY has been a great range-bound trade whether you are bearish or bullish. The 200-day moving average (DMA) has served as tight resistance. Soon, the declining 50DMA will force the issue of either a resumption in the downtrend from all-time highs or a breakout to fill the post-earnings gap.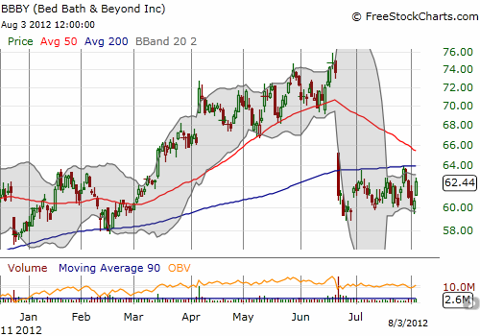 BBBY idles in a neat trading range just below 200DMA resistance as investors await follow-up to the post-earnings drop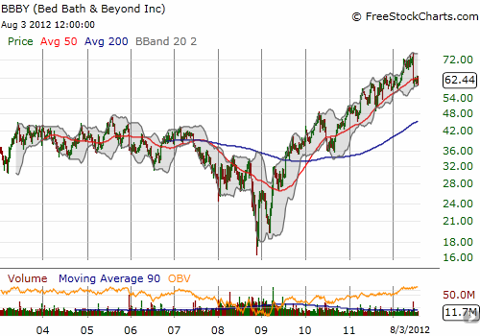 The recession woke BBBY out of a long slumber that trapped the stock in a trading range for much of the last bull market
Nike Inc. (NYSE:NKE)
When Nike stunk up the joint a little over a week after BBBY, I think the market shifted into high alert on consumer-related stocks. Before Nike's earnings report on June 28th, the stock had recently broken down below its 200DMA. This bearish move was NKE's first such move since the wild and volatile trading from August to October of last year. The current downtrend has been in place since NKE broke down from its all-time high in early May. NKE recovered all its 9.4% post-earnings losses in four weeks. Since then, it has faded again. I expect the 50DMA to continue to provide resistance.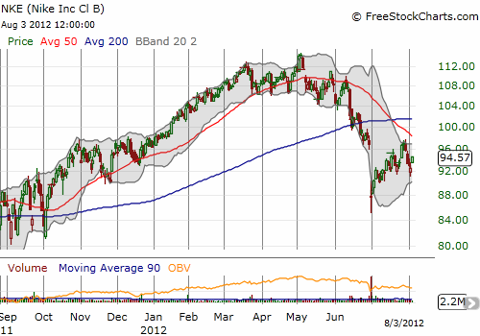 Nike struggles to hold on to a post-earnings recovery
The long-term chart is a handy reminder that NKE is "almost sure" to come back in due time. I span out to a monthly chart all the way to the mid-80s to demonstrate this.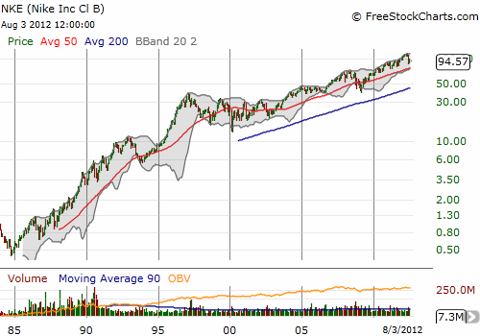 Nike just does it over the long haul
Case in point, during the earnings call, NKE management confidently stated:
"…first, that our portfolio of businesses can deliver strong revenue growth even in a volatile environment; second, that we delivered solid profitability for the year despite significant input cost pressures and while continuing to make investments to drive future growth; and third, that while the global economy remains uncertain, we're confident we can improve our profitability and we'll continue to manage our business for a sustainable, profitable growth over the long term."
In the meantime, Nike is doing penance for the crime of an earnings decline - the company's first since 2009 - that missed analyst expectations for only the second time in the past 24 quarters. NKE reported a drop in diluted EPS of 6% although earnings increased for the full-year by 8% year-over-year. Gross margins also decreased slightly.
Nike's revenue guidance was fine but its earnings guidance came in weaker than the company expected:
"For our ongoing businesses, we expect FY '13 constant-currency revenue growth at or slightly above our high single-digit target range, in line with the guidance we gave on our last call…

…In aggregate, we expect our ongoing operations…to deliver high single-digit EPS growth in FY '13. This is below our long-term goal of mid-teens EPS growth as a result of the significant negative impact of weaker international currencies on both gross margin and translated foreign earnings, as well as a higher effective tax rate."
I am sure cautious commentary on China further hurt sentiment:
"…both the Chinese economy and our industry are evolving rapidly. In the short term, these changes have resulted in slowing revenues and higher inventory levels across the industry, with some of our competitors reporting significant revenue declines. Our futures orders for China grew 2% in constant currency, a significant slowdown versus last quarter…we expect revenue growth to moderate in the near term…"
Overall, NKE is a potential referendum on the health of the global consumer. Based on these earnings results and the market's reaction to them, I expect the stock to trade very sensitively to the mood of the day or week about global prospects.
Chipotle Mexican Grill, Inc. (NYSE:CMG)
Chipotle Mexican Grill hit an all-time high of $440 in mid-April, a 184% increase over the pre-recession high in 2007 and an incredible 1028% gain from the 2008 lows.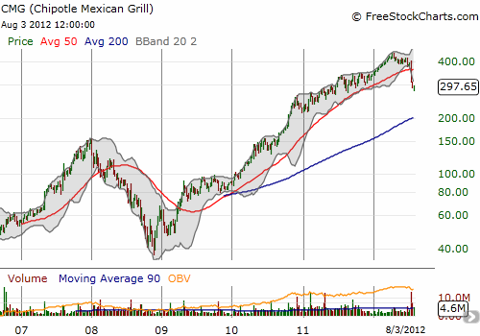 CMG has had an extremely strong post-recession run
After reporting earnings July 19th, the stock fell 21% in just one day. Last week, it closed at one point at $280.67 an 11-month low and a 28% fall from its all-time high. The high volume buying over the last two days may have finally provided a floor; for the first time since its earnings disaster, CMG has fully recovered the losses of a down day.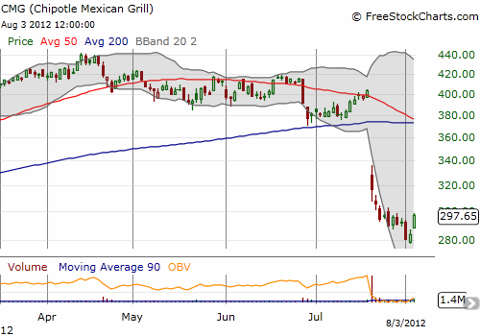 Buyers seemed to finally get interested in CMG over the past two days. Looks like a bottoming underway.
CMG's crime? Rising food costs (especially thanks to the drought), falling same store sales, and looming competition from Yum!'s Cantina Bell (see "Chipotle Due For A Serious Correction: Part II" for more details). However, the revenue miss that sparked the consternation apparently amounts to about 12 burritos per day, and CMG's past revenue and profit growth have proven strong enough to overcome economic and cost headwinds in the past (see "You Mean To Tell Me Chipotle Revenue Missed By 12 Burritos Per Day").
Despite the large tumble, CMG still has a high valuation of 36 for its trailing 12-months P/E and 27 forward P/E. The trailing P/E is right in the middle of its annual range over its trading history. So, while playing a bottom for technical reasons looks attractive here, I am guessing it will take a surprise positive catalyst to keep the stock from resuming a downward trend after a bounce wears itself out. Expensive momentum stocks that suffer this kind of damage take time to repair as the first big drop scares out the trend and momentum traders, but still leaves the stock too expensive for value investors.
Short interest is another interesting story. As of July 13th, CMG short interest is down about 17% from last year's levels, but has stayed steady all of 2012. I am surprised shorts were not increasing soon after the April all-time high. Then again, short interest declined significantly once CMG broke out from six months of churn to new all-time highs in January. The shorts that toughed out the subsequent 26% run-up probably had little appetite for doubling down. (Note well that this run-up was NOT a short squeeze given shares short remained almost constant during the rally).
Now, CMG has erased all its gains for the year and last week traded near the bottom of last year's 6-month choppy range. I will be watching for the next update on short interest to see whether shorts have decided to take this decline as an opportunity to bail at better prices or whether they increase holdings as a bet that CMG's recent decline is just the beginning of something bigger. In the first case, I will assume CMG has reached a short-term technical bottom. In the latter case, the next earnings report may provide a lot more fireworks (up or down).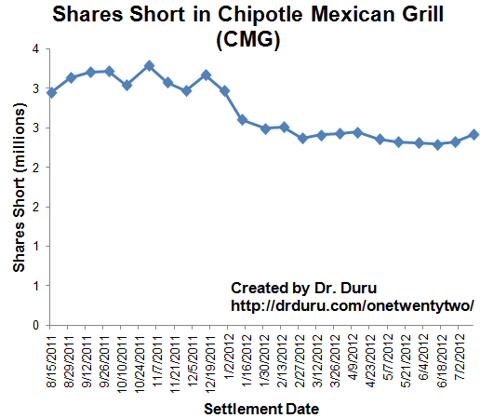 Surprisingly, shorts were not ramping up into CMG's earnings disaster
Source: NASDAQ short interest
Starbucks Corporation (NASDAQ:SBUX)
Starbucks Corporation is the only stock of this group that was on my radar ahead of earnings. On July 24th, I wrote that SBUX was at a critical juncture having retested its 200DMA:
"If SBUX fails to hold this double support, the stock becomes a compelling short. Such a breakdown can lead to lasting and sustained selling as momentum begins to work against the stock. Even as SBUX struggles to hold on, the 50DMA is rapidly declining. It has provided stiff resistance for SBUX for over two months and will soon drive the stock through support if nothing else changes. SBUX is one to watch closely in the coming week."
At the end of that week, SBUX reported earnings that disappointed to the tune of a 9.4% post-earnings drop. SBUX cracked its 200DMA support, the 2012 breakout line, and in another two days gave up the rest of its gains for the year.
The crime? SBUX guided Q4 AND fiscal-year 2013 earnings below consensus despite reporting an eleventh consecutive record quarter for earnings in its third quarter. SBUX openly talked about economic headwinds as it described the aggressive steps it will take to "navigate" the storm. SBUX is planning and launching a tremendous laundry list of innovations and initiatives. These plans include a blueprint for mainland China to grow from 600 stores today to 1500 stores by 2015 carrying a compound growth rate of 34%.
SBUX made it clear the company thinks the economic environment is impacting everyone (emphasis mine):
"Recognizing the continued deterioration of the macro environment that all retailers faced along with trends from June and July, we now expect revenue from the fourth quarter between 10% to 12%. We continue to expect mid single-digit comp growth and continued strong growth in channel development also contributing to the revenue increase."
The price investors are willing to pay for SBUX has come down notably since the recession. From 2002 to 2008, SBUX sported an average annual trailing P/E in the high 30s to mid-40s. In 2009, this dropped to 24.5 and it has declined slightly since then. Now, SBUX has a trailing P/E of 24 and forward P/E of 21. So in the short-term, SBUX should go lower from here given the marked increase in uncertainty around earnings. However, investors are certainly free to interpret optimism or pessimism after SBUX noted "…given the uncertainty in the macro environment we will update our estimate as we move long throughout the year." I am inclined to stay bearish, but I am now prepared for a sharp relief rally given the growing bullishness in the overall stock market.
Coach, Inc. (NYSE:COH)
Despite selling luxury retail brands, COH has fared extremely well since the recession, demonstrating the impressive staying power of luxury buyers. Like all the other stocks featured in this piece, COH has already surpassed its pre-recession highs and still trades above those levels. COH rallied 550% from its 2009 lows to its all-time highs earlier this year.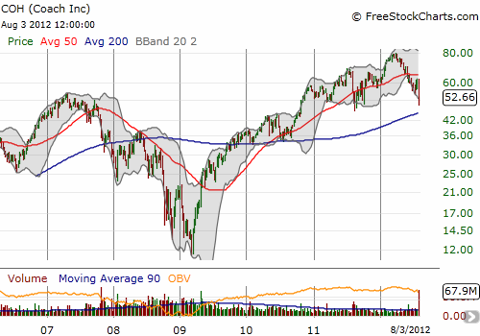 Coach has had a strong post-recession run
While COH is a well-managed, international business, it is not immune to macro-economic issues. As the chart above shows, COH peaked ahead of the last recession in April, 2007. This top occurred six months before the S&P 500 peaked for the last bull market. I am guessing that now anytime COH speaks about macro-economic issues, the market pays very close attention. The recent post-earnings sell-off was exaggerated by a rally ahead of earnings that broke the downtrend already in place since the all-time high set in March. The selling in COH did not break 2011′s low and Friday's strong bounce puts the stock just a few points below the bottom of the previous downtrend.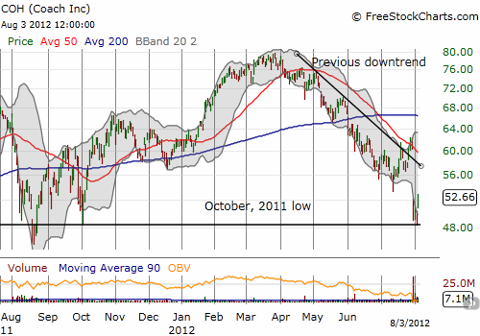 The post-earnings sell-off maintains the 50DMA as firm resistance
The crime? COH reported same-store sales growth in the U.S. of 1.7% down significantly from the 10% a year ago. A "promotional environment" in North America slowed growth in factory stores and forced COH to fight back with its own increase in couponing. This promotional environment will extend into the guidance period:
"…as we see a more promotional environment, as we are up against a heavier promotional cadence in factory stores, we have to be nimble…

…The reality is that we did see an improvement in our factory business when we went back to a more aggressive stance in the stores…We do see in the front half of our FY '13 a fairly promotional compare, as well as an environment that we think will become increasingly promotional from a macro standpoint. So we have to be prepared, and we're working the business to drive results, hence our guidance for FY '13.

…And what we saw among other retailers starting really in May was an intensification of their promotional activities including the perennial in-store coupon to drive additional shopping…And the appetite, of course, among consumers to buy product at a discount is insatiable and growing."
COH noted weakness in the U.S. economic environment but insists pent-up demand remains significant:
"Over the fourth quarter, the economic backdrop in the U.S. clearly softened as consumer confidence and sentiment declined. However, our research shows that our customers' intention to purchase Coach over the next year continues to be strong, with more than 2/3 of consumers surveyed noting they probably or definitely would purchase a Coach product in the next 12 months."
Despite these warnings, I do not see anything fundamentally wrong with COH's business. In fact, luxury buyers should continue to fare well in these economic times. The trend in accessories seems intact:
"…the category has been growing disproportionately for nearly 15 years now. There's been a real shift in women's spending patterns as she has consistently distorted her spending away from apparel towards accessories as a way to update her wardrobe. We expect that to continue."
COH's business in China seems to be mainly constrained by the inability to find enough qualified employees (no mention of training programs). Coach's Men's stores appear to be a winning concept, likely to contribute at least 25% of COH's growth in the next several years. One of my favorite quotes from the conference call came during a discussion about the Men's concept: "Outside of the U.S. where the male consumer tends to be more style-conscious, we've also opened a number of Men's dedicated stores as well as dual-gender stores." I will try not to take that one personally.
So, overall, I think COH experienced a hiccup. Time will soon tell whether this hiccup is a topping signal similar to the one in 2007. For now, I see COH as relatively pretty cheap and the most attractive plays listed above, especially for a short-term bounce. COH's trailing P/E is now at its lowest point since 2009, and its forward P/E is only 12. I want to buy the dips from here. Moreover, like many of the high-flyers here, COH management continues to aggressively buy back stock:
"During the fourth fiscal quarter alone, we repurchased and retired about 2.5 million shares of our common stock at an average cost of $67.79, spending a total of $169 million. At the end of the year, 262 million remained under our present repurchase authorization."
I have to assume at current prices, COH will be actively buyers in this quarter as well.
I conclude by noting that all is not doom and gloom for the high-flyers of the consumer/retail space. Companies like Panera Bread (NASDAQ:PNRA), Whole Foods (NASDAQ:WFM), and even Amazon.com (NASDAQ:AMZN) survived their earnings largely intact. Apple (NASDAQ:AAPL) fell a little over 4% in reaction to its earnings, but quickly came back as expected (see "Apple's Important Macro And Forex Calls And Likely Post-Earnings Recovery"). Of course, survival means that the attention will only grow in the coming months. I expect October's earnings cycle to be a defining moment.
Disclosure: I am short NKE.
Additional disclosure: I am also long SBUX puts; long calls in SBUX and CMG; long AMZN shares.