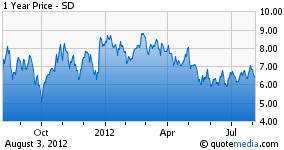 On August 2, 2012 SandRidge Energy (SD) reported stellar earnings results. SD grew core net production revenues, EBITDA, and production volumes by 72%, 72% and 45% (14% organically), respectively. Core net income also increased an impressive 106% sequentially. This contrasts with most other energy companies which have struggled to grow in the quarter ended June 30, 2012. Despite declining oil prices and depressed natural gas prices, SandRidge showed no such signs.
However, investor reaction was far from sanguine. On a day when the S&P 500 (SPY) and Energy Select Sector SPDR (XLE) were +1.90% and +2.35%, respectively, SandRidge's stock lagged enormously to the disappointment of its shareholders - down 3.19%. Meanwhile peers, Continental Resources (CLR) and EOG Resources (EOG), were +5.83% and +11.06%, respectively.
Investors chose to ignore this outstanding financial performance and focus their attention on one single metric - 2012E capital expenditure was raised $250mm from $1.85bn to $2.1bn.
In November 2011, I previously wrote about how SandRidge skeptics were excessively concerned in regards to this issue ("SandRidge Energy: Worries Regarding Future Capital Expenditures Overblown"). After August's earnings report, SandRidge not only exceeded my expectations, but also proved that this persistent negative argument against the company is invalid.
Here's why:
1. How will SandRidge fund 2H 2012's capex, i.e., another $1.0bn?
Answer: After producing $267mm EBITDA and 90,200 MBoed in 2Q 2012, in 2H 2012 SandRidge should generate approximately $600mm in EBITDA. Combined with $400mm in cash, the funding for the remaining $1.0bn capex is easily available. Forecasted EBITDA is based on expected production growth and $90 oil (80% hedged at $100.60). Keep in mind that SandRidge offered conservative production guidance. Guidance is 5% below the current production run rate of 104,000 Mboed. Thus, weather permitting, significant upside surprise to production and EBITDA exist. In addition, with hedges in place, oil could fall to $50.00 and SandRidge would still net $90.00.

Click to enlarge
(Click to enlarge)
2. How will SandRidge fund 2013E capex of $2.0bn?
Answer: Based on achievable production growth, SandRidge will likely exit 4Q 2012 with an EBITDA run rate in excess of $300mm. In 2013, with high-teens production growth and $90.00 oil (80% hedged at $96.24), generating EBITDA of $1.4bn is realistic. As of August 3, 2012, SandRidge's Royalty Trust holdings are worth $1.6bn combined: SandRidge Mississippian Trust I (SDT) $231mm, SandRidge Permian Trust (PER) $756mm and SandRidge Mississippian Trust II (SDR) $613mm. This is more than enough to cover the 2013E $547mm funding gap, and any potential overage.

Click to enlarge
(Click to enlarge)
3. Is concern regarding Dynamic Offshore Resources', "DOR", production justified?
Answer: No, SandRidge management has already conservatively guided DOR production for 2H 2012 below current run rate to account for hurricane season and other potential hiccups. SD is also almost halfway through 3Q 2012 and DOR oil currently commands an $18.75 premium to WTI. Thus, as previously noted, if weather cooperates, then substantial upside to management guidance exists. Additionally, SandRidge's dependence on DOR production should diminish rapidly with continued robust Mississippian growth (just reported 31% June vs. March quarter growth). Within a year DOR production as a percentage of overall SD production should fall from 29% to approximately 20%.
4. Why should an investor believe that Tom Ward, CEO SandRidge Energy, is not recklessly spending money?
Answer: The recent problems of Aubrey McClendon, CEO Chesapeake Energy (CHK), have cast a cloud on SandRidge. Investors have unfairly painted Tom & Co. with the same brush. More specifically, investors believe that Tom will overspend like Aubrey and dilute shareholders. However, in contrast to Chesapeake, who had to renegotiate with its banks to avoid bankruptcy and has much work left just to fund 2012 capex, SD's cost of capital continues to fall (look at bond yields) and as depicted above, essentially has no funding gap through 2013.
Let's be clear. All companies have to invest to grow. Spending money in isolation is not to be frowned upon. The majority of investing is astute capital allocation and the ensuing return on the investment achieved.
When considering this, Tom Ward is more like Sheldon Adelson, CEO of Las Vegas Sands (LVS), who was also heavily criticized for "seemingly" over investing in unfamiliar frontiers. Like Sheldon, Tom had the foresight to identify an opportunity before his competition. Sheldon was first to Singapore and the Cotai Strip as Tom was first to the Mississippian. Now, they both have dominant and enviable positions in their respective industries -- competitors can only catch up by paying a premium if land is available. The result is that both executives have proven they can identify and execute large, high ROI ventures.
Summary:
As demonstrated, SandRidge is more than capable of funding its 2H 2012E and 2013E capital expenditures in a shareholder friendly fashion, i.e., though a revolver is available, no additional debt is needed. Also, management communicated on the earnings call that the possibility of issuing additional trusts in the near-term is low. While this caused some surprise (because many are mistakenly worried about 2H 2012 and 2013 capex funding), when the numbers are analyzed, it should be clear why monetizing acreage is no longer necessary. Investing in high ROI wells with the capacity to generate $300-400mm EBITDA per quarter is powerful. This gives SD the flexibility to choose the most desirable funding option, rather than have the market dictate the terms. Shareholders should be pleased to be in this situation, as not having to sell acreage demonstrates financial strength.
At $6.37 SD is priced to ignore these financial improvements and still reflects investors' unwavering concern regarding 2H 2012 and 2013 capex funding. Investors should take advantage of this misguided view to buy shares, as the significant growth in EBITDA just exhibited in the quarter ended June 30, 2012 should not be overlooked.
It's time to give Tom Ward and the SandRidge management team credit. From a distance, the company's three year plan to achieve $2.0bn of EBITDA by 2014 may seem like "pie in the sky". But when you consider how profitable their Mississippian acreage is, this goal is realistic. Production has reached a tipping point and as a result EBITDA growth should be industry leading in the next couple years.
Similar to Las Vegas Sands' situation, after Marina Bay Sands was completed, investors will soon realize SandRidge's enormous cash generation potential and the lack of need for external financing. As the capital expenditure concerns becoming secondary SD shareholders should benefit from a positive change in investor sentiment and premium valuation appropriate for a company with industry leading 3-5 year production growth.
Disclosure: I am long SD. May add and trim SD position from time to time.