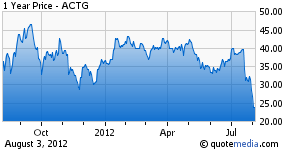 Like it or not, we live in an increasing litigious society. Litigation and lawsuits are unfortunately a more visible part of both of our personal lives and an increasingly important part of the corporate landscape. One only has to look at the epic battle currently going on between Apple (AAPL) and Samsung (OTC:SSNLF) being played out in court and splashed across the pages of the New York Times and Wall Street Journal currently to realize the increasing importance of patents and the ability to defend them. So why not invest in a company that benefits from this trend? One such "patent troll" is Acacia Research (ACTG). The company has a solid record of leveraging patents to produce impressive revenue growth over the past five years.
One of the key components of this growth was that in 2010 and 2011 Acacia signed three "structured agreements" with Oracle (ORCL), Microsoft (MSFT) and Samsung. These agreements gave these companies access to all of Acacia's patents for three years. It also allowed Acacia to purchase other patent portfolios. The stock has been hit hard by a settlement with Citigroup (C) recently, whose details have not been disclosed. Given the company's growth prospects, valuation, patent portfolios and robust balance sheet; I think this provides a good entry point to start to accumulate shares in this fast growing company.
8 reasons to pick up ACTG at just over $23 a share:
The 5 analysts that cover the stock have a median price target of $55 on Acacia, more than double the current stock price. Price targets range from $47 to $65 a share. JP Morgan just raised its price target from $52 to $55 a share.
The company has a pristine balance sheet with over $400mm in net cash on the books (around 35% of market capitalization).
Due to the nature of Acacia's business model, revenues are erratic. However, it has grown revenues at an average of 33% annually over the past five years.
Revenue growth is expected to continue. Analysts expect almost 60% revenue growth in FY2012 and a 25% increase in FY2013.
The stock is cheap at 7.5 times forward earnings, a huge discount to its five year average (30.4).
ACTG is selling at the bottom of its five year valuation range based on P/E, P/B and P/CF.
The company has crushed earnings estimates each of the last two quarters and consensus earnings estimates for FY2012 and FY2013 have risen over the last two months.
Speaking of earnings, they are increasing exponentially. The company made 48 cents a share in FY2011, but is on track to make $2.99 a share in FY2012. Analysts have it pegged for $3.14 in earnings for FY2013.