Valeant Pharmaceuticals (NYSE:VRX) is a $14.69 billion Montreal based expert in dermatology, neurology, and ophthalmic solutions. The company offers consumer brands as well as generics. Some of its products include: CeraVe to rebuild and repair the skin barrier, Wellbutrin XL for depression, Lacrisert for dry eye syndrome, and Cesamet for nausea and vomiting associated with cancer chemotherapy. A full list of the company's extensive product line can be found here.
The company reported mixed results for Q2 2012. Revenue increased 34.6% year-over-year, organic growth increased about 6%, while diluted earnings per share decreased to -$0.07 from $0.17 in Q2 2011. However, the earnings loss was due to severance payments and various other costs associated with acquisitions including iNova, Elidel, Xerese, Dermik, Ortho Dermatologics, and Sanitas. CEO, Michael Pearson stated that the margin between earnings and adjusted cash flow would keep narrowing in the next few quarters as integration costs fall for the company's 2012 deals.
Valeant recently upgraded its earnings per share estimates for 2012 from $4.45 - $4.70 to $4.55 to $4.75. This shows that the company is confident in its performance for the second half of the year.
The company's strategy is to expand via acquisitions and partnerships with other pharmaceutical companies. Its business is focused in the following regions: United States, Canada, Europe, Latin America, and Australia. The company has a partnership with GlaxoSmithKline (NYSE:GSK) for the development of Retigabine for the treatment of adult epilepsy patients with partial-onset seizures. A new drug application has been filed with the FDA for the approval of Retigabine. The company prefers to spend money on acquisitions/partnerships over doing its own research. The strategy is designed to get the biggest bang for the company's buck.
Although Valeant's trailing P/E ratio of 109.9 makes it look overvalued, an analysis of the company's forward valuation puts things in a better perspective. The company has a forward P/E ratio of 9.8 and a PEG of 0.60. This shows that Valeant is actually undervalued when looking one to five years into the future.
The trailing twelve month operating cash flow is $757 million and free cash flow is $683 million. The company currently does not pay dividends but instead puts its cash back into growing the business.
Valeant is expected to grow earnings annually at 15.24% for the next five years. If this growth is achieved, the stock could reasonably double from $48 to close to $100 in five years.
Valeant

Merck (NYSE:MRK)

Pfizer

(NYSE:PFE)

GlaxoSmithKline

Teva

(NYSE:TEVA)

5-Year Expected Annual Earnings Growth

15.24%

4.34%

2.8%

4.9%

7.84%
You can see from the table above that Valeant is in a better position to grow earnings than many of its larger competitors. Many competitors are dealing with expiring patents on top selling drugs, which has a significant impact on earnings.
With the CEO's 2011 compensation of $36.7 million, I would expect him to deliver and exceed these expectations. To put his salary in perspective, Wal-Mart's (NYSE:WMT) CEO had compensation of $18.7 million in 2011 and has a reported 2012 compensation of $18.1 million for 2012. Walmart's CEO has a salary that is half of Valeant's CEO, but Walmart is over 17 times larger in market-cap than Valeant. That's an amusing bit of information.
Now, don't get me wrong, I do think that Valeant's CEO is steering the company in the right direction, but perhaps he could consider taking a smaller compensation in the future while spreading out the difference among the company's 6,900 employees.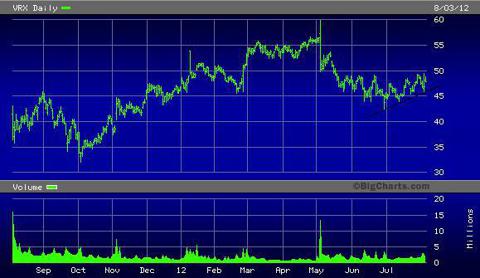 To conclude, I think that Valeant is an attractive buy at current levels. The stock price of $48 is trading below its 52 week high of $59 and has started a new uptrend after dipping below $45 about a month ago. With the company's attractive forward valuation, strategic acquisitions/partnerships, and strong expected earnings growth, Valeant Pharmaceuticals should outperform the market and many of the larger pharmaceutical companies.
Disclosure: I have no positions in any stocks mentioned, and no plans to initiate any positions within the next 72 hours.