Whenever we decide to make an investment, our goal is to make a profitable return on our original principal, either by receiving a regular income during the investment period, or increasing the value of the original principal, or both. In return for this prospective profit we take on an investment risk. Ultimately, this risk is that we suffer a permanent loss. So, before we take on this risk, we have to assess whether the risk outweighs the potential reward. There are 3 general factors that contribute to the investment risk. They are:
The business risk - the risk that the business generates lower than expected profits or loses money (and yours!).
The financial risk - the risk the company has taken on too much debt which it is unable to finance and so goes bust.
The valuation risk - the risk we pay too much for a share, minimizing our returns even if the business performs well.
Below, I try to evaluate the investment risk in Microsoft (NASDAQ:MSFT) using data any private investor could realistically be expected to get their hands on. This evaluation is based purely on the data without my opinion of Microsoft's products or business strategy and how they might affect future performance.
The Business Risk
The following graphs display the business performance of Microsoft in terms of sales/share, earnings per share, cashflow/share, dividend per share, and its operating margin.
Click to enlarge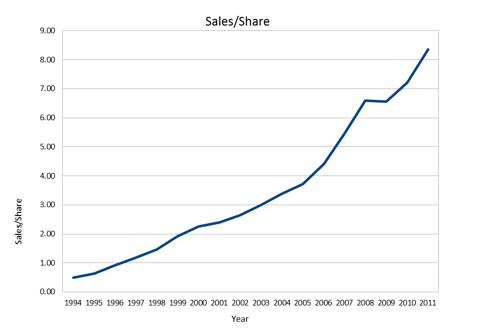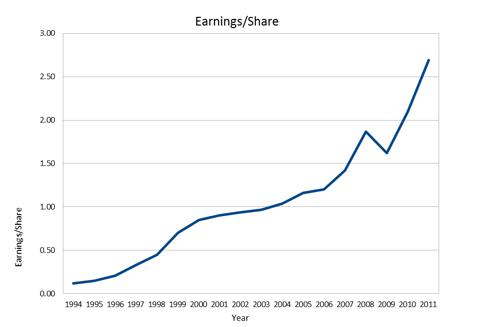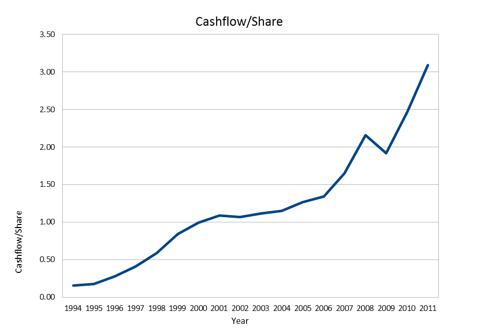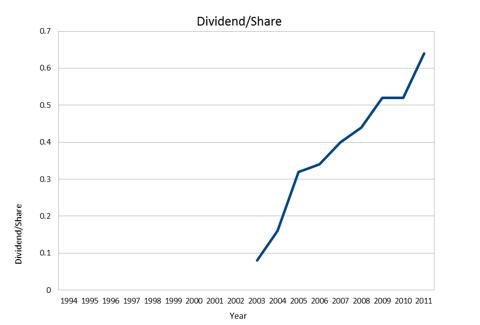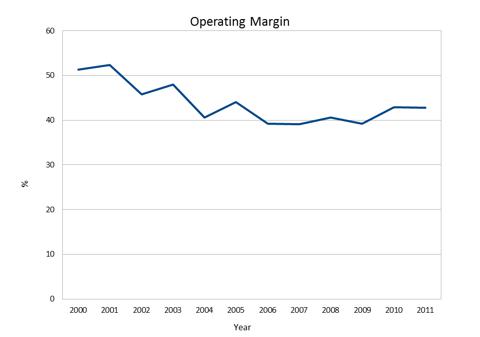 Sales/share, earnings/share and cashflow/share graphs all show consistent trend lines going back to 1994; a total of 17 years. This time period includes varying economic periods, including the recessions of the early and late 2000s. Strong performance across this time period shows the robustness as well as the success of the Microsoft business model. The growth across all parameters shows the quality of growth is good.
Microsoft introduced dividends in 2003. Since then, these payments have increased year on year. The 2011 dividend payout ratio was 22%. Microsoft has also maintained a consistent operating margin of over 40% for over 10 years, going back to 2000 (this is as far as I could get data on this).
The table below summarizes the compound annual growth record of Microsoft in the relevant business parameters displayed above, over the long term (17 years), and more recently (the past 5 years):
(CAGR = Compound Annual Growth Rate)
Microsoft - Growth Record

Growth Parameter

CAGR 5 years

CAGR 17 Years

Sales per share

13.7

18.0

Earnings per share

17.5

20.1

Cashflow per share

18.2

19.0

Dividend per share

13.5

29.7 (7 years)
The table above shows Microsoft's ability to achieve an excellent rate of growth over the long term. Over the past 5 years growth has slowed partially, due to the dip in performance in 2009, a year when many companies suffered. Microsoft was able to respond to the setback and quickly returned to trend.
The data suggests Microsoft has a very strong business model with a culture of excellent management. It has consistently delivered strong results over the past 17 years, which gives us confidence that it will be able to continue this performance over the medium term. Dividend growth is in line with earnings and cashflow and at a payout ratio of 22%, is not under threat. We can be confident in receiving a growing annual dividend well ahead of the rate of inflation over the medium term.
Financial Risk
The following graphs help us evaluate Microsoft's financial position.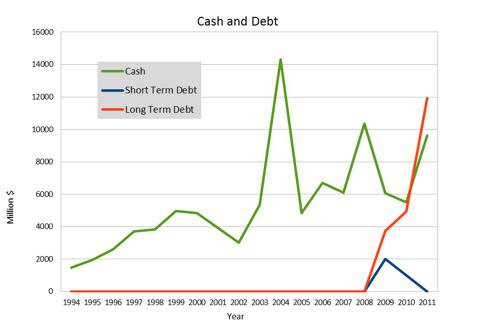 The above graph shows Microsoft's cash and debt positions over time, both long and short term debt. Between 1994-2008 the company held no debt. Post 2008 the company decided to issue debt. In 2011, the company again had no short term debt, but close to $12B in long term debt.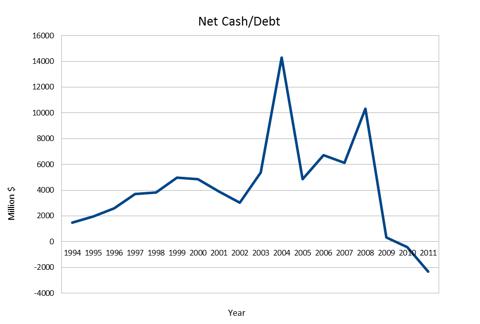 The graph above displays the same data in terms of net cash/debt. Microsoft had a net cash position until 2009. It is worth noting that Microsoft also has over $40B of current assets as short term investments, redeemable within the year, which some may consider as good as cash.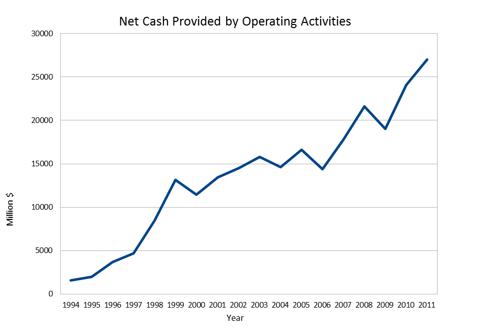 The above graph displays the cash provided by operating activities against time. It can be seen there is a consistent trend upwards, re-affirming the earnings growth is good quality. As the cash provided by operations is over $25B it can be seen that the debt position is completely covered by cashflows. There is zero financial risk in Microsoft in the medium-term.
Valuation Risk
The following graph show how much investors have been willing to pay for Microsoft shares over the past 17 years. The red line represents the average P/E ratio over the time period.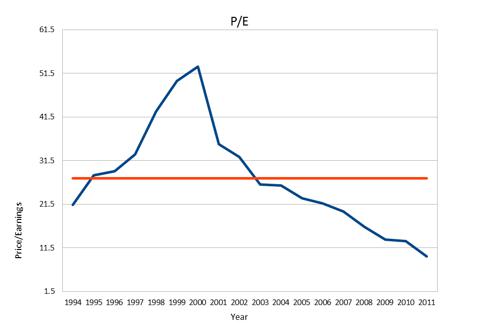 This graph shows that investors were willing to pay over 51x earnings for shares in Microsoft in 2000, and below 11x earnings in 2011. We have already seen that Microsoft's business performance over the time period has been in a consistent uptrend and produced good CAGR rates in all areas examined. However, based on share price performance, an investment in Microsoft has not provided the investor with much of a capital gain. Those who bought in 2000 can be concluded to have paid a very high price for Microsoft's earnings at the time. As the share price remained static, Microsoft's earnings caught up. The graph now shows us Microsoft is as cheap as it has been for 17 years. In the same way we can say Microsoft was overvalued in 2000, it seems obvious to say that it now appears undervalued today. Based on forward earnings projections, today, Microsoft has a P/E ratio of approximately 10.
Although the dividend history of Microsoft is short, the graph below shows how the yield on Microsoft in 2011 averaged at its highest. Today, the yield is approximately 2.7%.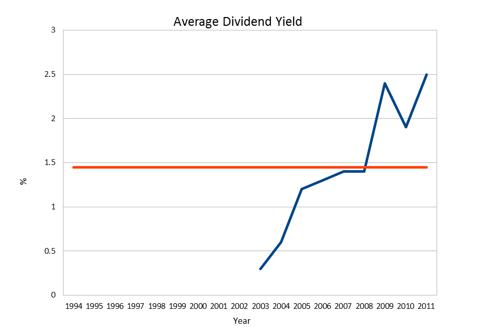 Combined with the strong dividend growth performance, income obtained through Microsoft shares appears much more appealing than the 10 year treasury note which currently pays a yield of approximately 1.4%. As this interest payment will not increase, it is likely this alternative investment in the "risk free" US 10 year treasury note would result in a negative return rate after inflation.
Based on that outlined above, there appears little valuation risk in Microsoft shares currently.
Conclusion
I would argue based on the above data, there is negligible business, financial or valuation risk currently with Microsoft.
If we accept Microsoft was overvalued in 2000 and undervalued today, then fair value must be somewhere in between. So for the sake of argument, it is not unrealistic to envisage Microsoft reverting to a P/E ratio of 22 within the next 5 years.
Microsoft's earnings have grown at a CAGR of 20% over the past 17 years, and 17.5% over the past 5, so growth has been pretty consistent over the long and short term.
If this growth rate (17% CAGR) is maintained over the next 5 years, Microsoft will be at a share price of $130.
If the growth rate halved (8.5% CAGR) over the next 5 years, Microsoft will be at a share price of $88.
Add in a growing dividend over the 5 years and in either case, the estimated total return would appear attractive based on the risk we would be taking in investing in Microsoft.
Disclosure: I have no positions in any stocks mentioned, but may initiate a long position in MSFT over the next 72 hours.