A combined revenue guidance for 29 U.S.-based semiconductor companies for the 3rd quarter is sequentially up 3.2%. Plotting this vs. the semiconductor billings reported by the Semiconductor Industry Association along with the quarterly GDP growth rates for the U.S., eurozone, Great Britain, and China, suggests that the semiconductor industry is weathering the world's economic slowdown better than most industries.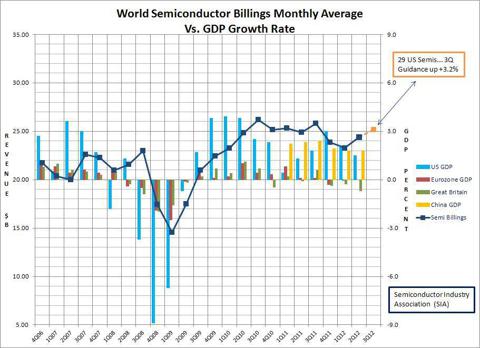 See individual company's guidance below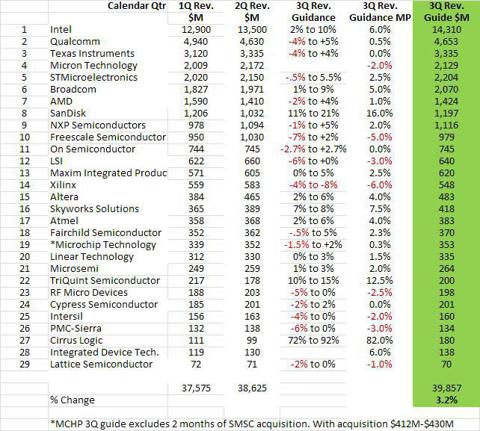 The semiconductor companies with notable 3rd-quarter sequential revenue guidance are:
Cirrus Logic (NASDAQ:CRUS)
Cirrus Logic is reporting a sequential 3Q-revenue guidance of up 82%. As everyone knows Apple (NASDAQ:AAPL) is Cirrus Logics largest customer.
SanDisk (SNDK)
SanDisk is reporting a sequential 3Q-revenue guidance of up 16%. At the 2nd-quarter earnings conference call management cited:
In conclusion, we expect solid acquisition of revenue growth in Q3 and Q4 due to an improved supply and demand balance, strong secular demand drivers and our expanding portfolio of products and solutions, which allow us to address a broader set of market opportunities. Our SSD SKUs continue to grow nicely and we are moving the company higher up the value chain with our SSD software solutions. We continued to manage our capacity growth prudently and remain focused on profitable growth by leveraging our expanding product portfolio and our diversified mix of customers and channels. And we continue to target -- we will continue to make targeted investments in technology to sustain our competitive cost structure and in resources to grow our Enterprise and Client storage solutions. Given our market initiatives, technology investments and focus on execution, we look forward to improved performance in the second half of 2012 and beyond. With that, I will turn the call over to Judy for our financial overview and outlook.
TriQuint Semiconductor (TQNT)
After revenue falling 18% from Q1 2012 to Q2 2012, TriQuint is forecasting a partial recovery of this revenue loss with a sequential 3Q-revenue guidance of up 12.5%.
Skyworks Solutions (NASDAQ:SWKS)
Skyworks continues its winning ways in mobile with a sequential 3Q-revenue guidance of up 7.5% following a 6.6% actual sequential revenue gain of 6.6% in Q2 2012. For more details see my previous Seeking Alpha article "5 Reasons Skyworks Will Continue to Grow In Mobile."
Intel (NASDAQ:INTC)
Apparently the death of the PC has been greatly exaggerated. Intel increased revenue 4.7% in Q2 2012 over Q1 2012 and is guiding for a sequential 3Q-revenue gain of 6%.
Qualcomm (NASDAQ:QCOM)
Qualcomm's sequential 3Q-revenue guidance is up 0.5% but it is supply constrained on 28nm wafers at Taiwan Semiconductor (NYSE:TSM) and cannot meet demand. For more details see my previous Seeking Alpha article "Qualcomm: The Long View."
Conclusion
The semiconductor industry revenue continues to grow in spite of economic headwinds in Europe, concerns about the growth rate in China, and modest growth in the U.S. As we head into the seasonally strong 3rd and 4th quarter semiconductor stocks should be on your buy watch list during any market dips. Skyworks and Qualcomm are the two consistent winners in mobile semiconductors and definitely should be on the top of your buy watch list along with the semiconductor ETF (NYSEARCA:SMH)
Disclosure: I have no positions in any stocks mentioned, but may initiate a long position in SWKS, QCOM, SMH over the next 72 hours.