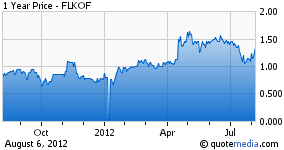 Today (August 6, 2012) Falklands Oil & Gas (OTCPK:FLKOF) signed a farm out agreement with Noble Energy (NBL), with Noble taking a 35% working interest in most of Falkland's acreage. Noble is taking the 35% WI in everything FOGL owns except Loligo and Nimrod. FOGL on the London exchange is up 12% on the news. The press release is here.
A few takeaways from this news:
One of the most important things from this farm out is that FOGL has kept their full 75% interest in Loligo. Loligo is the ~5 billion barrel prospect that is about to spud (rig is at the location) with drilling expected to take two months. FOGL is retaining the potentially massive upside in Loligo and gaining the financial backing of Noble. I have previously tried to put a valuation on Loligo which you can read here.
Another interesting takeaway from the press release is:
45% of a discretionary exploration well, should Noble elect to participate in the well.
The Leiv Eiriksson was signed to a five well program (two firm slots and three options) by Borders and Southern. B&S used the two firm slots and assigned two of the options to FOGL. This leaves a fifth slot that still remains. B&S will not have enough cash to drill another well and I believe that FOGL/Noble/Edison will be smart enough to obtain this slot given the extremely high mob/demob charges to get a rig in and out of the Falklands.
The statement regarding the discretionary well, to me at least, reads that FOGL and Edison have already made up their mind on drilling a third well and if Noble wants to participate then they can do so.
FOGL is two months from results on one of the highest impact wells to be drilled this year. They have the backing of a large American company and a large European company. Even if Loligo is a duster, they have Scotia coming up right after and, I believe, a third well after that. The risk reward ratio here is extraordinary and possibly a once in a lifetime deal. It will all boil down to whether or not the Southern Falklands Basin contains oil.
Disclosure: I am long OTCPK:FLKOF.and FOGL.