By Brendan Gilmartin
Priceline.com (NASDAQ:PCLN) is scheduled to report Q2 2012 earnings after the close of trading on Tuesday, Aug. 7, with a conference call to follow at 4:30 p.m. ET. Priceline shares are well off the all-time highs established in early May amid concerns over the outlook for the remainder of the year, given its exposure to Europe and the global economy.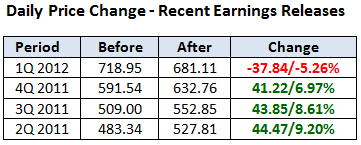 Outliers and Strategy
The key measures are as follows:
Given the recent run-up in Priceline shares, look for non-GAAP EPS and revenues to come in toward the high end of forecasts. Also, note that guidance typically drives the price action in the shares after the results are released.
Sympathy Plays:
On June 27, rival Expedia reported Q2 earnings and revenues that significantly topped estimates, sending Priceline shares higher.
Recent News
Technical Review
Priceline.com shares are up more than 40% YTD, but well off the all-time highs near $775 established in April. The shares have recently traded in a narrow channel between $620 and $700 -- just above the 20-day SMA and 50-day SMA crossover. Given the magnitude of recent price movements off earnings, that range represents the support/resistance threshold headed into the release.
Click to enlarge image.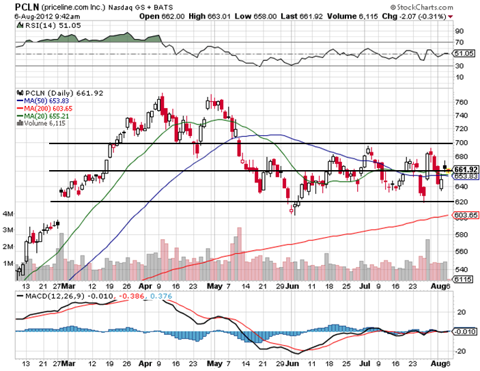 Summary
Priceline shares are off more than 13% from the May highs near $760, due in part to concerns over growth in Europe, where Priceline has a dominant market position in online travel. Forex headwinds are another near-term impediment facing Priceline, given its reliance on international customers driving both the top and bottom line. While results from the recent Q2 2012 period are expected to factor heavily into the price reaction, the guidance for the critical third period that covers the summer vacation period is expected to draw close scrutiny.
Against this somewhat cautious backdrop, Priceline needs to deliver actual Q2 results at the high end of the previously announced range to push the shares back toward the $700 resistance barrier. Guidance for the Q3 period will also garner close scrutiny after a weak outlook last quarter sent the shares 5% lower in the ensuing trading session.
Disclosure: I have no positions in any stocks mentioned, and no plans to initiate any positions within the next 72 hours.
Disclaimer: By using this report, you acknowledge that Selerity, Inc. is in no way liable for losses or gains arising out of commentary, analysis, and or data in this report. Your investment decisions and recommendations are made entirely at your discretion. Selerity does not own securities in companies that they write about, is not an investment adviser, and the content contained herein is not an endorsement to buy or sell any securities. No content published as part of this report constitutes a recommendation that any particular investment, security, portfolio of securities, transaction or investment strategy is suitable for any specific person.