Oncolytics Biotech Inc.'s (ONCY) cancer fighting virus, Reolysin, is the key to the company's future value, says Blackmont analyst Wayne Schnarr.
He initiated coverage on Oncolytics with a "speculative buy" rating and C$3.25 price target, representing upside of roughly 80% on the stock's current C$1.84 value.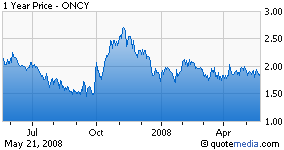 One of a growing list of biotech companies who have announced important breakthroughs for treating cancer recently, Oncolytics is expected to report further positive clinical data from 10 clinical trails that are currently underway.
In a note to clients Mr. Schnarr said:
Reolysin's safety profile is excellent, activity has been observed in all trials for which data has been reported, and increased tumour responses have been observed when Reolysin is combined with radiation and chemotherapy.
He added the fact that positive new data should increase the potential for a pharma partnership.
Last week, prior to the American Society of Clinical Oncology [ASCO] conference, several biotech companies including Genentech (Private:DNA), GlaxoSmithKline (NYSE:GSK), AstraZeneca (NYSE:AZN), Eli Lilly (NYSE:LLY) and Pfizer (NYSE:PFE) announced breakthroughs in their cancer treatment trials.