CVS (NYSE:CVS), the drug store retailer and pharmacy-benefit-management company, reports 2nd quarter earnings before the bell on Tuesday morning, August 7th, with analyst consensus expecting $0.79 in earnings per share on $30.977 billion in revenues for expected year-over-year growth of 21% and 4% respectively.
For most of the 1990s and early 2000s CVS was an also-ran in the retail drugstore business as Walgreens was considered "best-of-breed" and the better operator. CVS acquired most of their growth, while Walgreens grew organically, and CVS was seen as the wayward step-child in the retail drug business.
However, times have changed, and now CVS is the king, and WAG is perceived to be a step behind.
Year-to-date (excluding dividends) CVS is up about 10% and WAG up about 8%, with most of WAG's gain coming from the resolution of the ExpressScript's mess just a few weeks ago.
To say that CVS changed the competitive dynamic of the retail drugstore business with the purchase of Caremark in November, 2006, is a big understatement, but right now CVS is looking dumb as a fox, as CVS's stock is up almost 100% off the March '09 low while WAG is up about 66% (again excluding dividends) with about 20% of WAG's gain coming in the last two weeks.
Since CVS Caremark suffered a brain cramp in the fall of 2009, sending the stock down from $38 to below $30, CVS management has fixed the PBM and got it moving in the right direction. Still when CVS bought Caremark in late '06 a lot of folks were scratching their heads as Caremark doubled CVS's revenues, but the margins were much smaller, as CVS Retail (the drugstores you see on the corners) has gross margins in the 27% - 28% range, and operating margins in the 6.5% - 8.5%, while the PBM business sports gross margins of 3% - 7% and operating margins of 2% - 5%.
The PBM business has since started to rebound, which is a positive and a few analysts think that with all the M&A and takeovers in the PBM business, CVS Caremark might have a pretty decent 2013 selling season.
CVS Retail is still a very healthy business which only got better thanks to the Walgreens - Express Scripts standoff, now resolved, but CVS still gained some scrip and foot traffic from the squabble.
The other positive to CVS is that management is committed to returning capital to shareholders. The current dividend payout is just 20% of earnings, which is expected to grow to 30% - 35% and the retailer is trading at just (19x) cash-flow, with plenty of free-cash-flow (8% free-cash-flow yield as of last quarter's data) which will only lead to CVS buying back more stock.
We would love to buy CVS under $40 (see attached chart), near 10(x) forward earnings of $3.32 in 2012 and $3.72 in 2013 (revisions have been upward) and under 10(x) cash-flow but it wouldn't surprise us to not see the stock trade under $40.
CVS and Walgreen's have been like dueling banjo's the last 10 years as the pharma and prescription delivery business (not to mention healthcare delivery like the MinuteClinic and WAG's walk-in facility) start to appeal to lower income and convenience oriented healthcare seekers, which drives foot traffic to boot. However, we'd give CVS the slight edge here if the PBM business can stay on track to recovery and if front-end retail sales don't erode too markedly.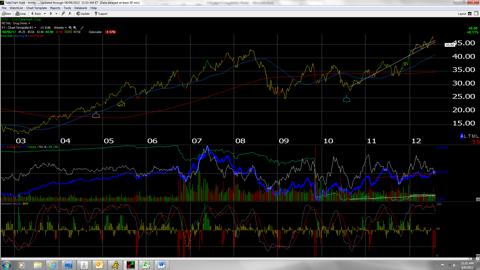 Click to enlarge
$44 might be as cheap as it gets, but we are giving it a little more time. Let's see how front-end retail performs over the next quarter as WAG is back in agreement with Express Scripts. Undoubtedly some of their foot traffic will return now, but will it be enough to matter?
Disclosure: I am long CVS.